If you only have limited time in Iceland and looking for fun, active things to do around the entire island, here is a 4 day guide that won't disappoint! The best way to see everything is to camp. There are campsites around the entire island or you can just simply pull into a rest stop on the side of the road and sleep for a few hours (we were pretty sure after we did this that it was frowned upon but oh well..). Here is how to tackle Iceland in 4 days: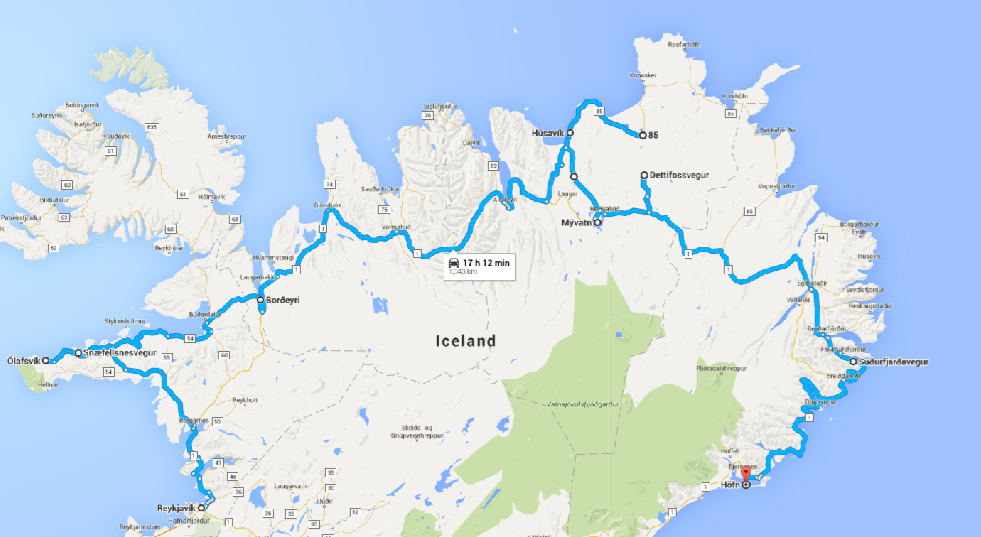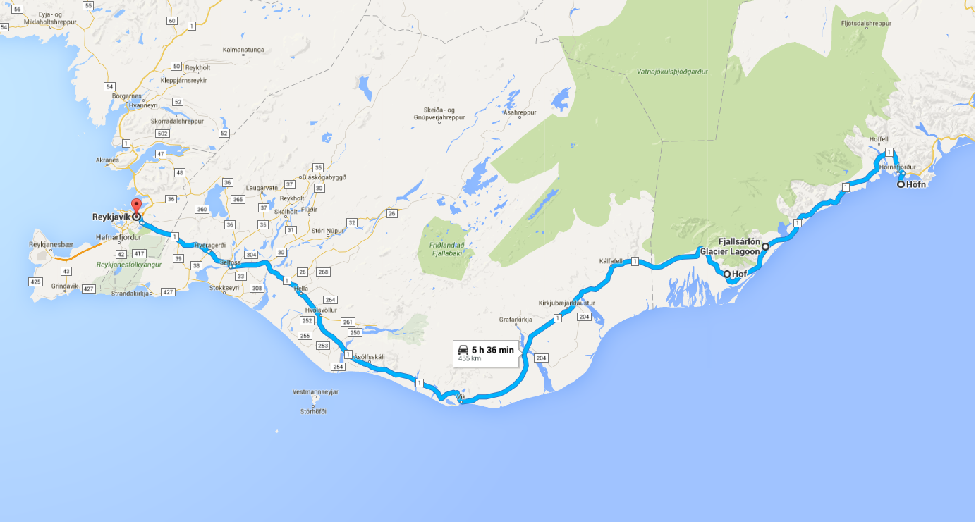 Our Adventure Begins….
When David came to visit me we somehow decided to rent some camping gear and drive around the entire island in 4 days. We had a 4×4 car so we were prepared for any weather and rented our camping gear from Iceland Camping Equipment Rental in Reykjavík. We decided to just sleep in our car instead of renting a tent because it was more expensive and the car was the large enough for both of us. So off we went into the great unknown, heading North…
How To Drive Around Iceland In 4 Days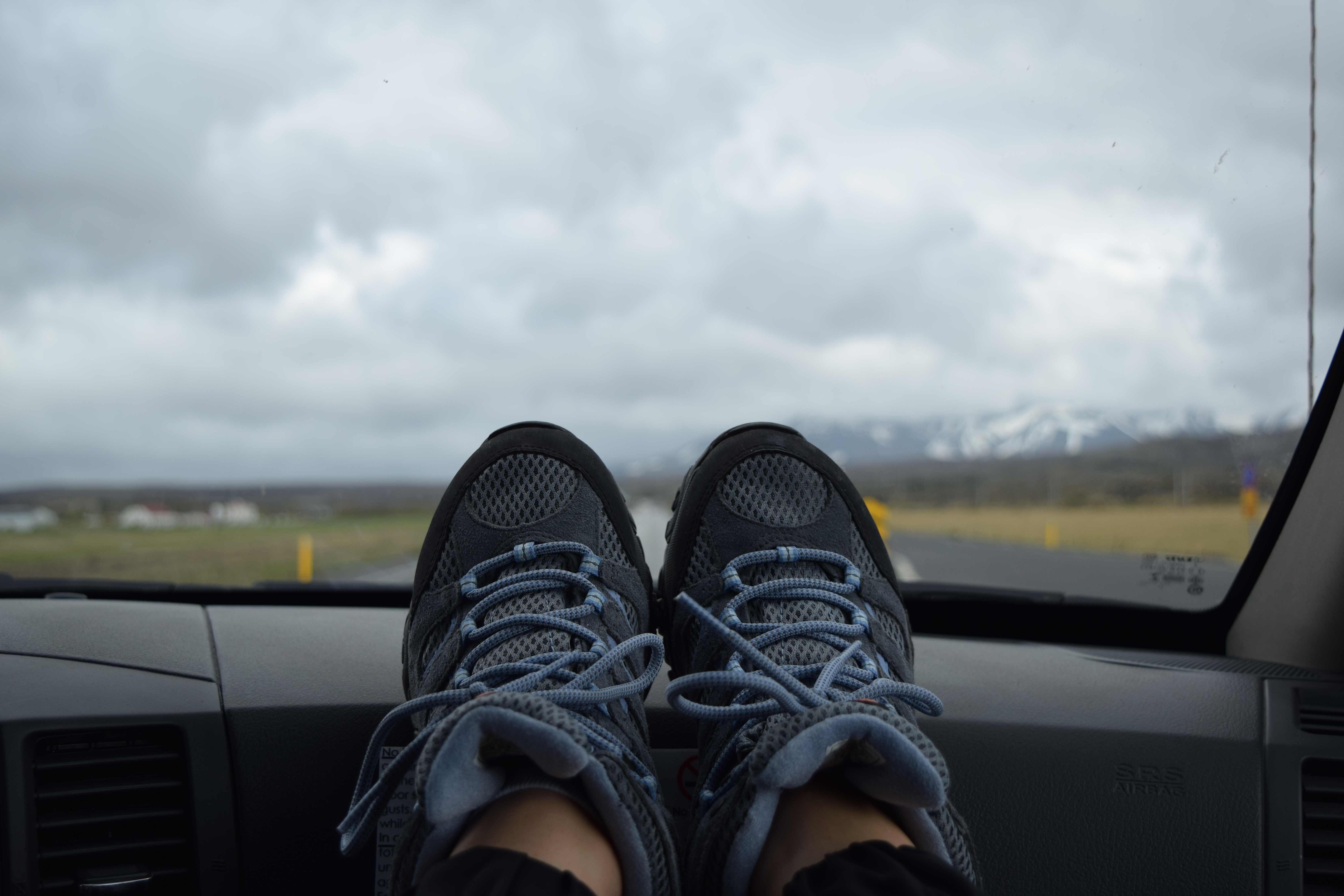 Day 1
As soon as you land, grab your bags and rent your car – head straight to Reykjavík. Skip the infamous Blue Lagoon. In my opinion, there are so many other geothermal pools to visit that it is okay to pass on by. If the Blue Lagoon is on your list, then add it into your schedule and remove something else.
We headed downtown and walked through the beautiful, artistic streets. Walk down Laugavegur and do a little shopping, maybe grab lunch at Gló or Fish & More on Skólavörðustígur. After eating, go and visit Hallgrímskirkja (the large church that kind of looks dark and scary). It is absolutely gorgeous and if you can, go to the top and overlook the city. Then start heading towards the docks. Before you do, stop at the world class hot dog stand Bæjarins Beztu and then head back to your car and drive North (after picking up your camping gear of course). We might walk fast, but this only took us a few hours to do.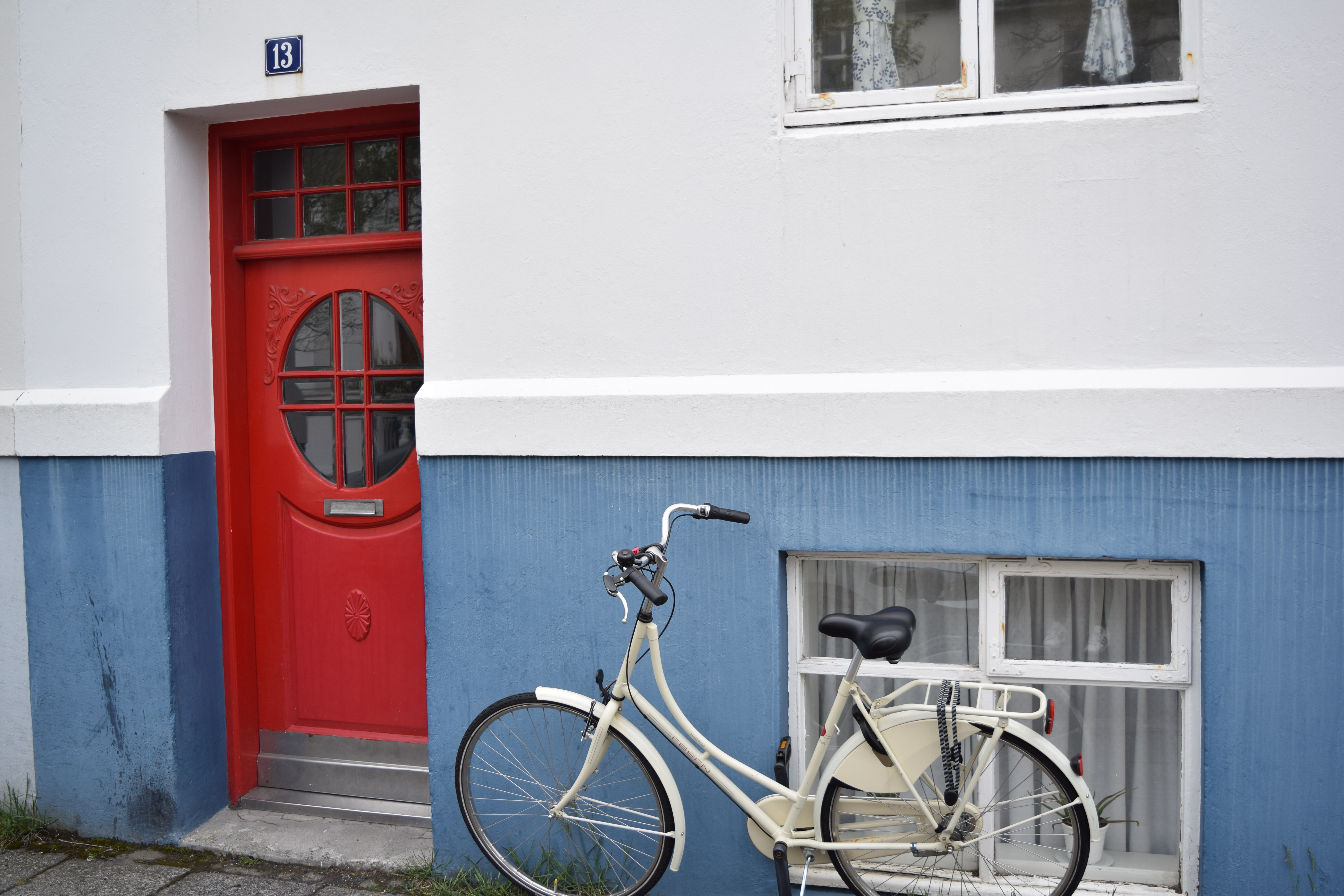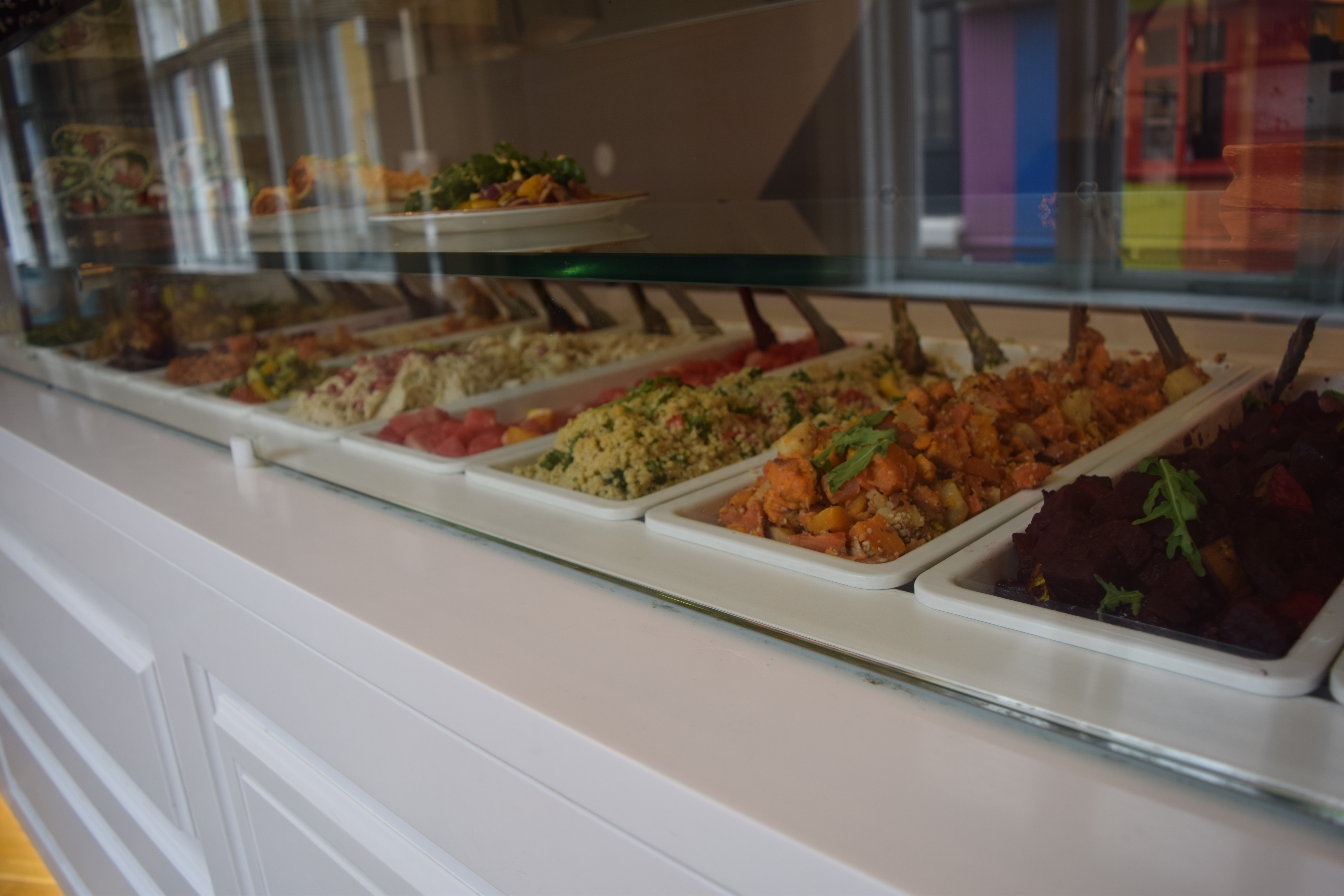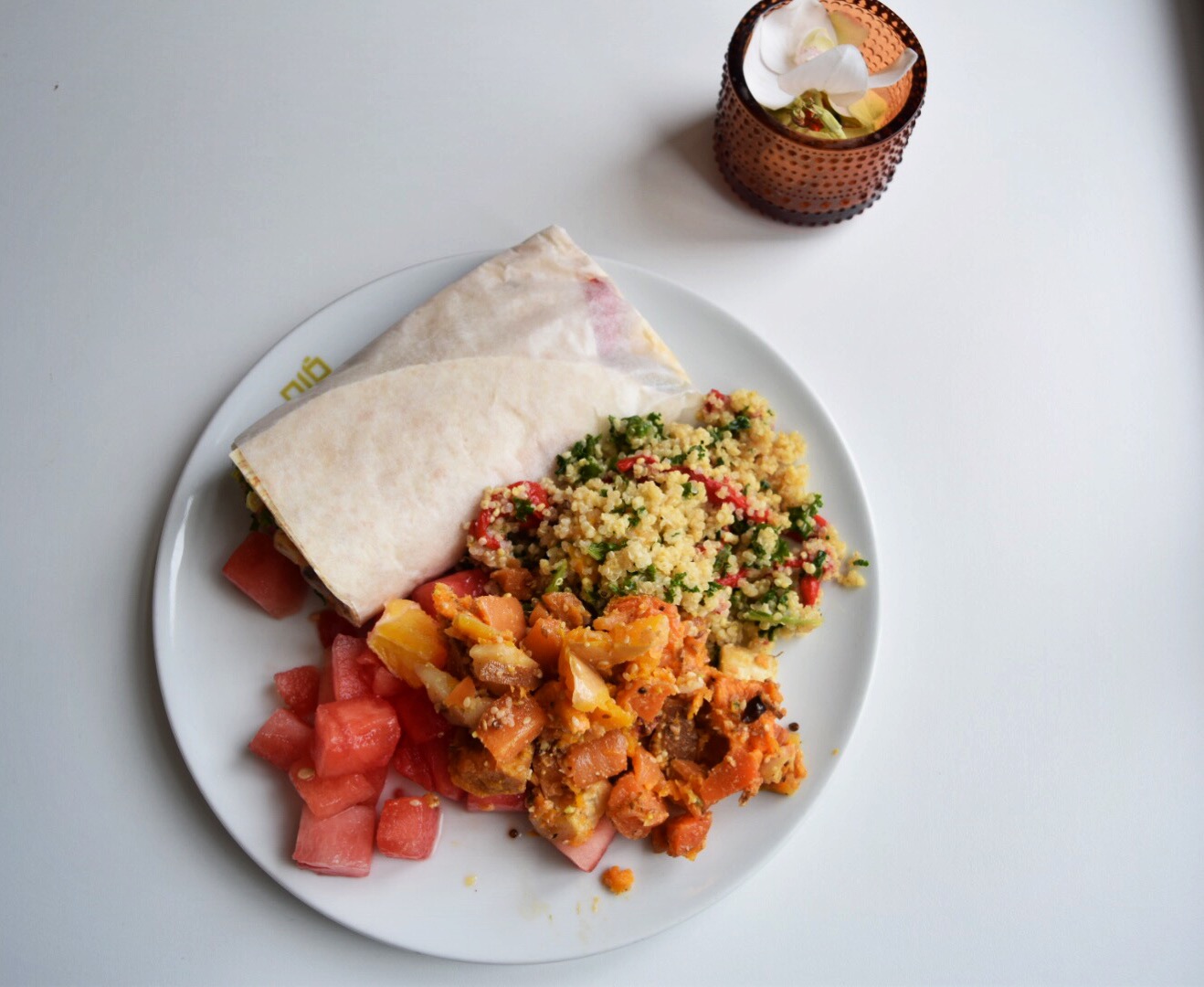 We stopped at a Bonus (the Iceland version of an Aldis) and bought some snacks to have in the car. Blueberries, peanut butter, Icelandic candy – the usual. The drive to the Northern Fjords is great. There are mountains, random waterfalls, and sheep galore.
We stopped in Snæfellsnesvegur to climb Kirkjufell Mountain, which we had no idea was actually the steepest hike in Iceland. As we pulled up to the mountain David looked at me and said "That's it." I looked at him and began to laugh and told him I was not doing it. There was no way. We stopped at the information sign, which clearly stated: Experienced Climbers Only. Of course, David was set on climbing it, so I threw on my Merrels and we began our ascent.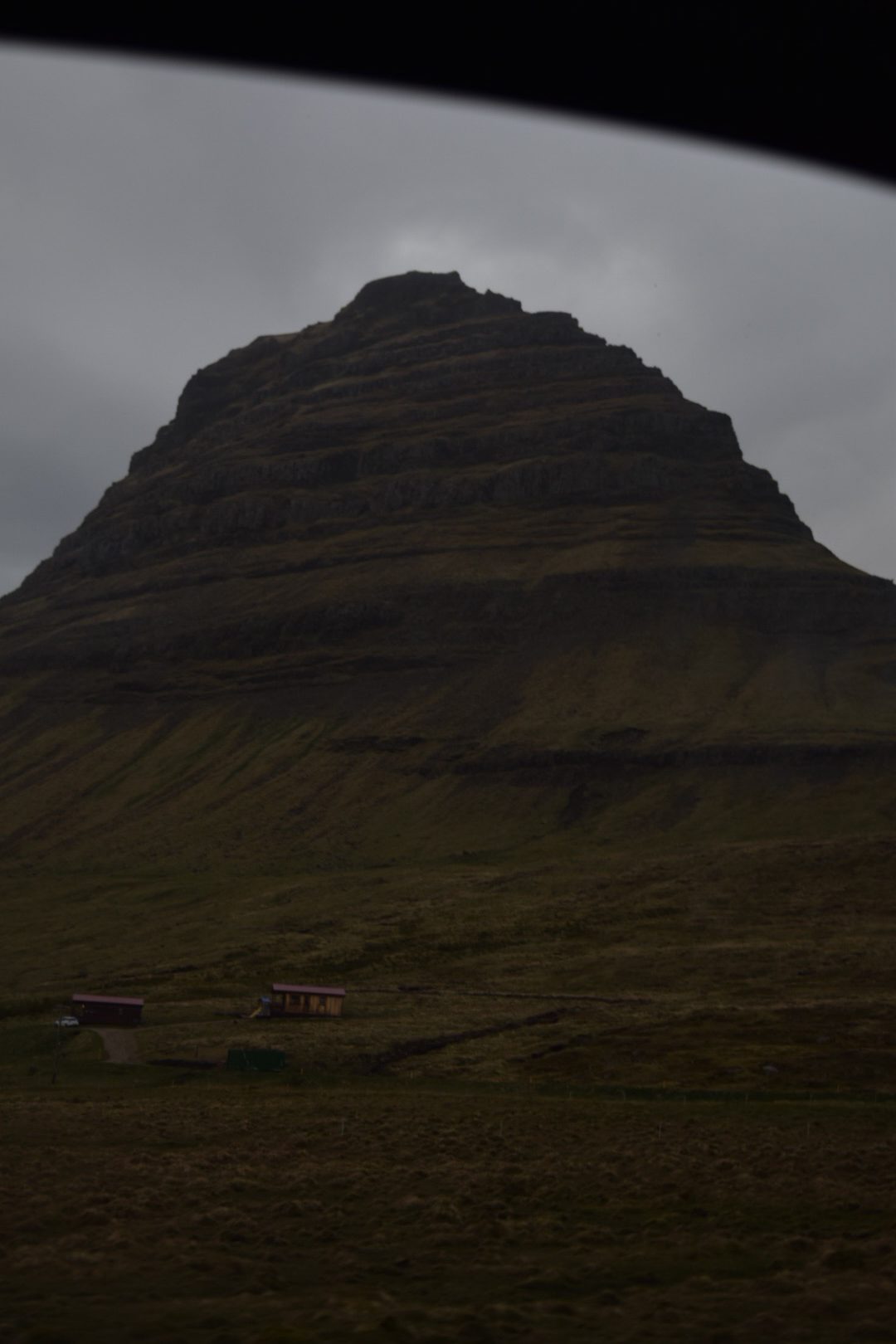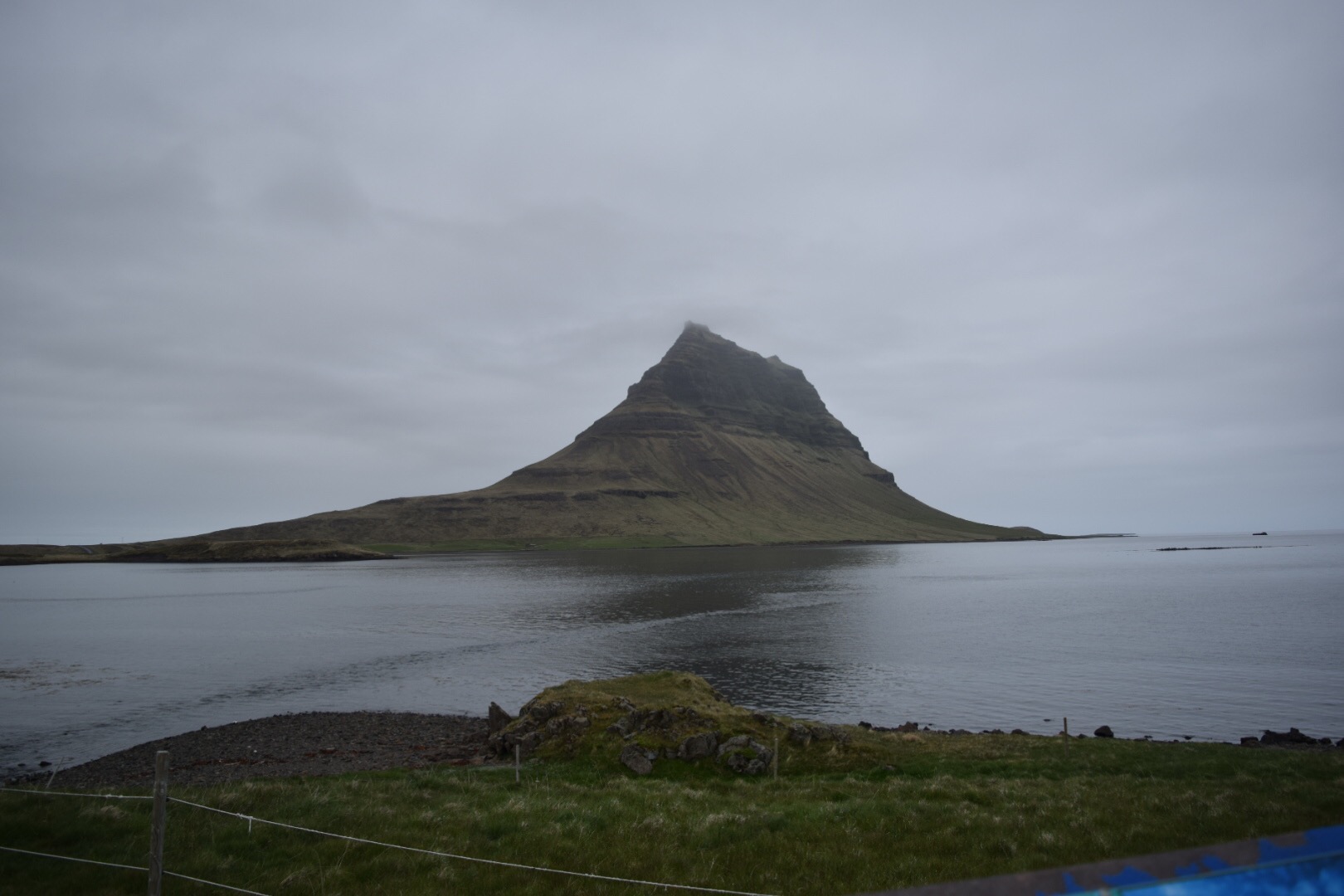 My thighs and calves were burning before we even reached the mountain. We actually had to climb rocks to get onto the mountain. I was not ready for this. We didn't know there was a path so of course we went the wrong way and had to turn around. I was terrified. When we found the path, it was so small and narrow. You walk so close to the edge that if you slip, you are done for. We almost made it to the top (after I repeated hundreds of times that I was done) and then we came to a halt. There, on a large rock wall, was a rope. WE HAD TO SCALE THE ROCK. I looked at David and said nope. So we turned around and made our way back down. Of course I fell and scraped my hand and cried. But once we made our way all the way to the bottom, we realized we were so close to the top. I know David would have loved to finish, but maybe we can try it again when we return.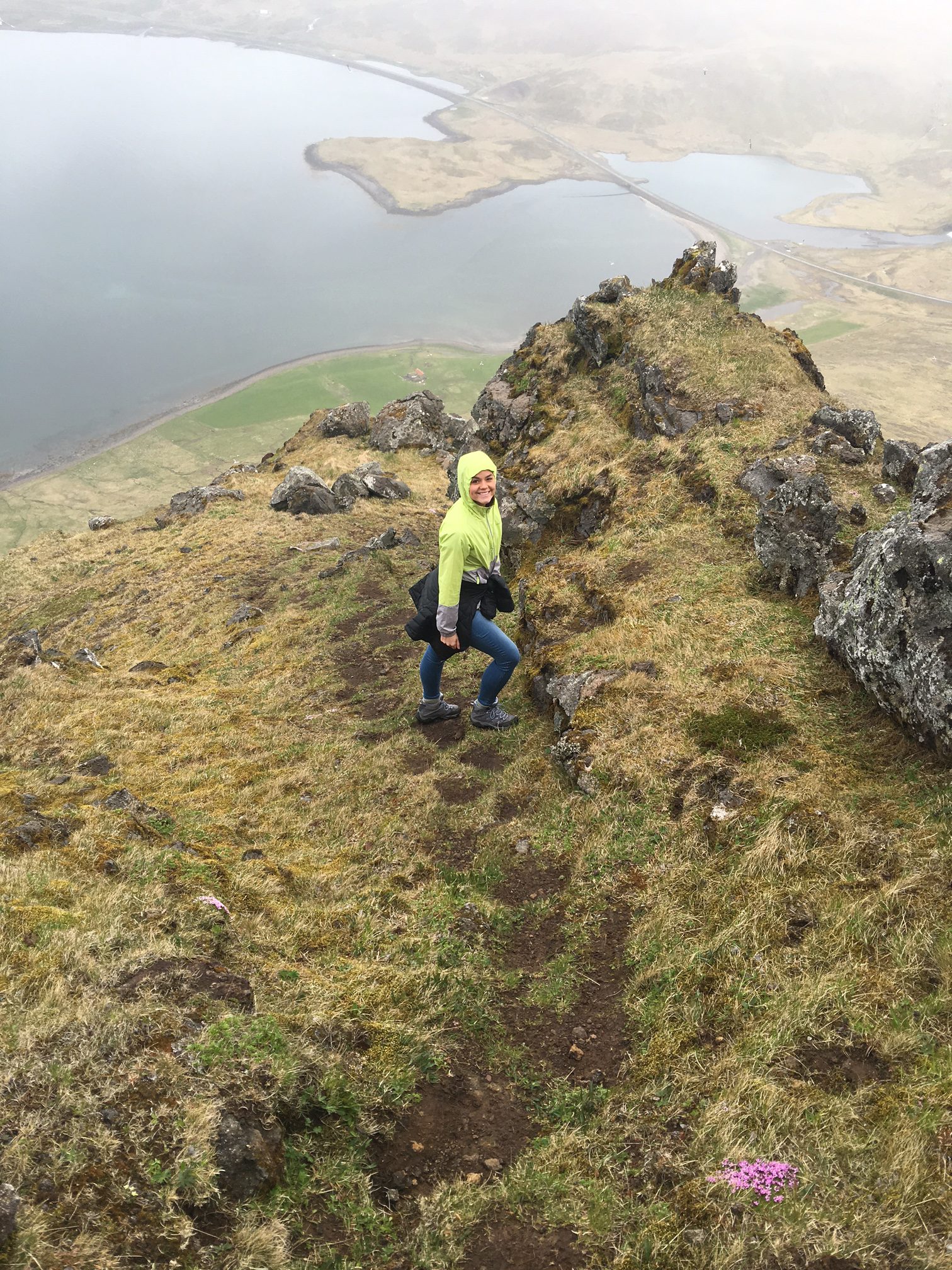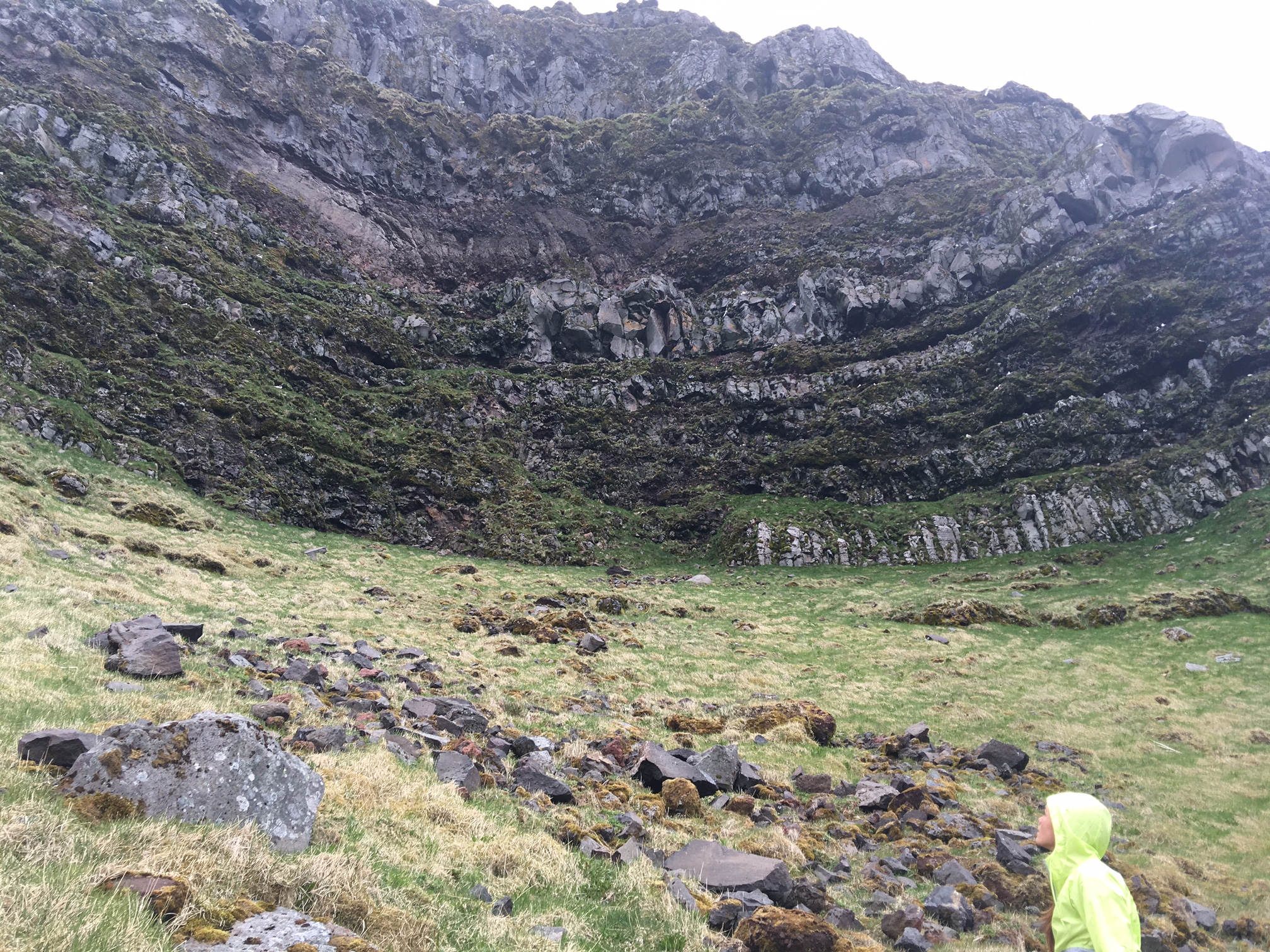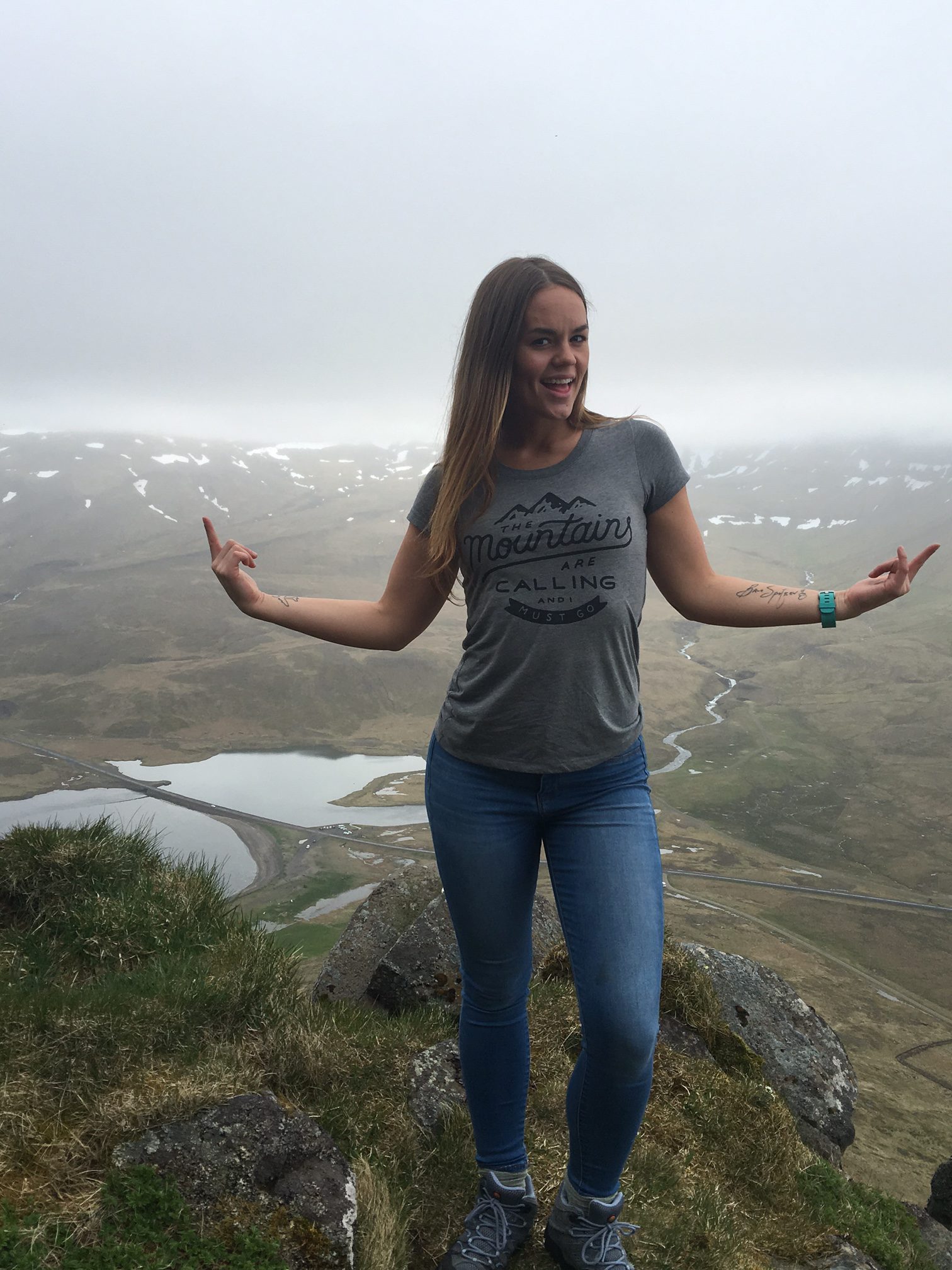 After our climb we drove to Òlafsvík and were lucky enough to find a restaurant open (Ps. EVERYTHING closes early) called Hraun. It was all very good, quick. All local and organic products and everything was fresh. We sat upstairs in the back of the restaurant and had a wonderful view of a waterfall. All I am going to say is order the Chocolate Cake. When we finished, we decided to drive farther North and camp near Hvammstangi.
On our way, we came upon a lava field covered in plush, green moss. So of course, Mr. "I want to go Off Roading" quickly turned into the field and followed the winding path. It was beautiful. It is so crazy the shapes that have formed over hundreds, even thousands of years. Our whole trip we had hoped to see lava, but we only saw stone.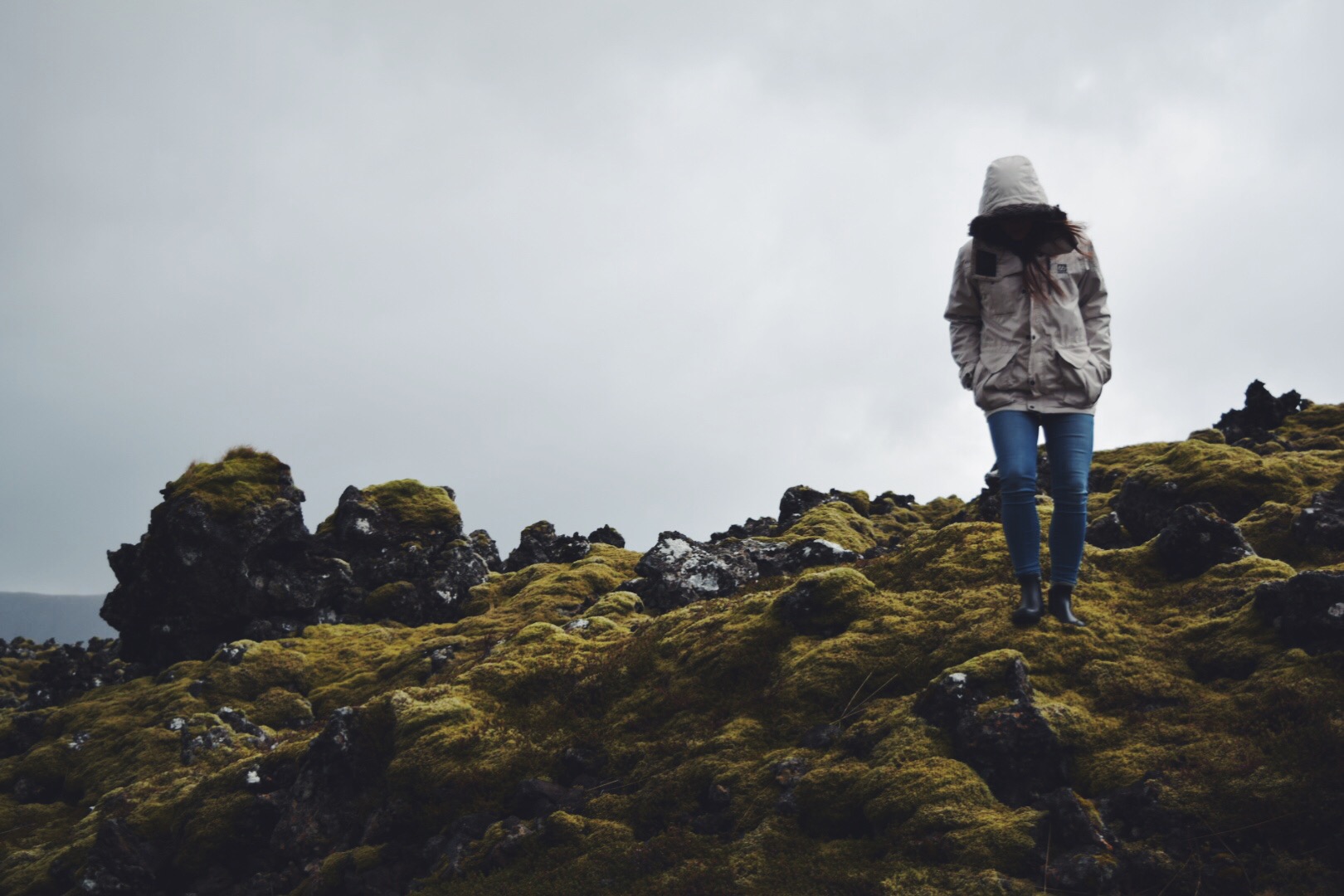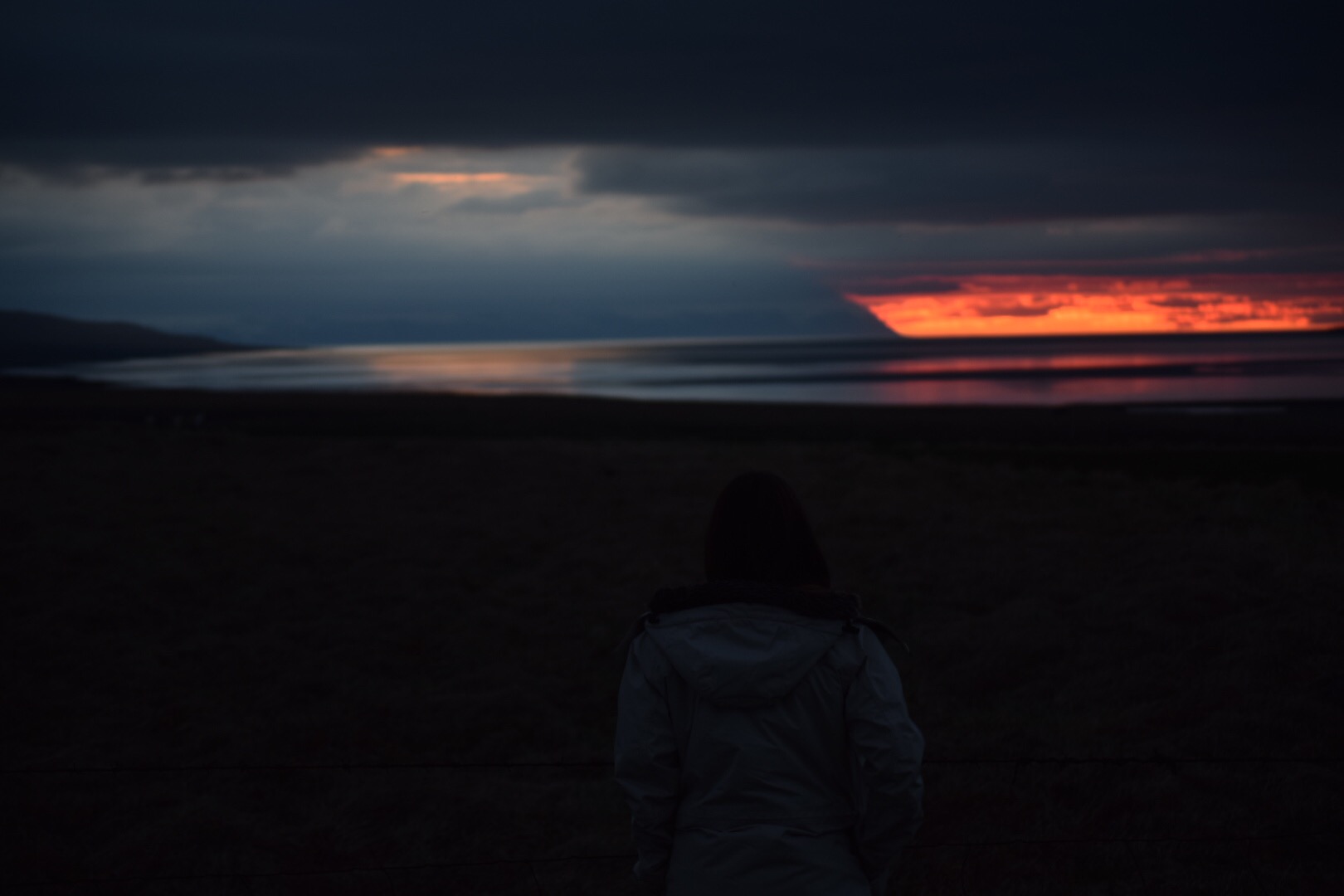 We drove for a few hours until we finally saw the sunset. It was insane. The way the sky gave way, it looked as if there was heaven and hell. The blue was light and bright, while the mixture of orange, red, yellow and pink burned the sky.
We decided this would be a great way to end the day and found a spot to park, brushed our teeth, blew up our sleeping mats and laid out our blankets to pass out. Keep in mind when you are sleeping in a car, there is no way to escape the light of the sun. So bring eye covers to Iceland, always.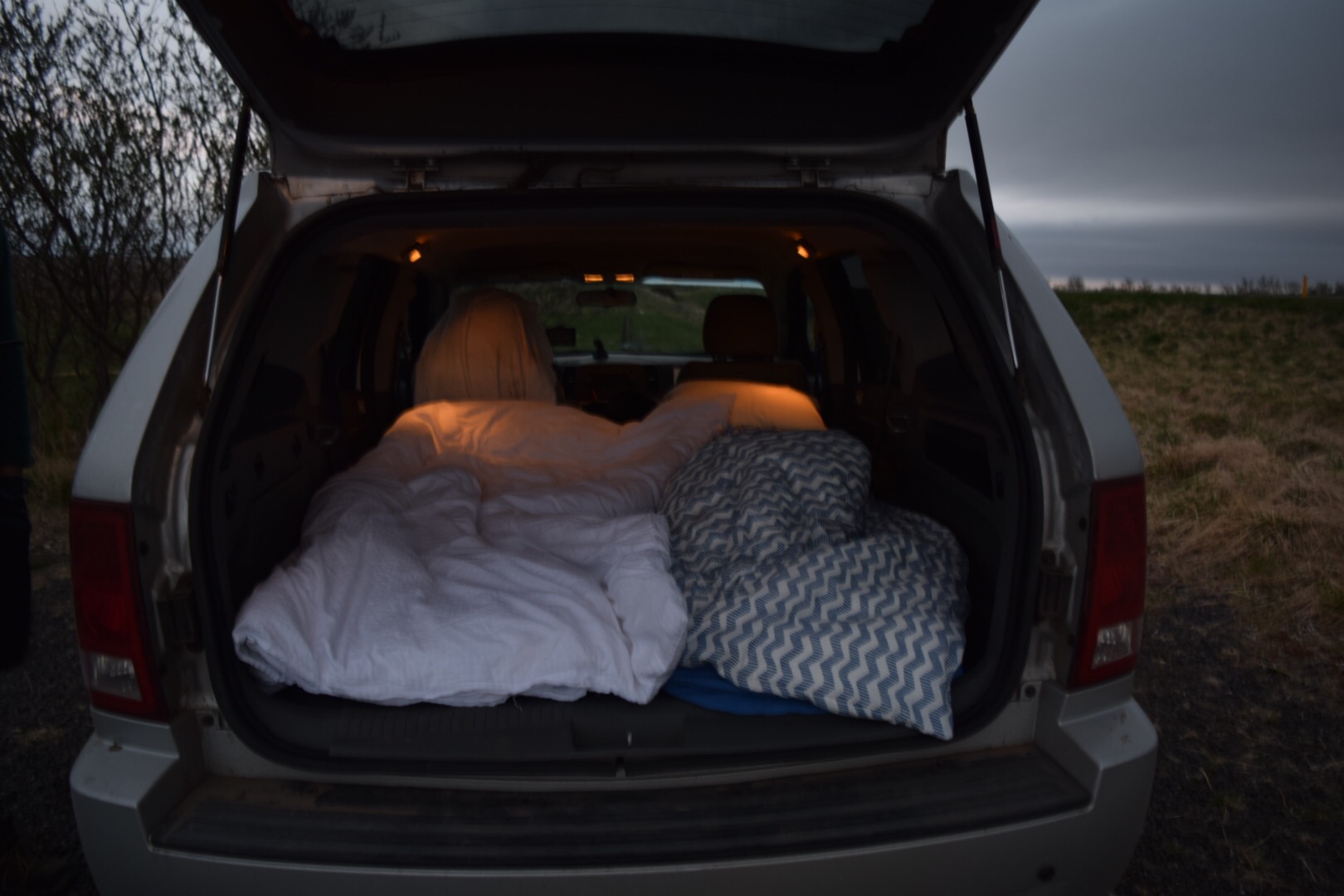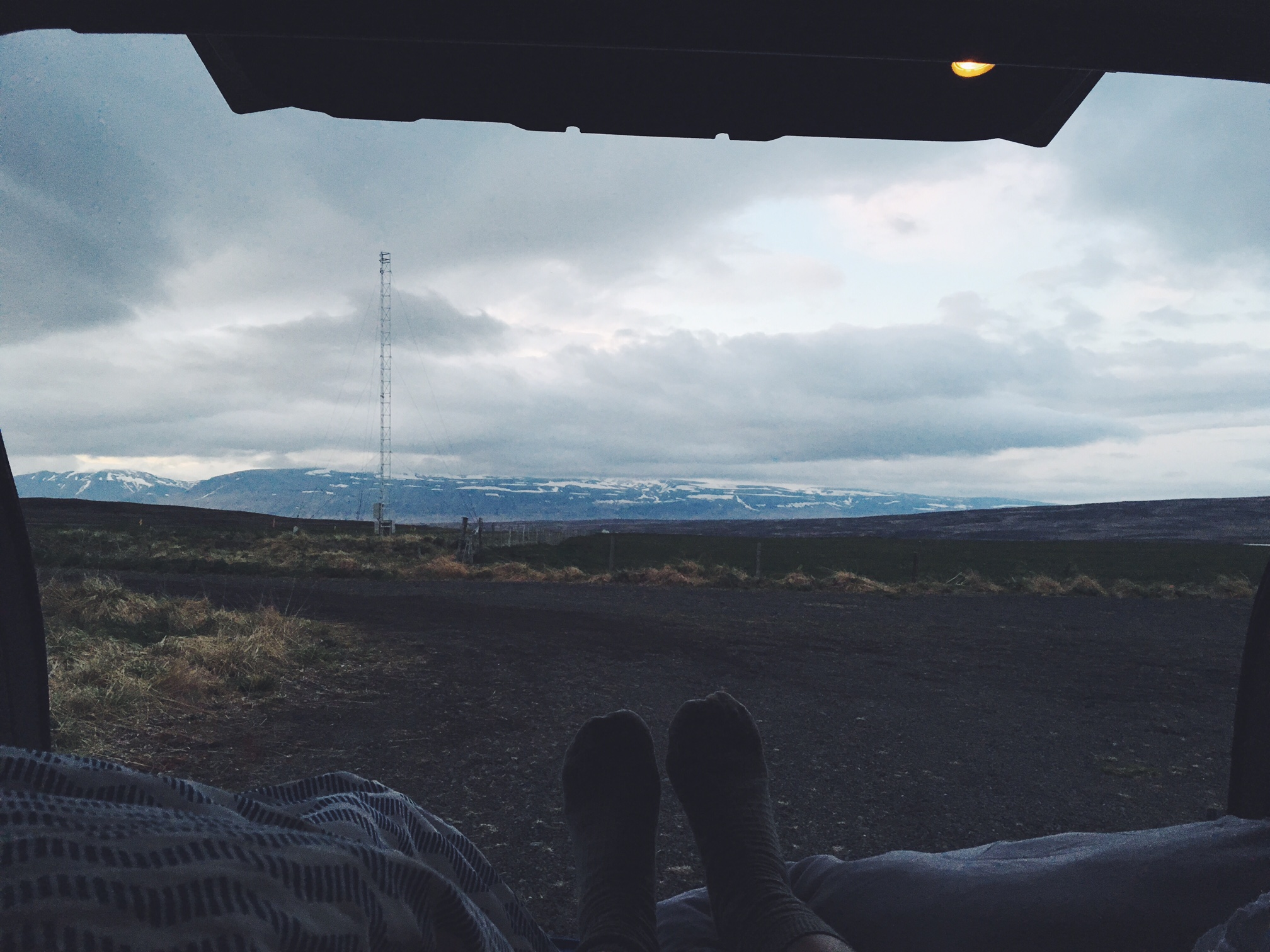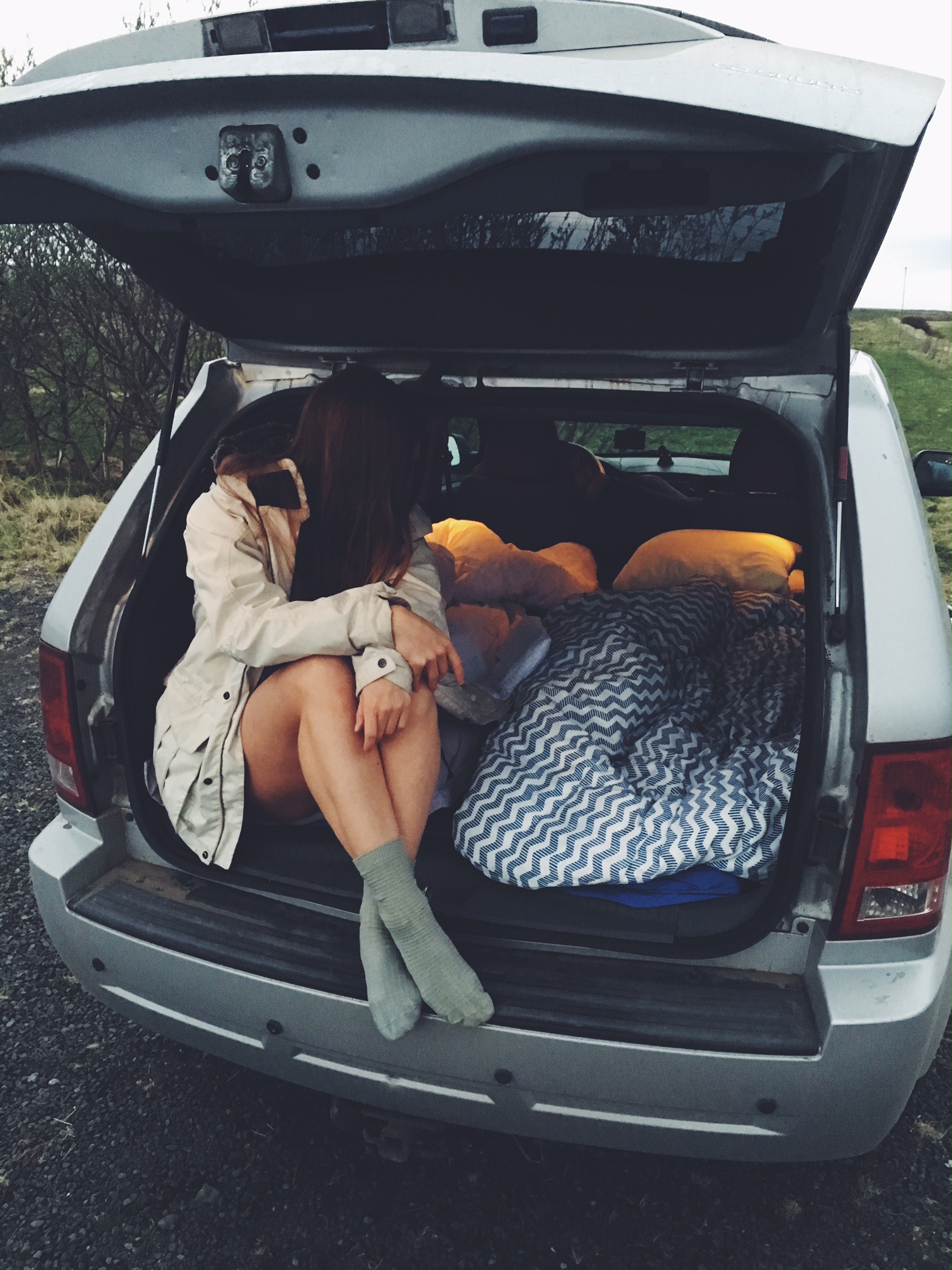 Day 2
When we woke up in the morning, we made breakfast to go and drove through Akureyri (The Northern city of Iceland) all the way to Godafoss. Which is a stop to make. It is a really cool waterfall, where Christianity supposedly began in Iceland. After we continued to drive on the Northern Coast and stopped near a Fjord to see Puffins. They were adorable and really far away but it was still very cool to see.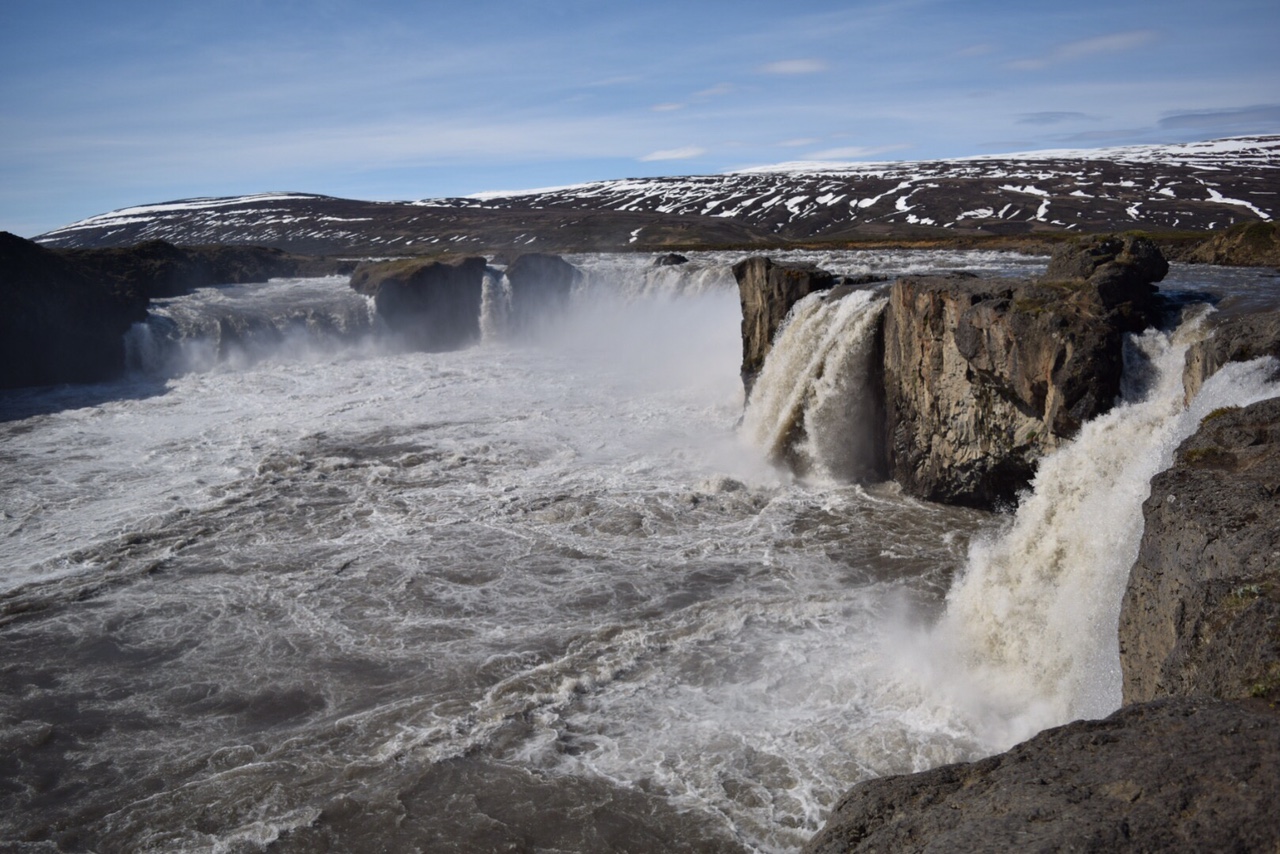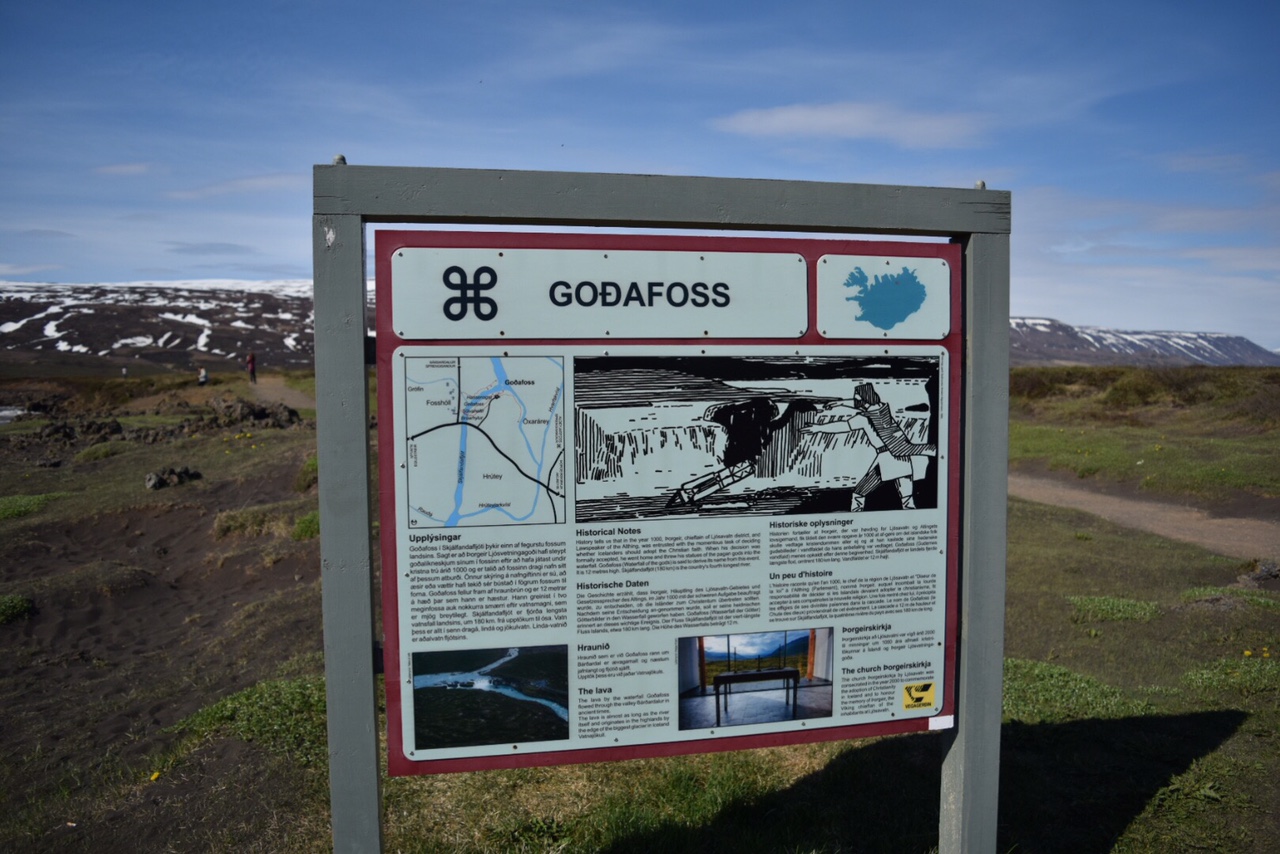 We then stopped at the National Park in Ásbygi. It was about a 2 hour hike and I like to call it the Grand Canyon of Iceland. There are several different trails to take, of course we did the wrong one but we had a great view of the opening of the canyon and sat and relaxed for a while. I wish we would have packed a lunch to take and eat there because it was almost 70 degrees outside. We wore shorts, I mean it was perfect. So please excuse my white thighs in the photos.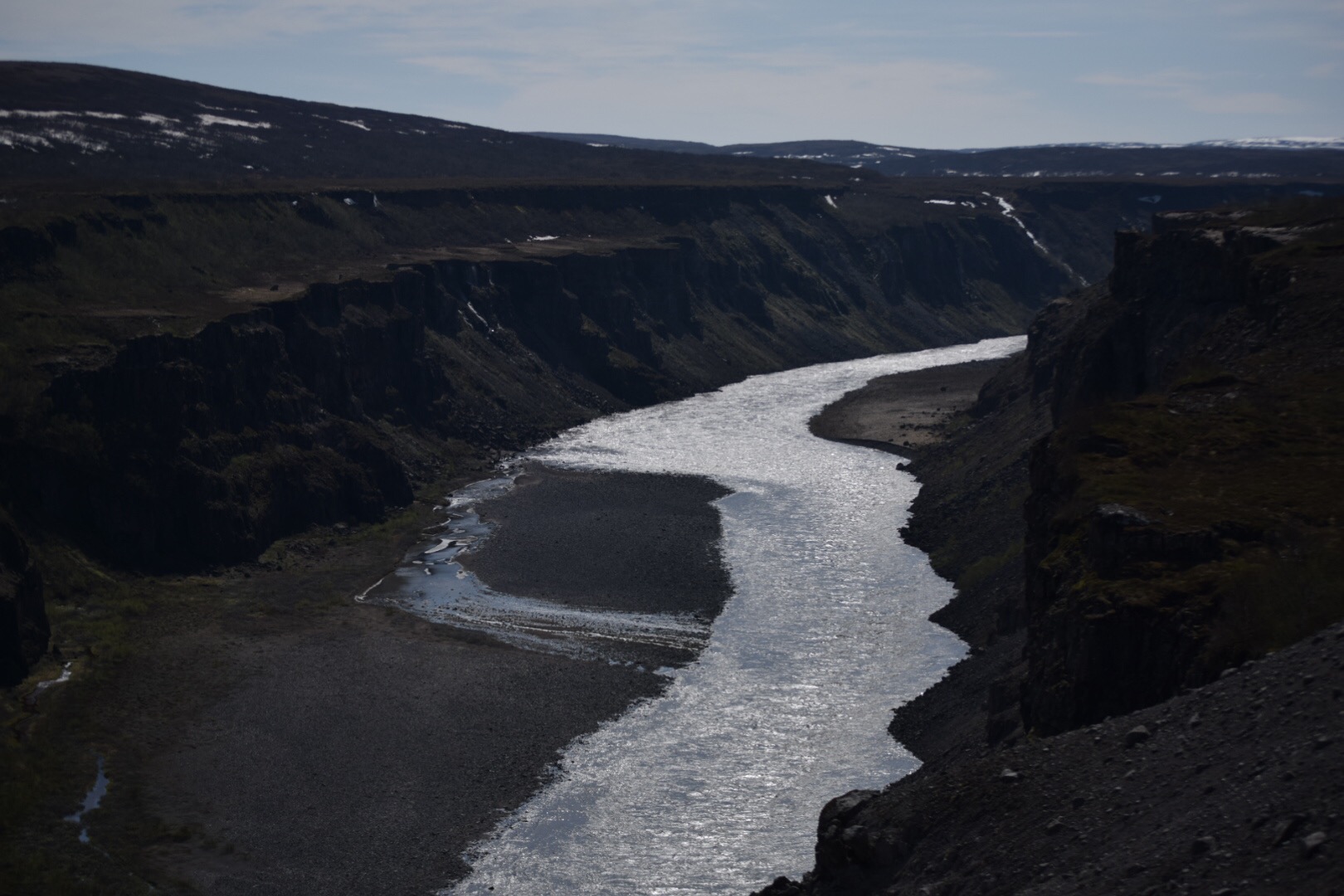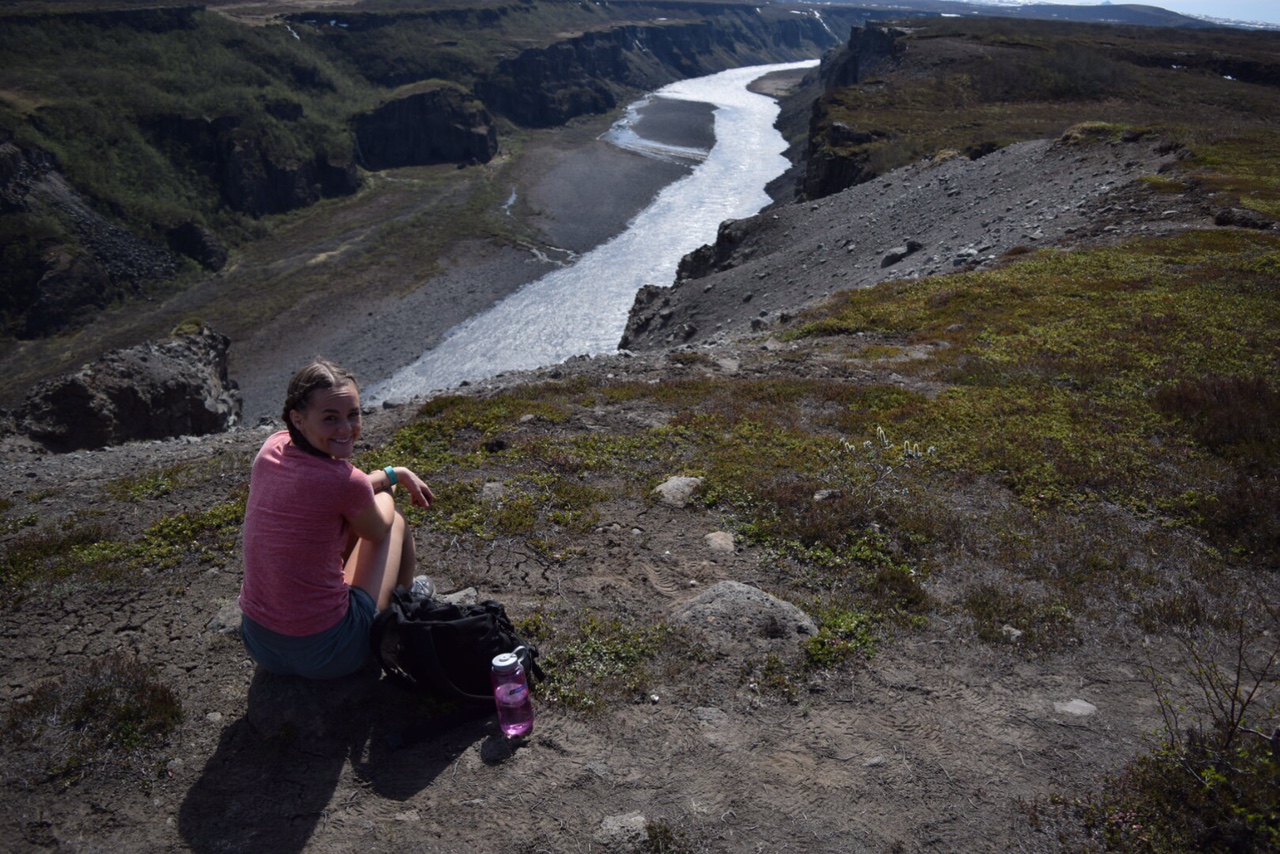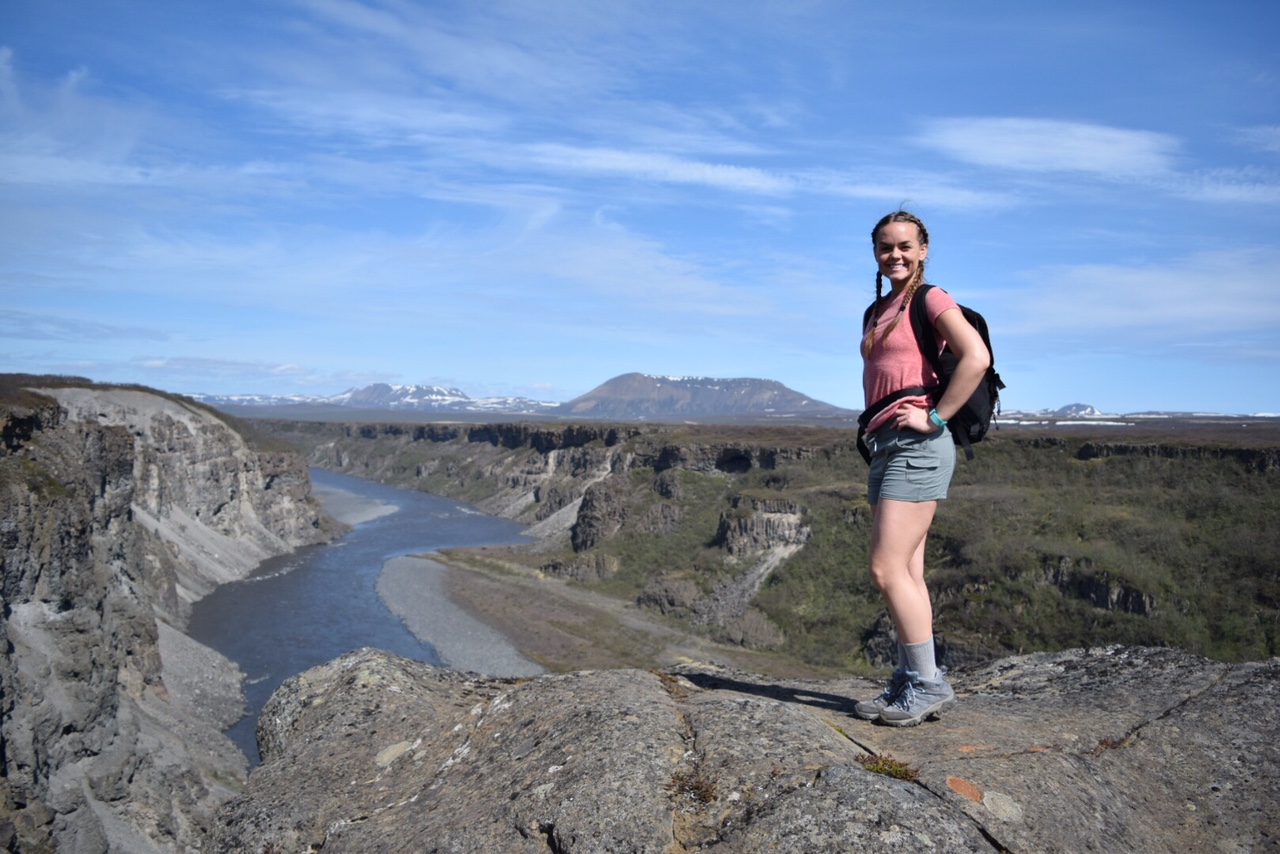 We grabbed lunch in Húsvík, the whale capital of Iceland. We ate a cute little place right by the water called Restaurant Salka. They had fresh fish and a ton of options for salads and soups. Luckily, it was a warm day so we enjoyed the weather. When we finished, we headed to Myvatn. I slept the entire car ride so I can't tell you what it looked like, but I can tell you to bring bug spray. We were going to go hiking through a park by the water and then we were attacked by swarms of flies. So we jumped back into the car and drove around to see the giant crater and also the cave pools.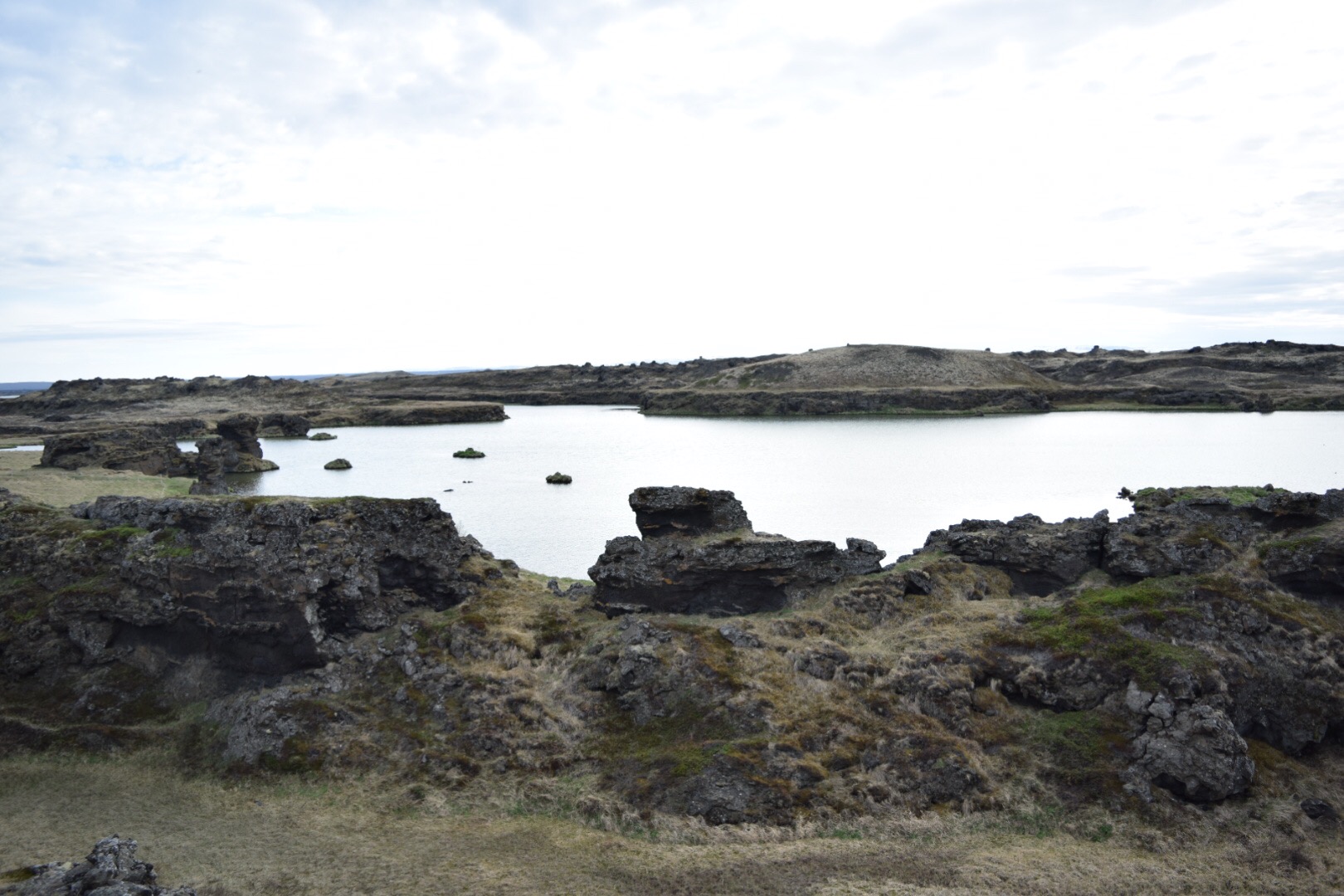 So we were on the road again on our way to Dettifoss. This is the most powerful waterfall in Iceland and when we arrived at the park we could see why. The ice was melting so the place was completely flooded. Someone had created trails to get to the waterfall around the water so it took a little longer to get to the location. But this is go-to while in Iceland. It was crazy to look at and honestly different than the other waterfalls we had seen in Iceland (there are thousands of waterfalls). We drove for a few more hours, through the mountains, around the bends and watched the picturesque sky change shades of blue and yellow.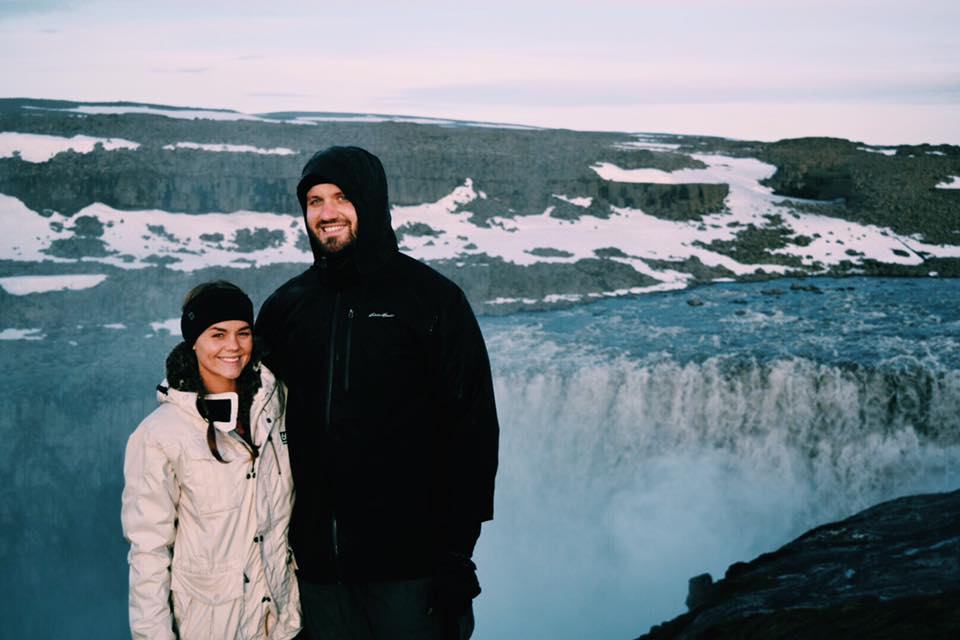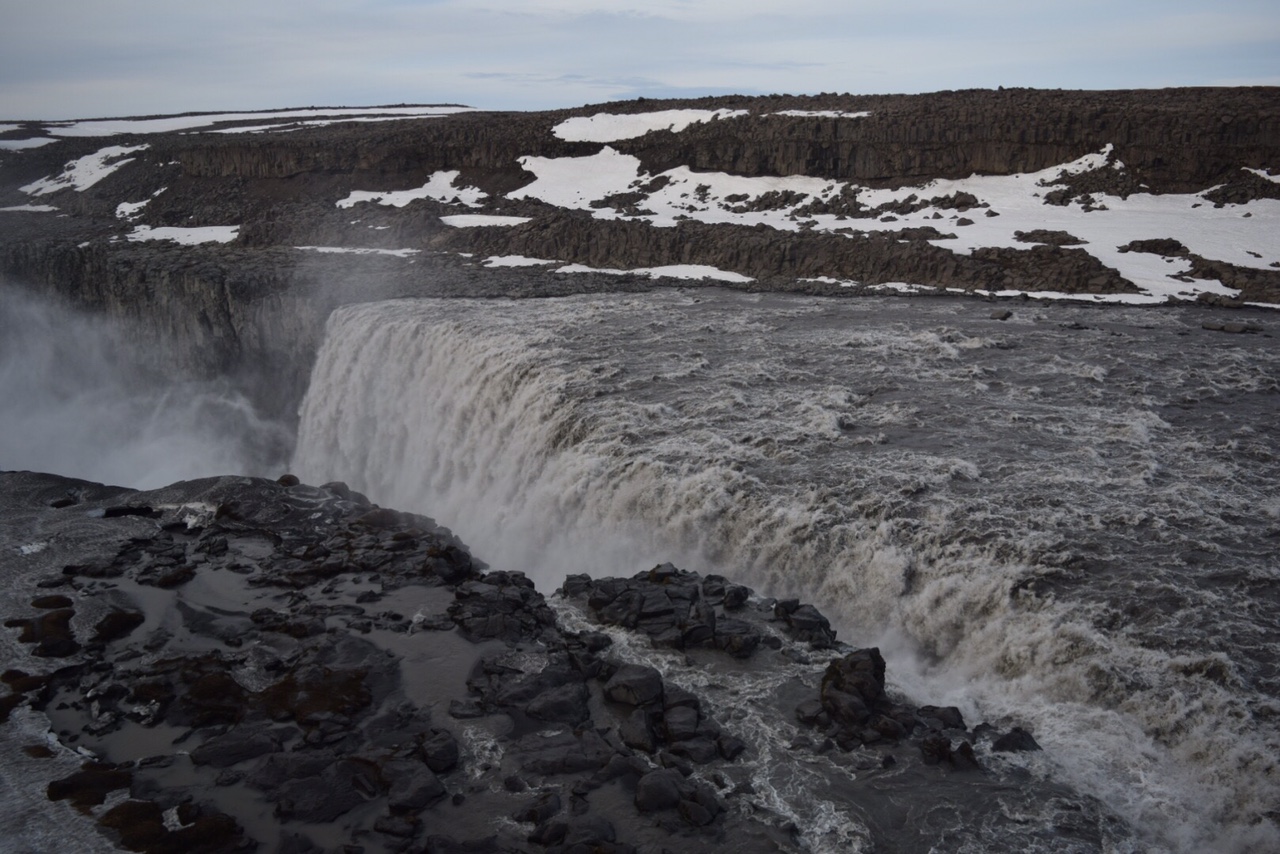 We drove all the way to the Northeastern side of the island and camped near Sudurfjardavegur. I passed out immediately. David let me sleep in while he went out and hiked some mountain that had no name the next morning.
Day 3
We woke up and went to Höfn. It is such a cute seaside town and is known for it's langoustine. We drove around the town and looked at the boats in the harbor. We ate at a small restaurant called Humarhofnin. We sat outside because it was another beautiful day. If you come upon a nice, warm day in Iceland, enjoy it while you can. Eat slow and drink a little to be in the moment. After lunch, we hopped back into the car and headed South. The drive is very scenic. You are on the coast and the view of where the water meets the horizon is beautiful. There are several beaches and other stops to enjoy along the way.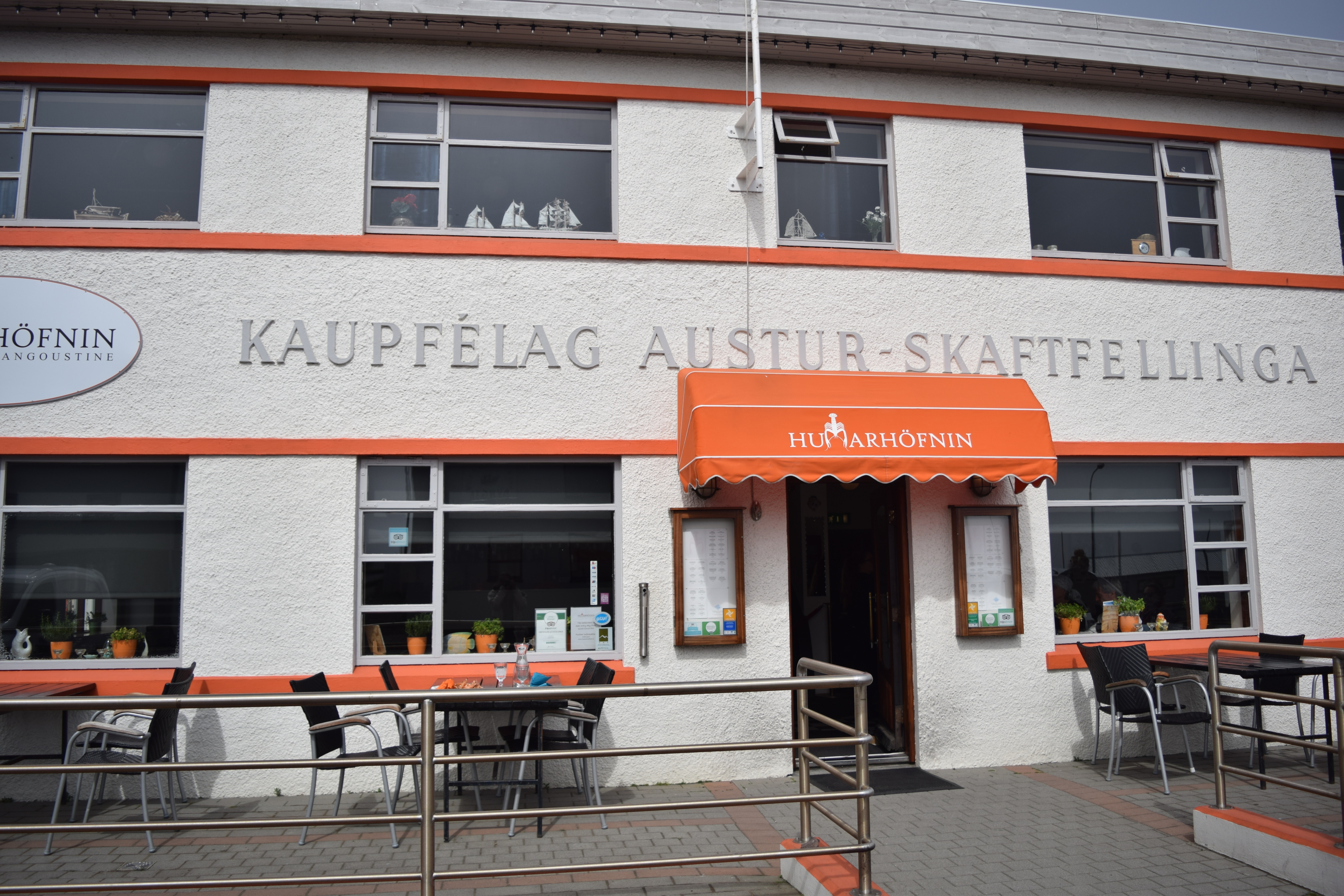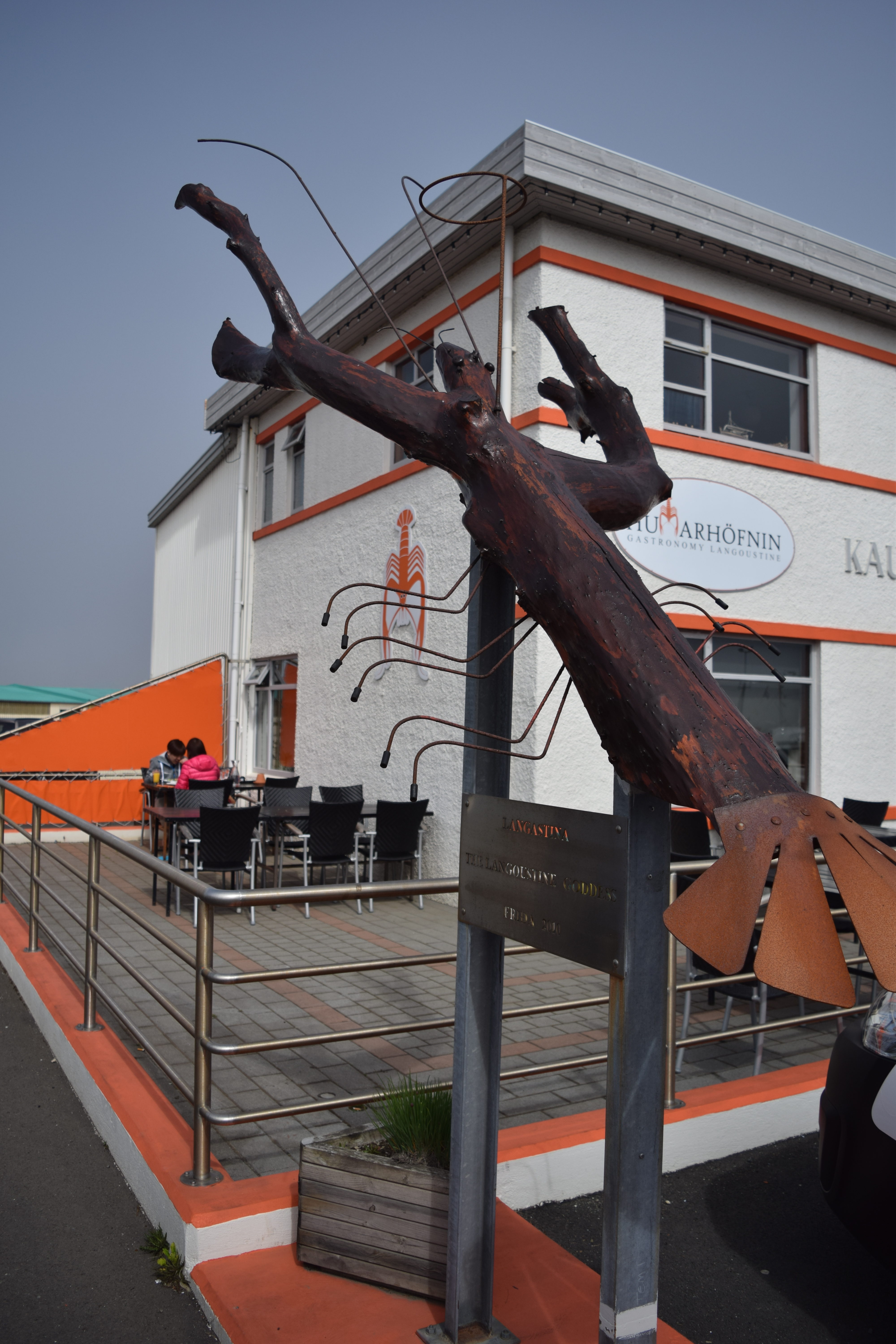 Between Höfn and Hof, we saw a REINDEER. I started screaming, I was so excited. He was just a little fella, but David turned the car around for me to snap a photo. Who would have ever thought we would see a reindeer on the highway? Not me. After the excitement died down, we hit a patch of fog. We couldn't really see a thing except a ton of cars making a right ahead of us. We decided to see where they were going and came upon the Jökulsárlón Glacial Lagoon. It was incredible.  The water was crystal blue and the ice was reflecting off the water so perfectly it was crisp and clear. There were so many pieces floating in the water. We gazed for a while before heading to our next hiking spot of the day.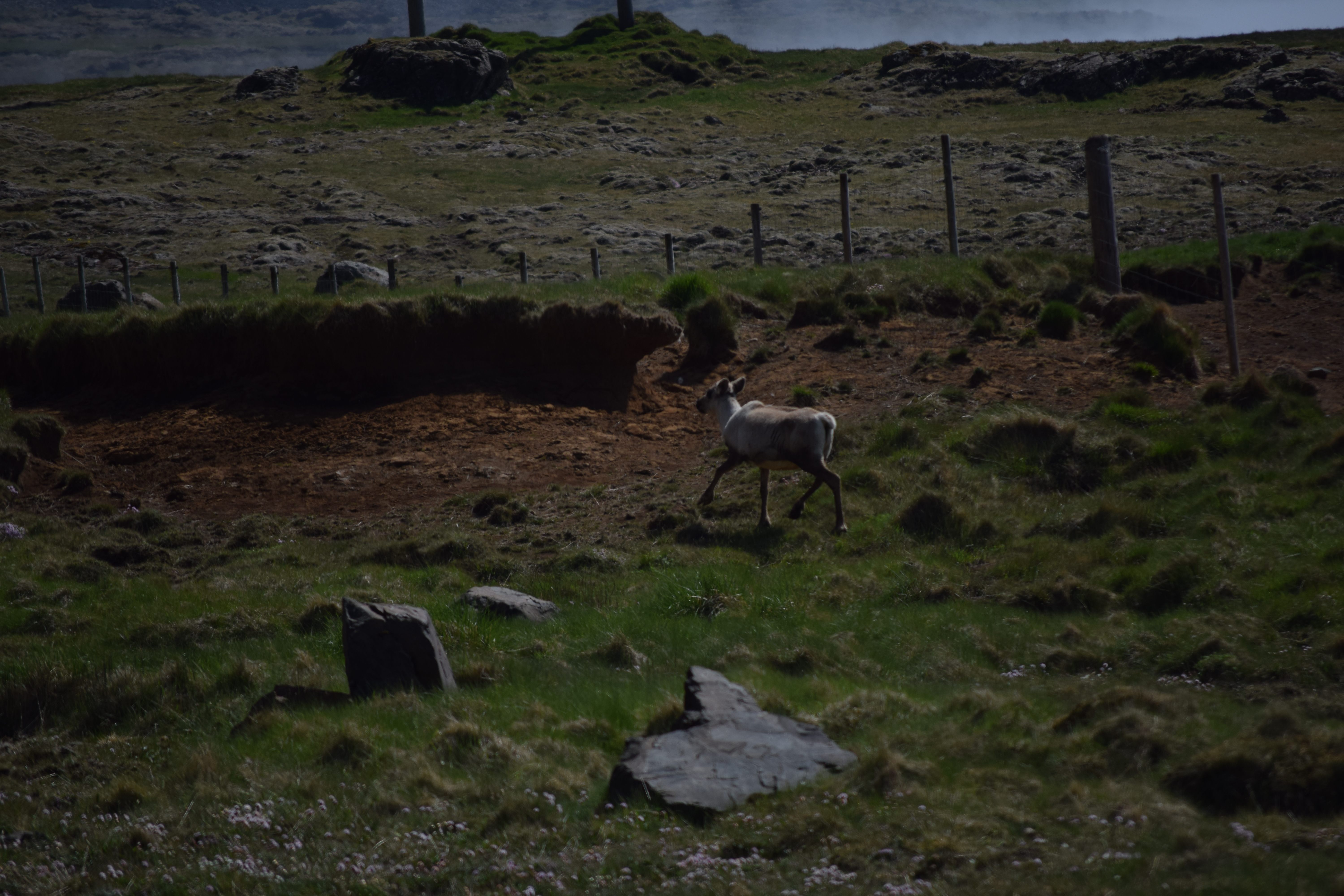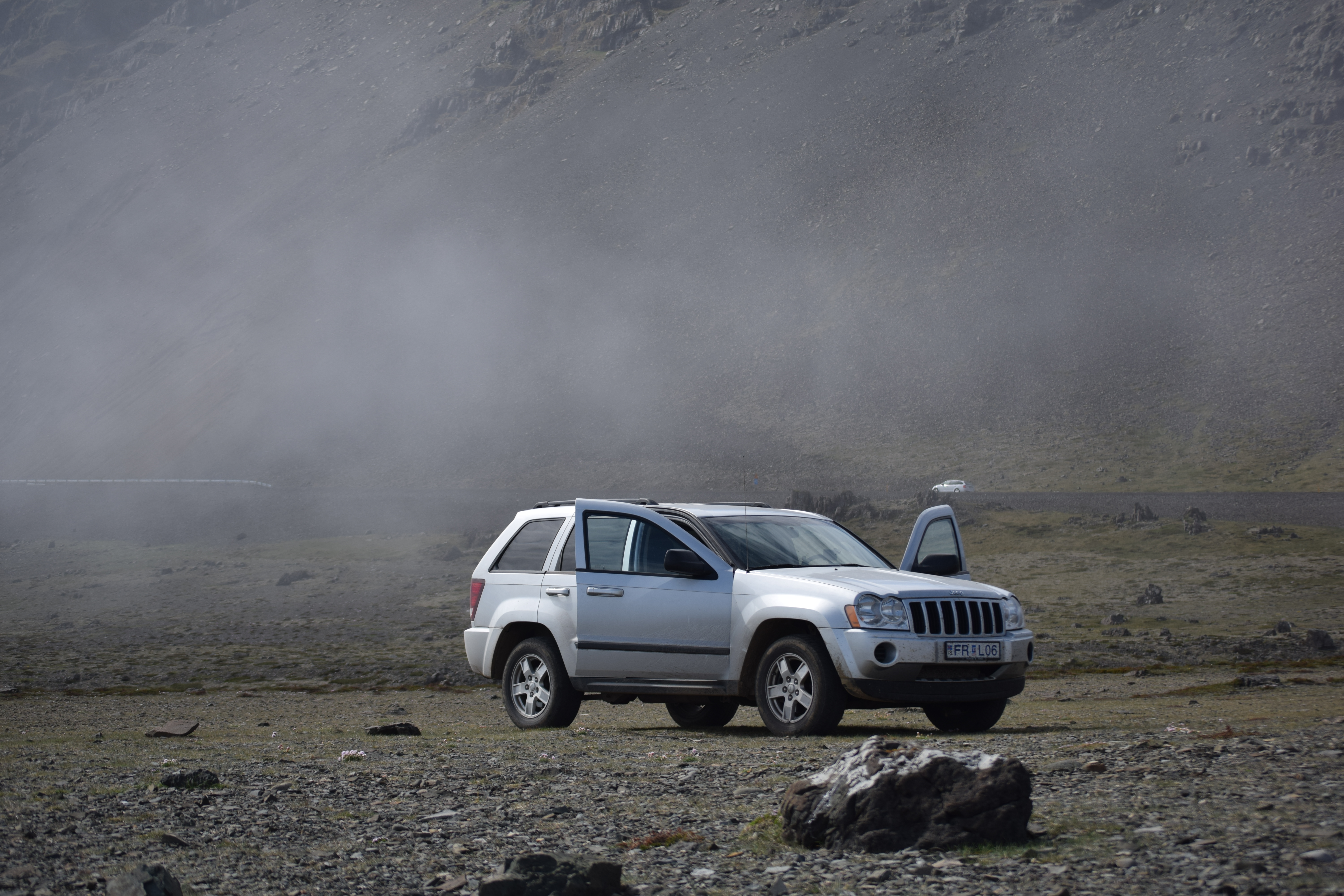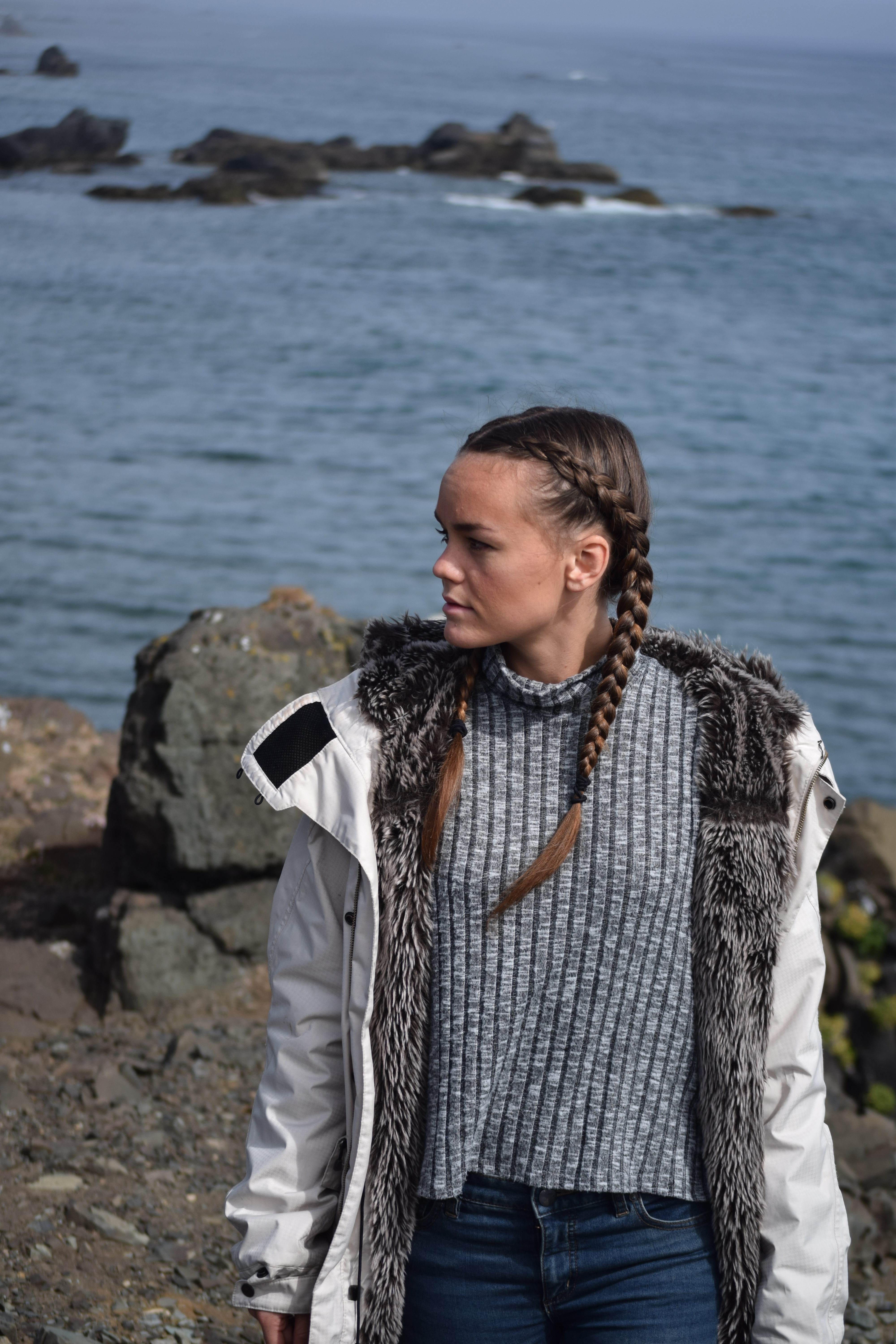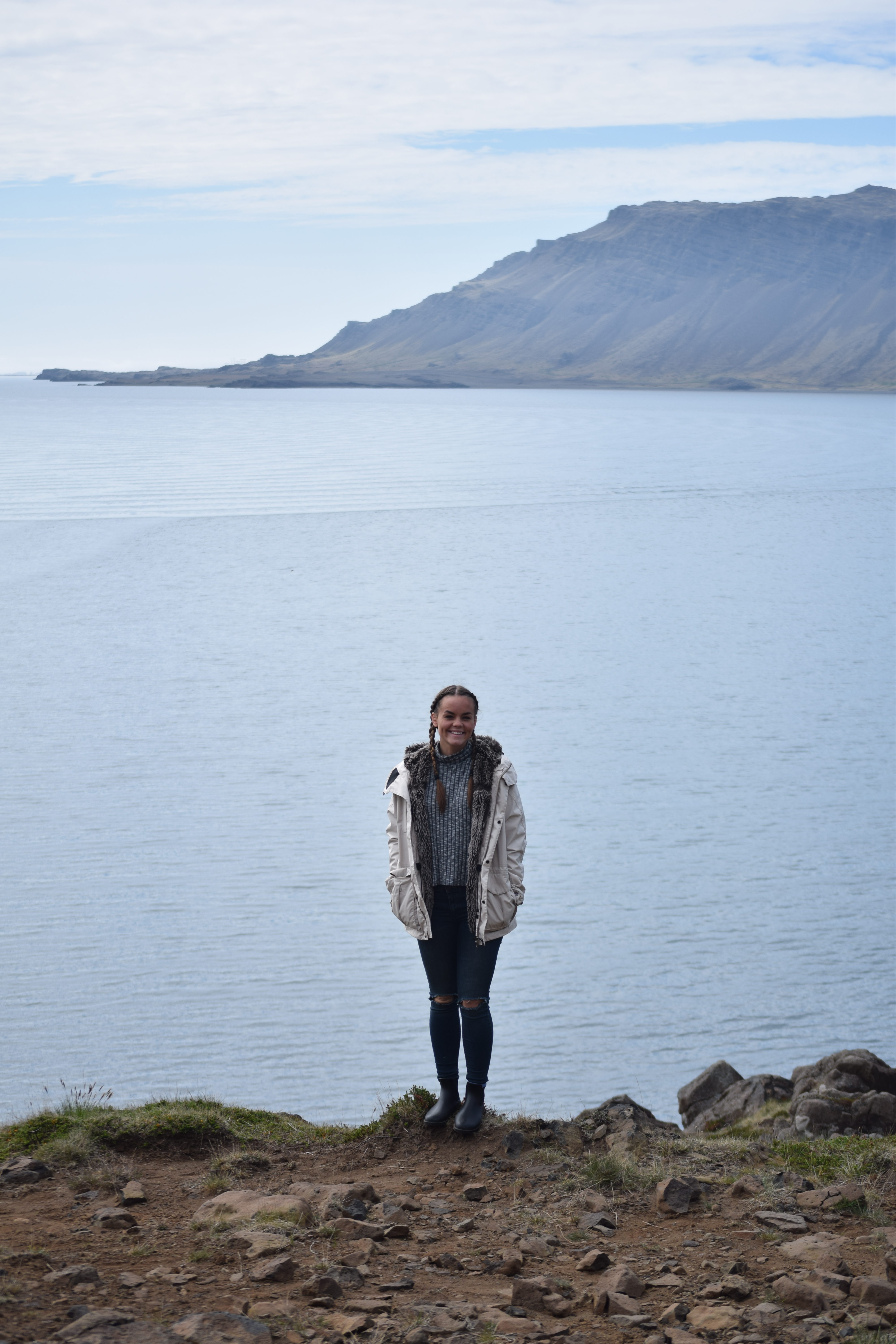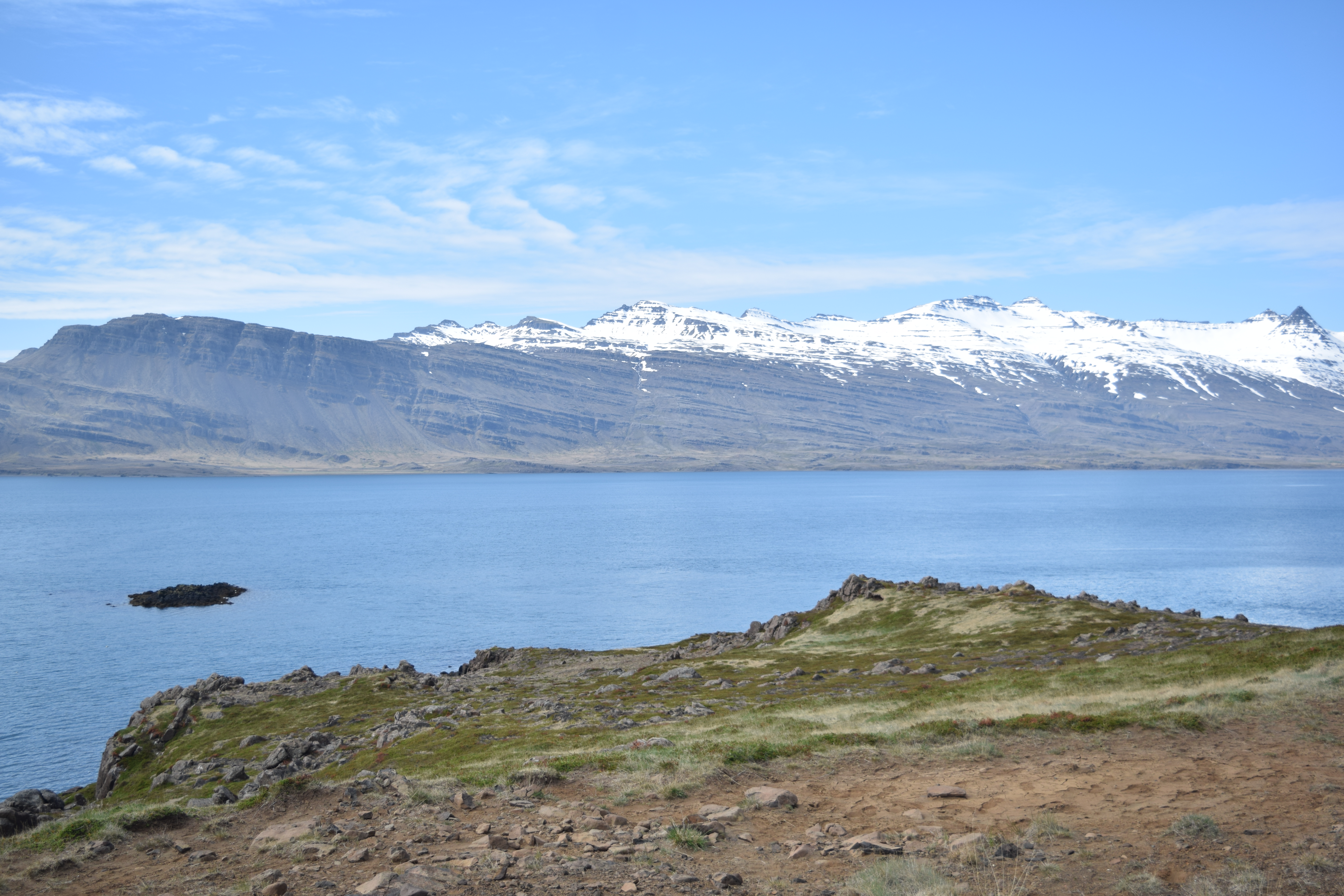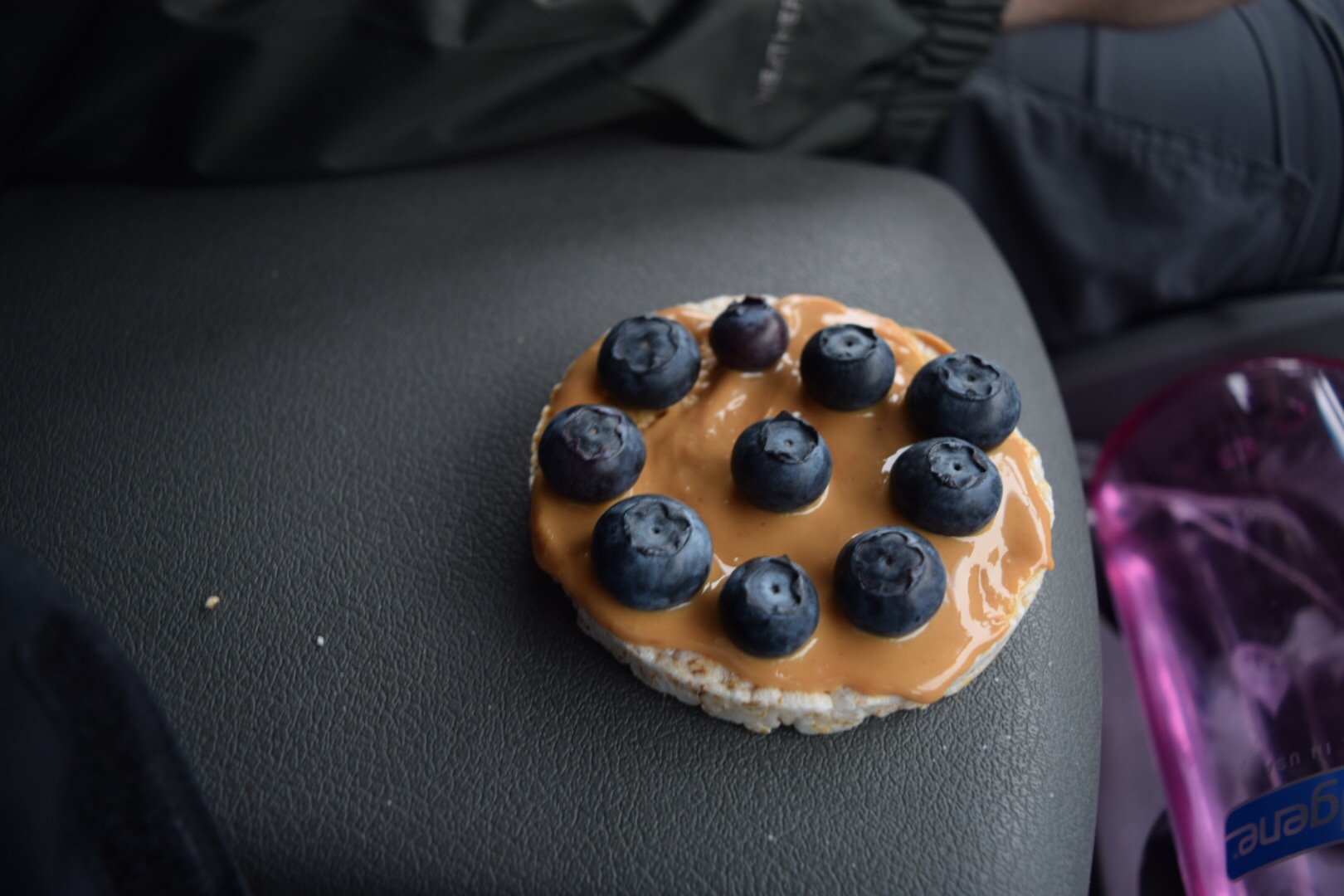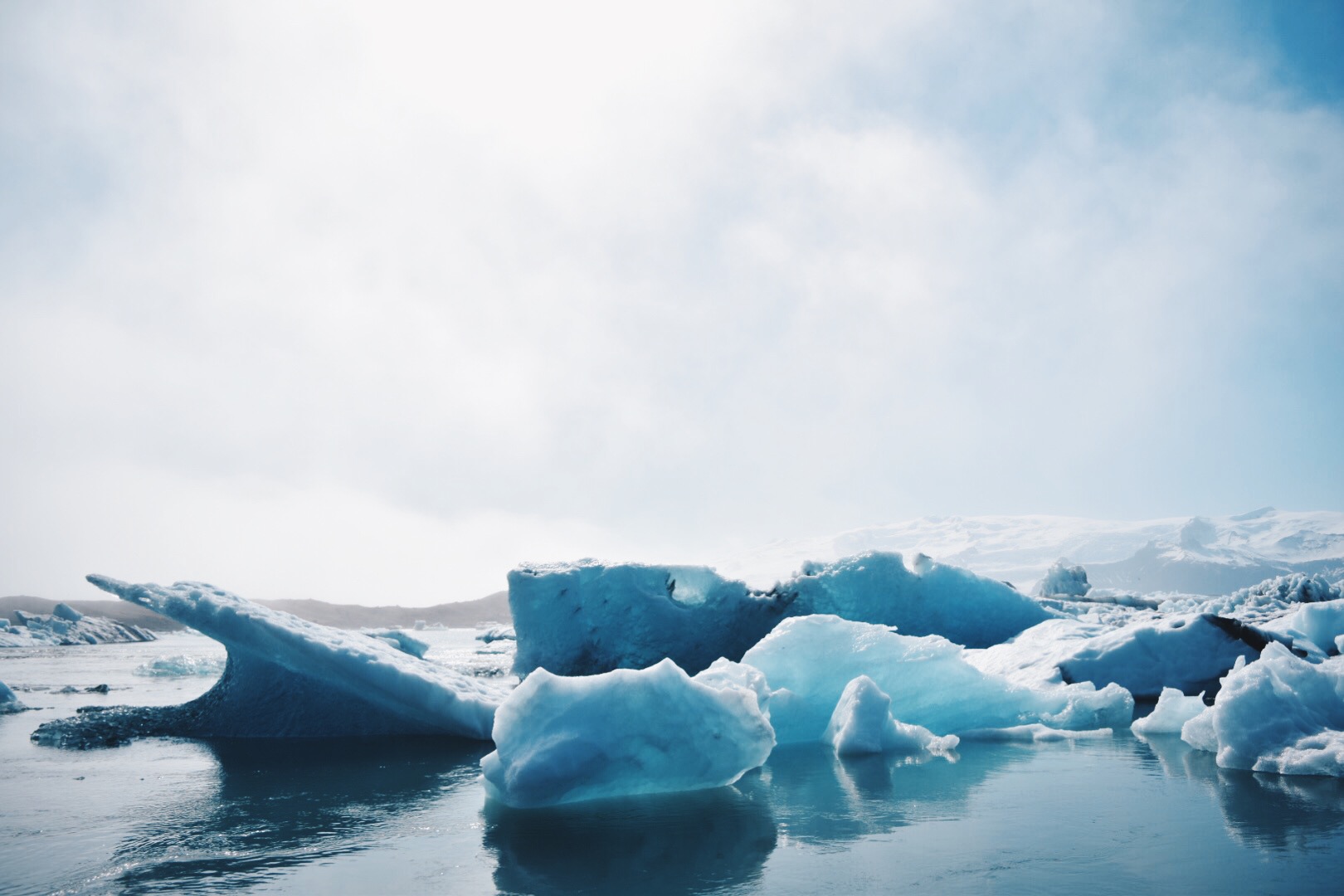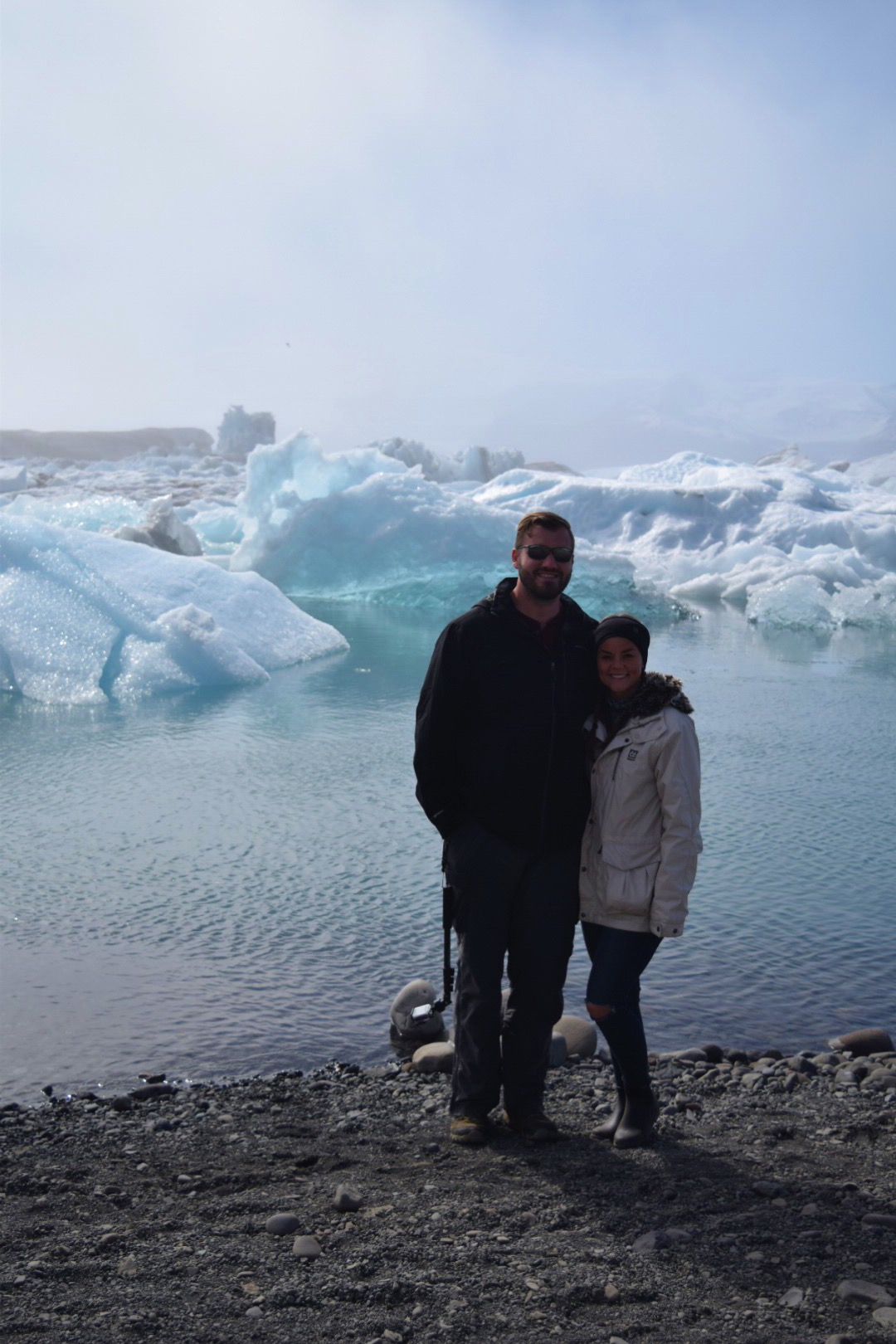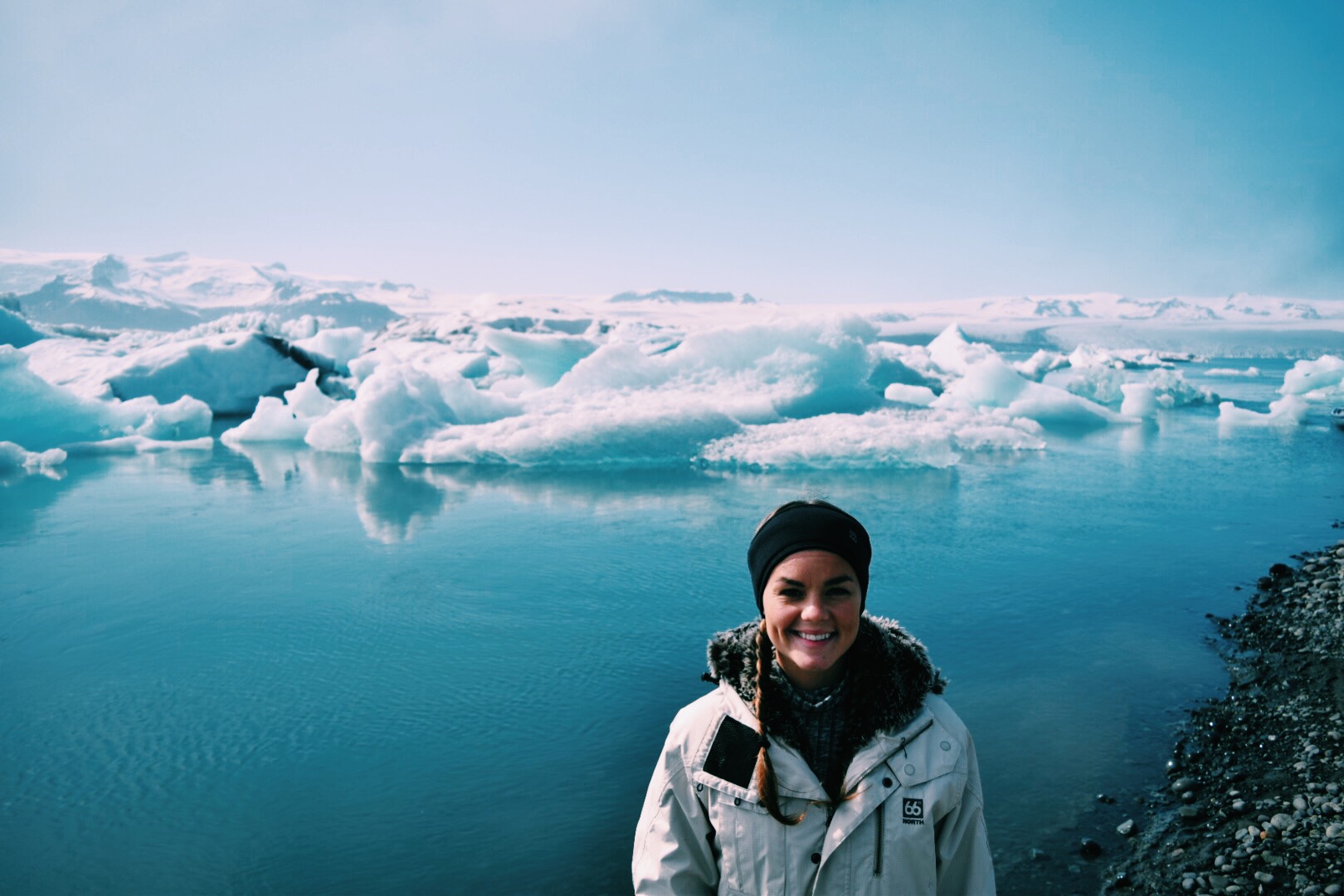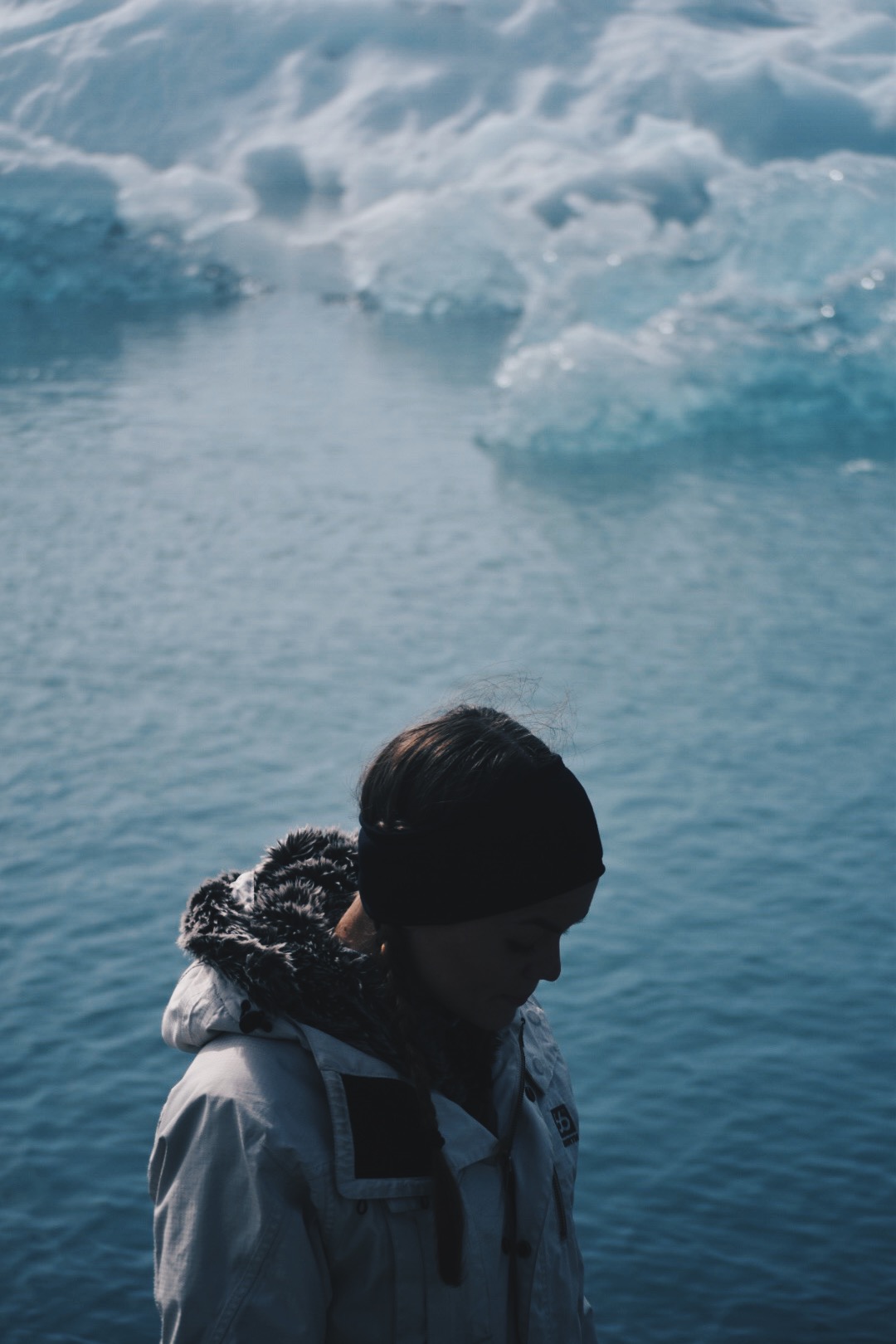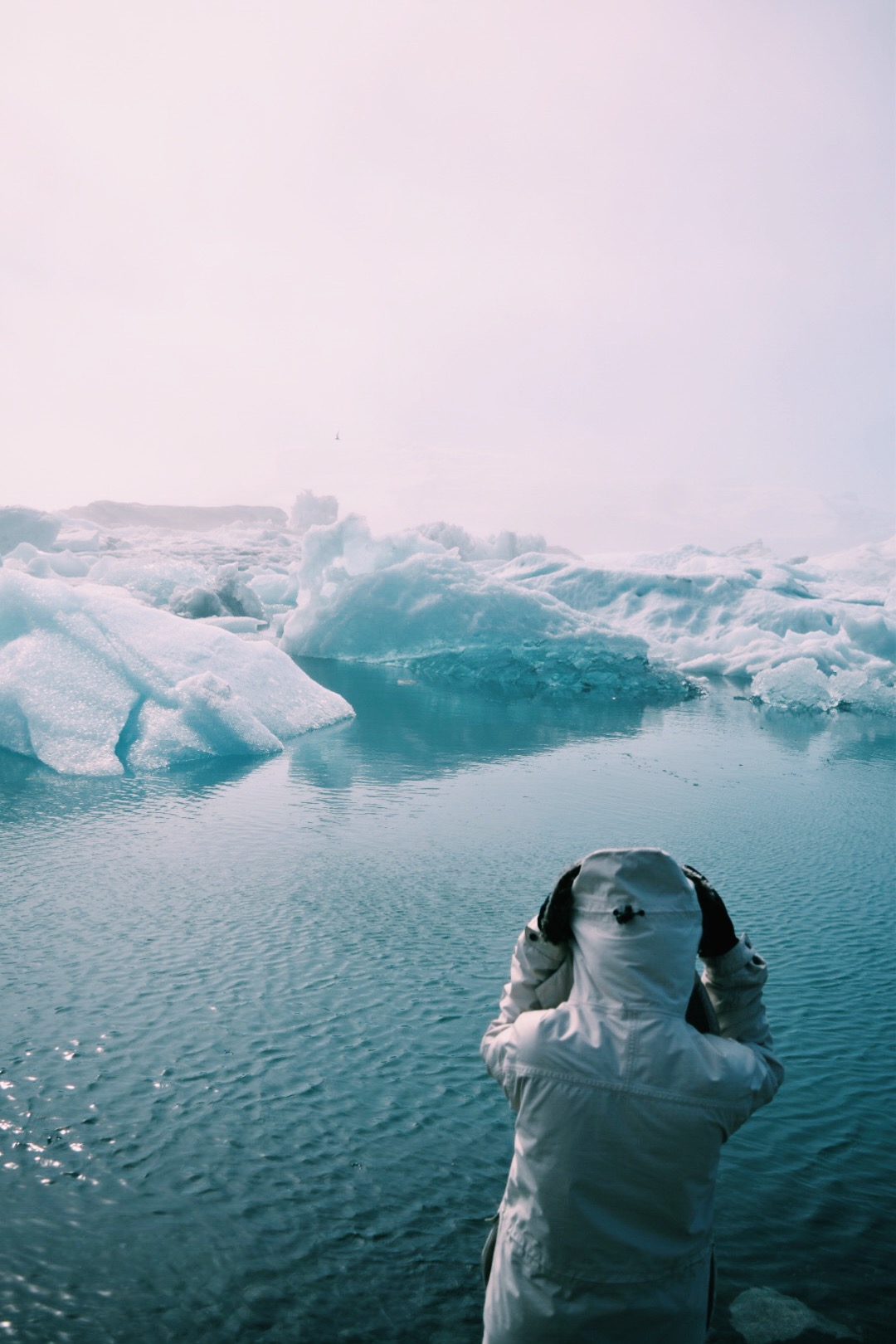 We stopped in the National Park to hike to Svartifoss. It was a beautiful, warm day and of course we went the wrong way on the trail. The long way. But it was worth it. We overlooked the glacier fields and the mountains. We felt accomplished when we made it to the waterfalls. We only had a birds eye view, but that was fine – when you see one waterfall, you have seen them all in Iceland. The hike was about 2 hours and by the end we were done for the day. This park was a campsite and it's own restaurant food truck. We didn't stay here, but it is a great option.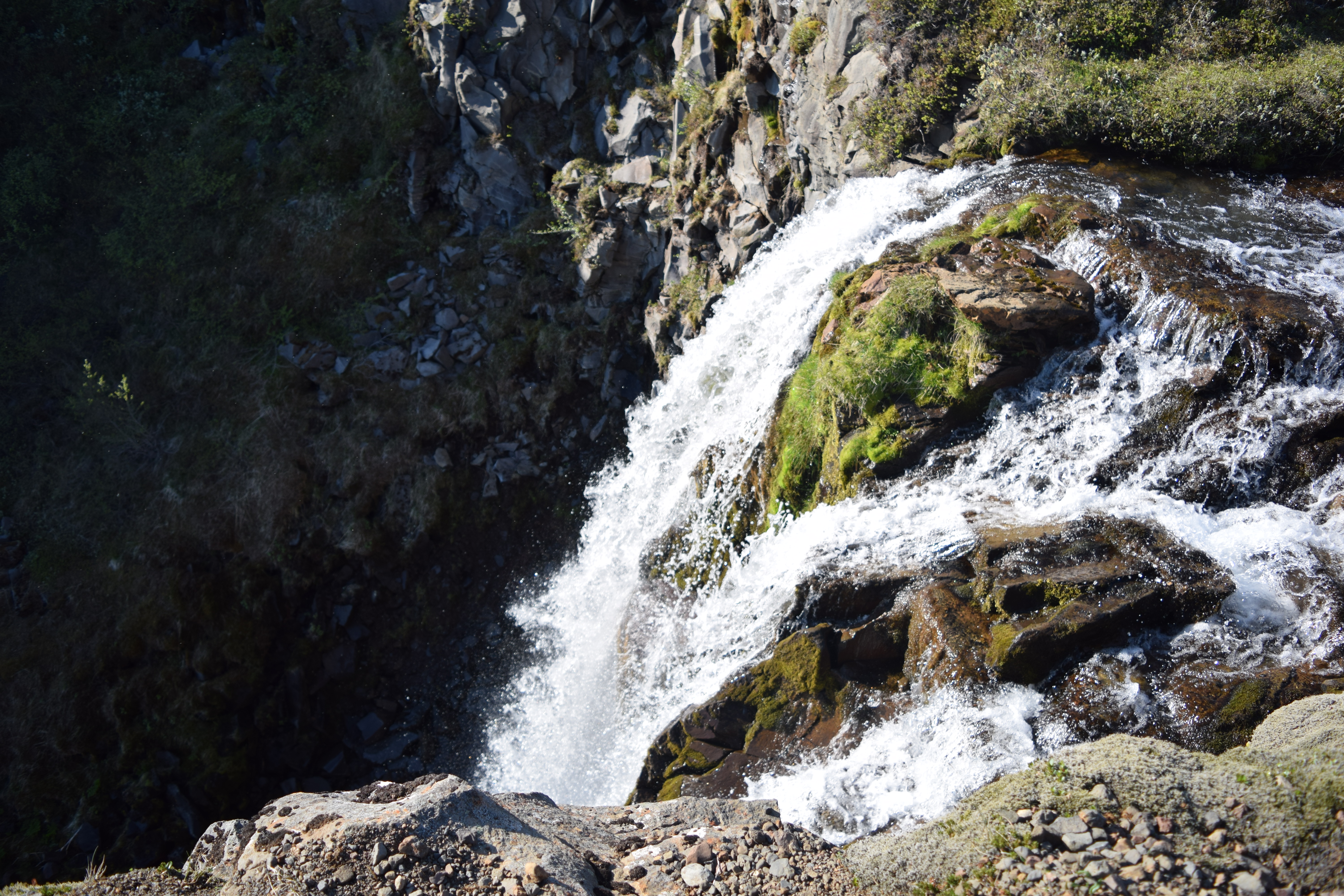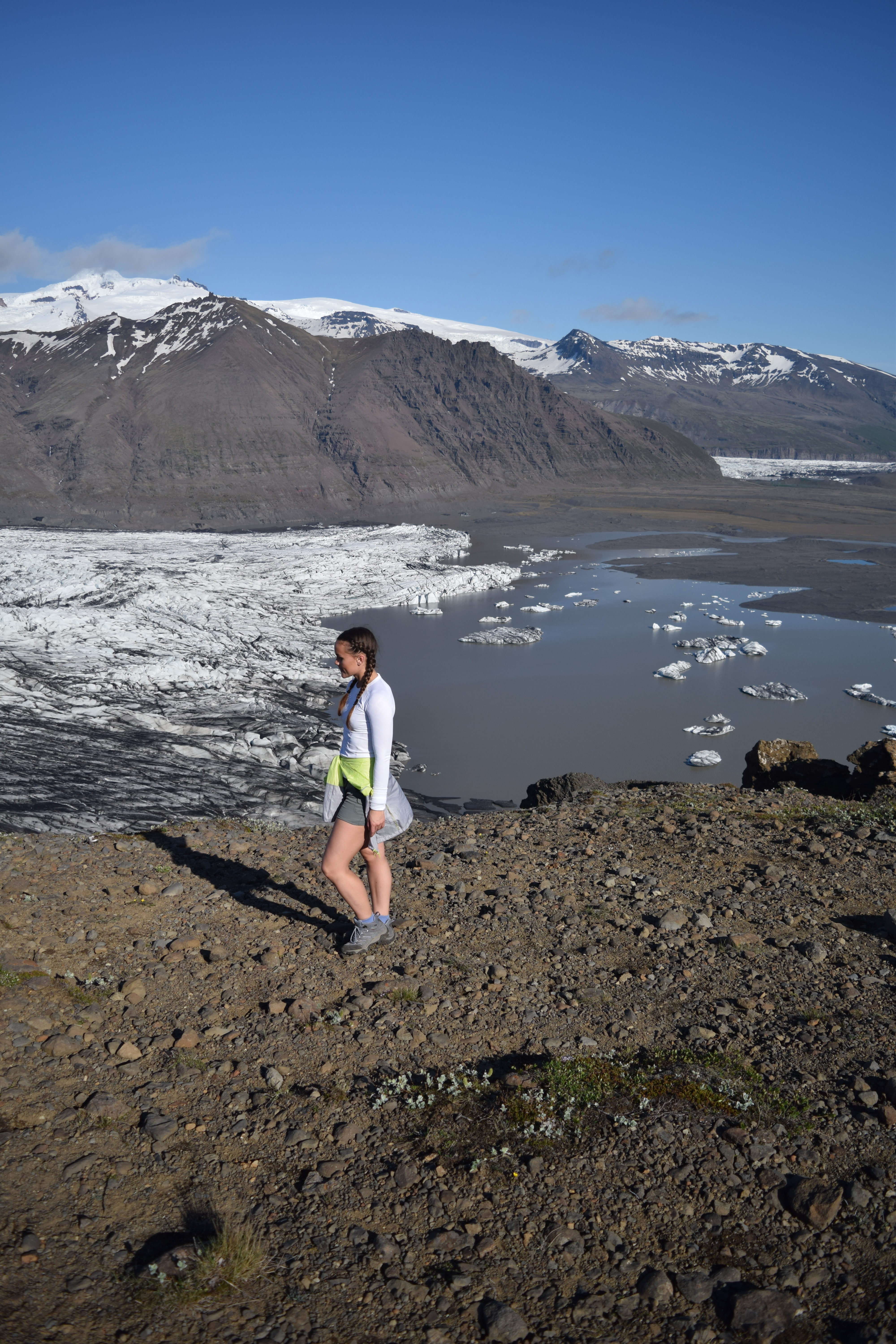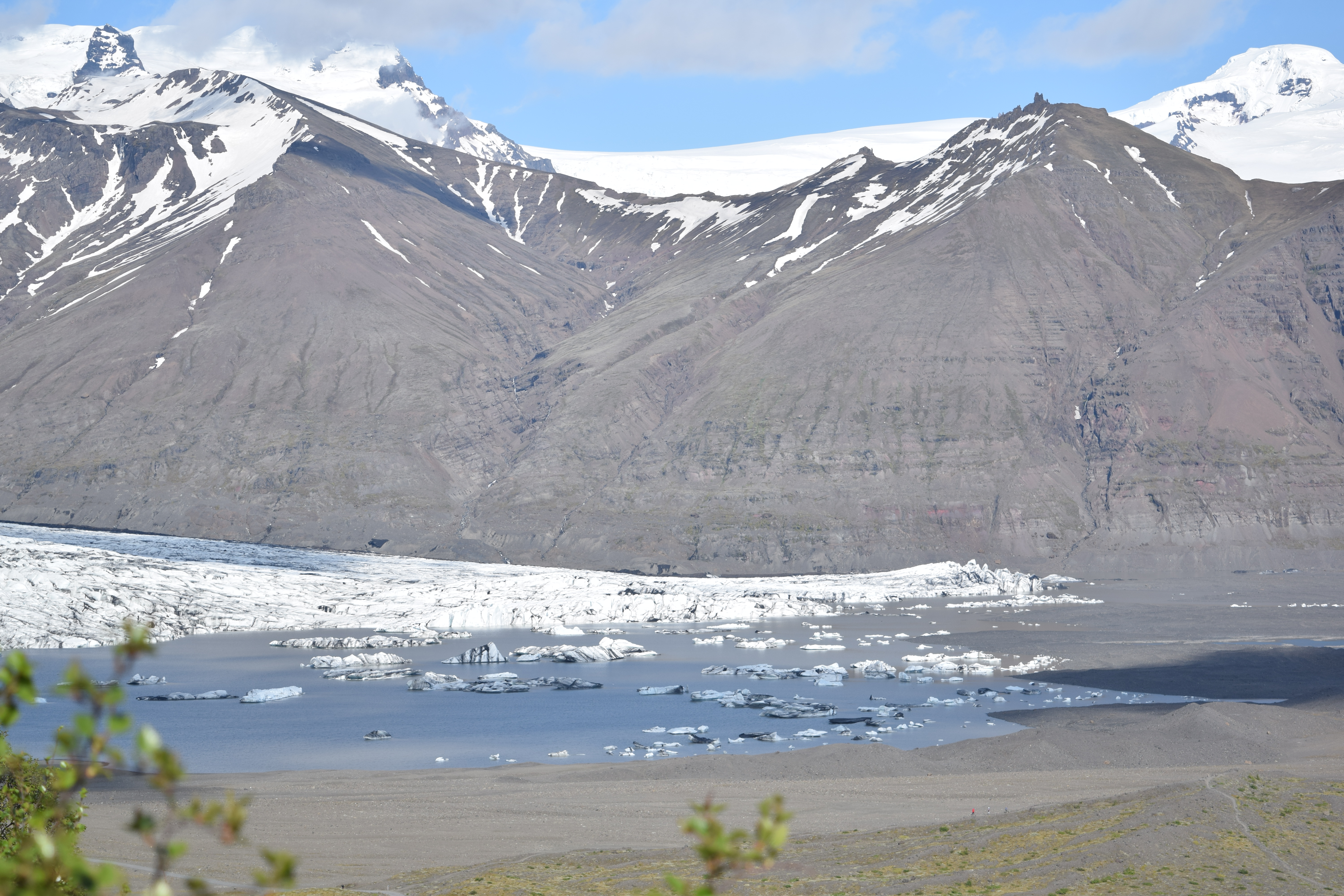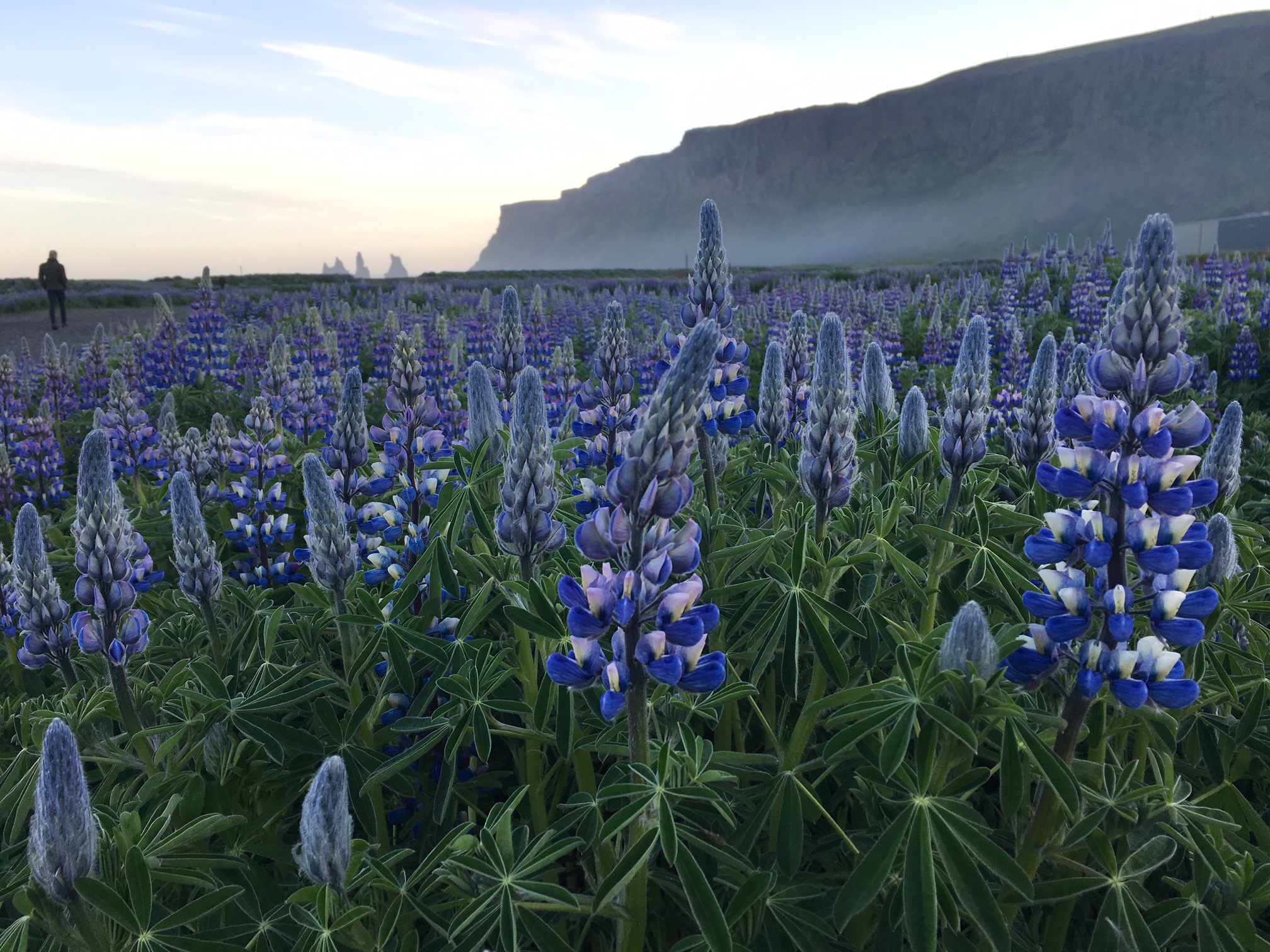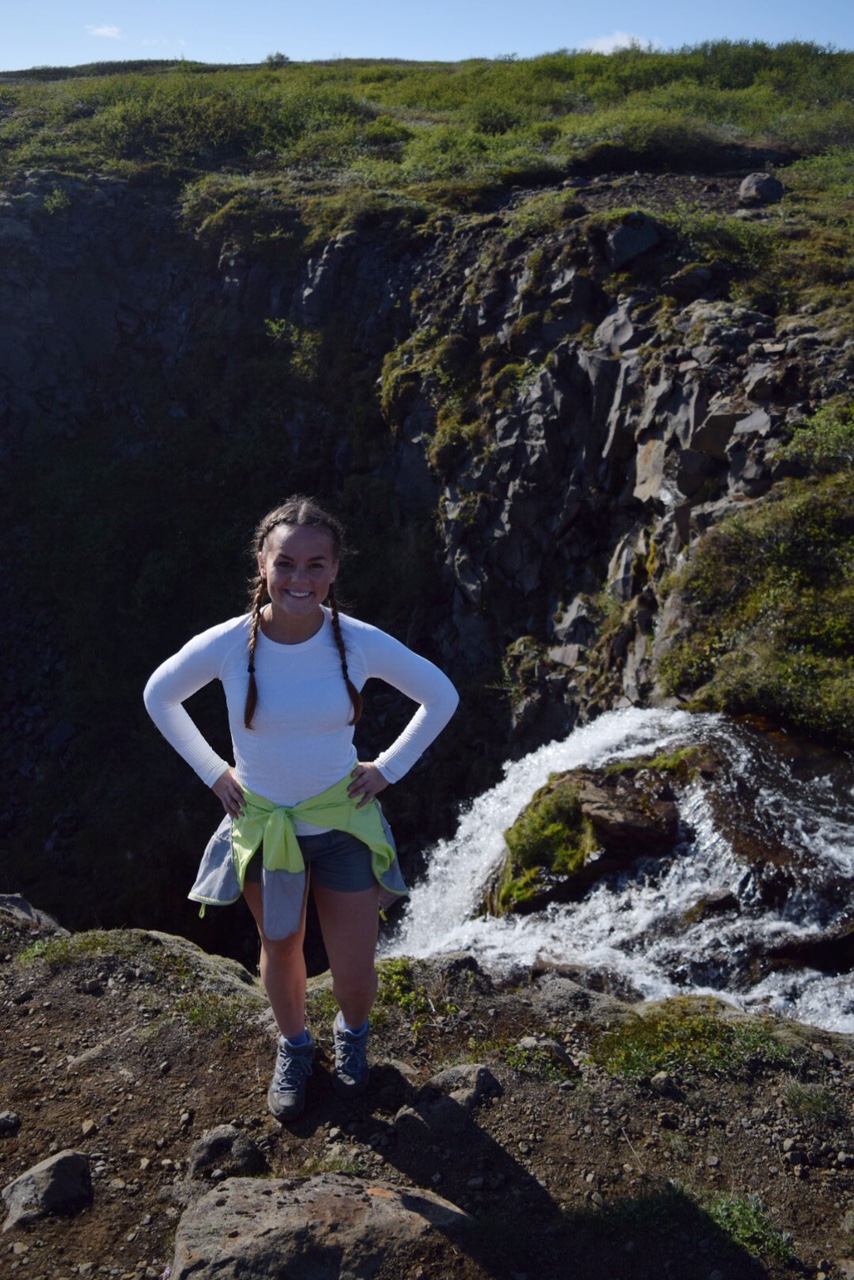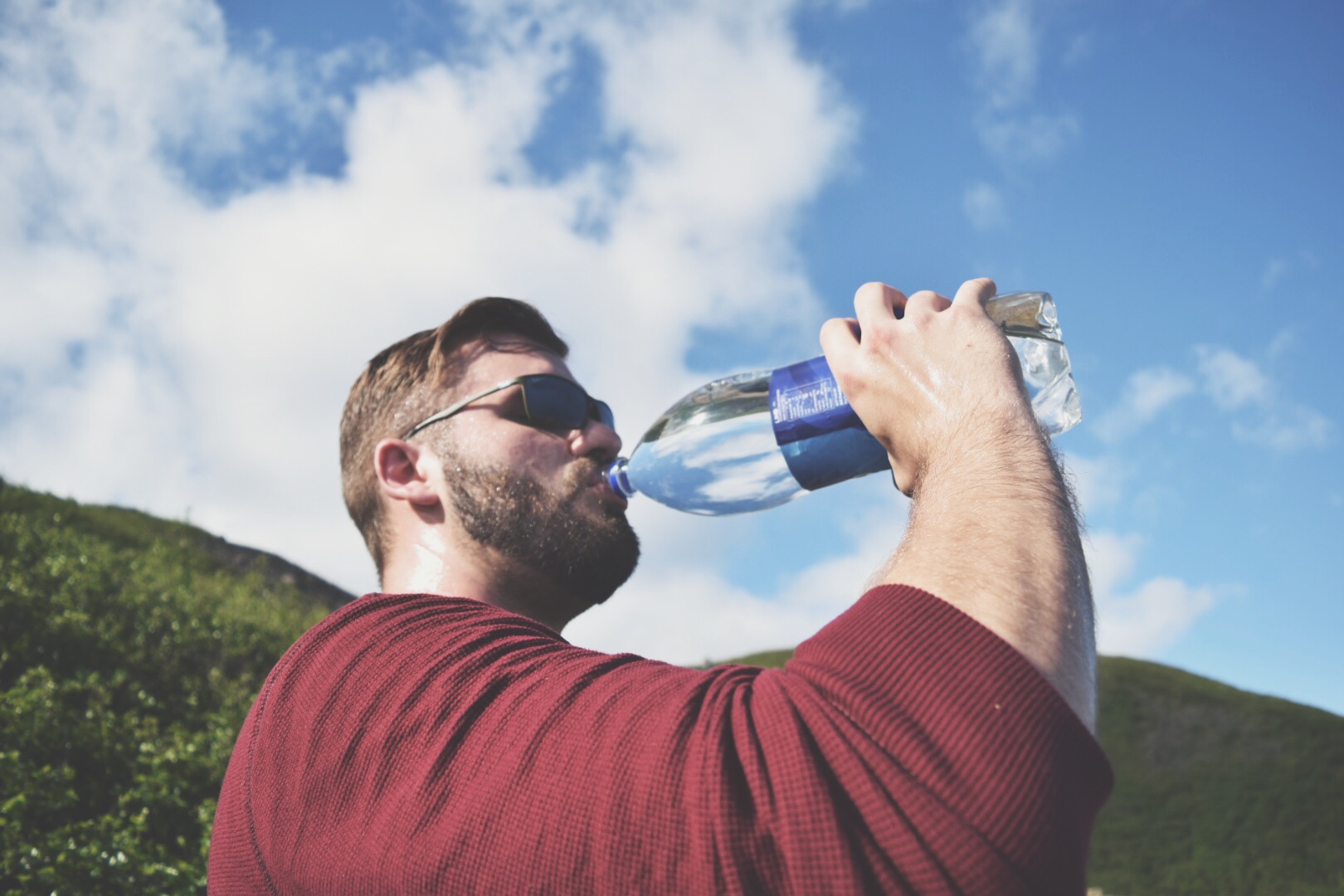 We stopped in Vík on our way home to Reykjavík, the fields were full of vibrant Lupine. We stopped to eat pizza at Strondin Bistro and Bar. It was really great and they had classical dishes of Iceland as well.
We had already explored the Southern coast of Iceland so we drove home. But if you decide to take this 4 day car trip, drive through Vík and walk along the beach. After Vík, visit the Sólheimasandur Plane Crash. You can also hit up the hidden pool of Seljavallalaug before camping next to Skógafoss.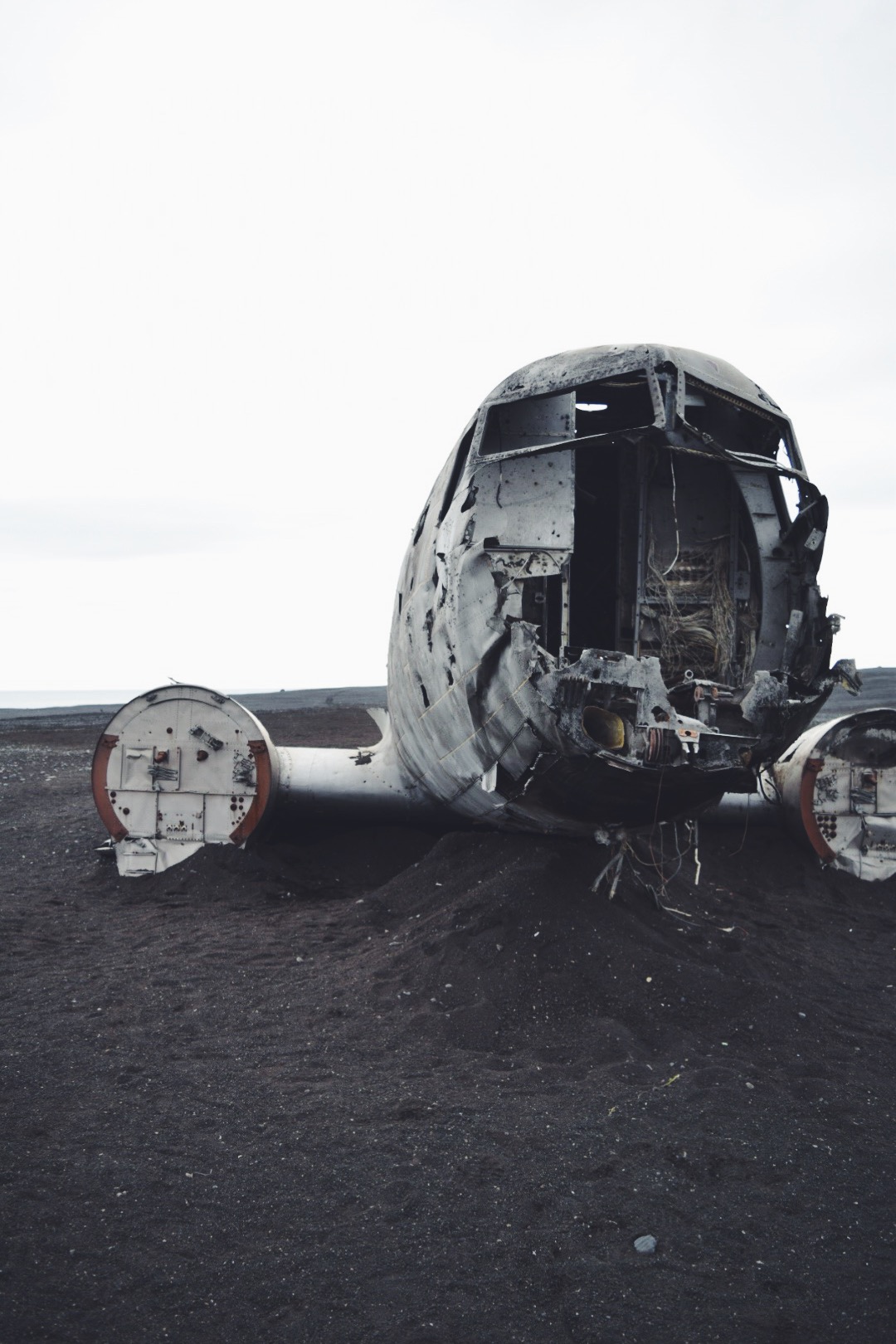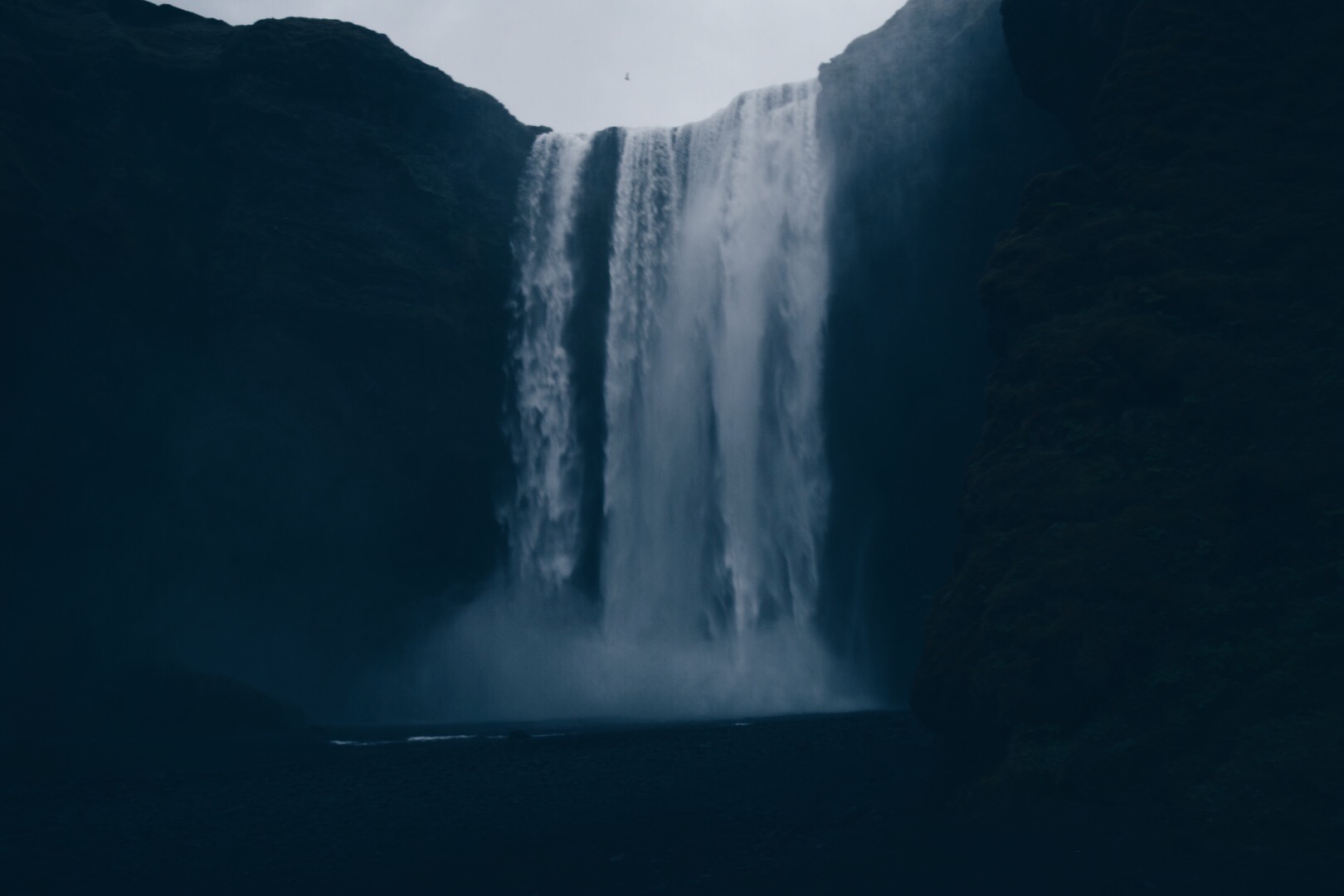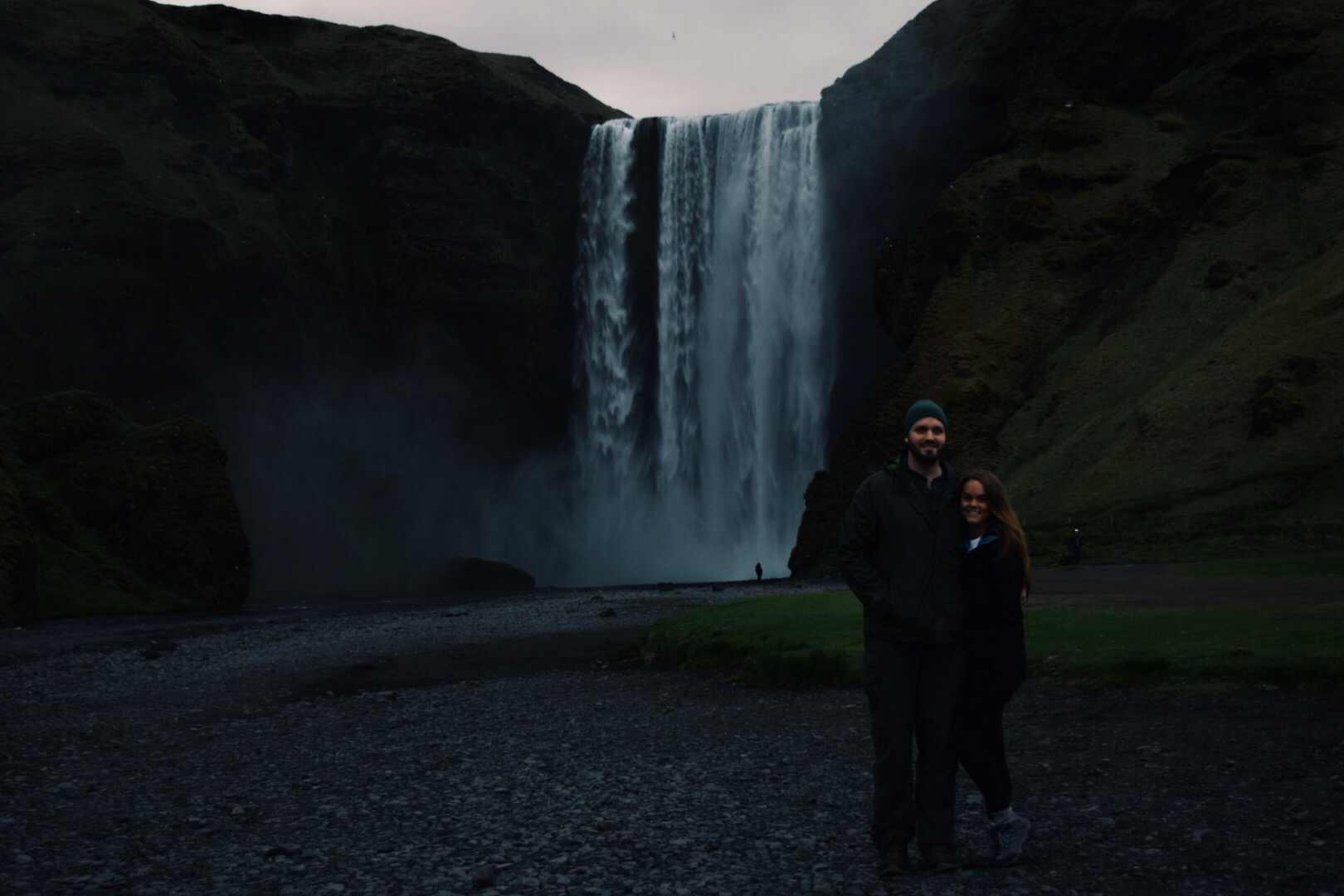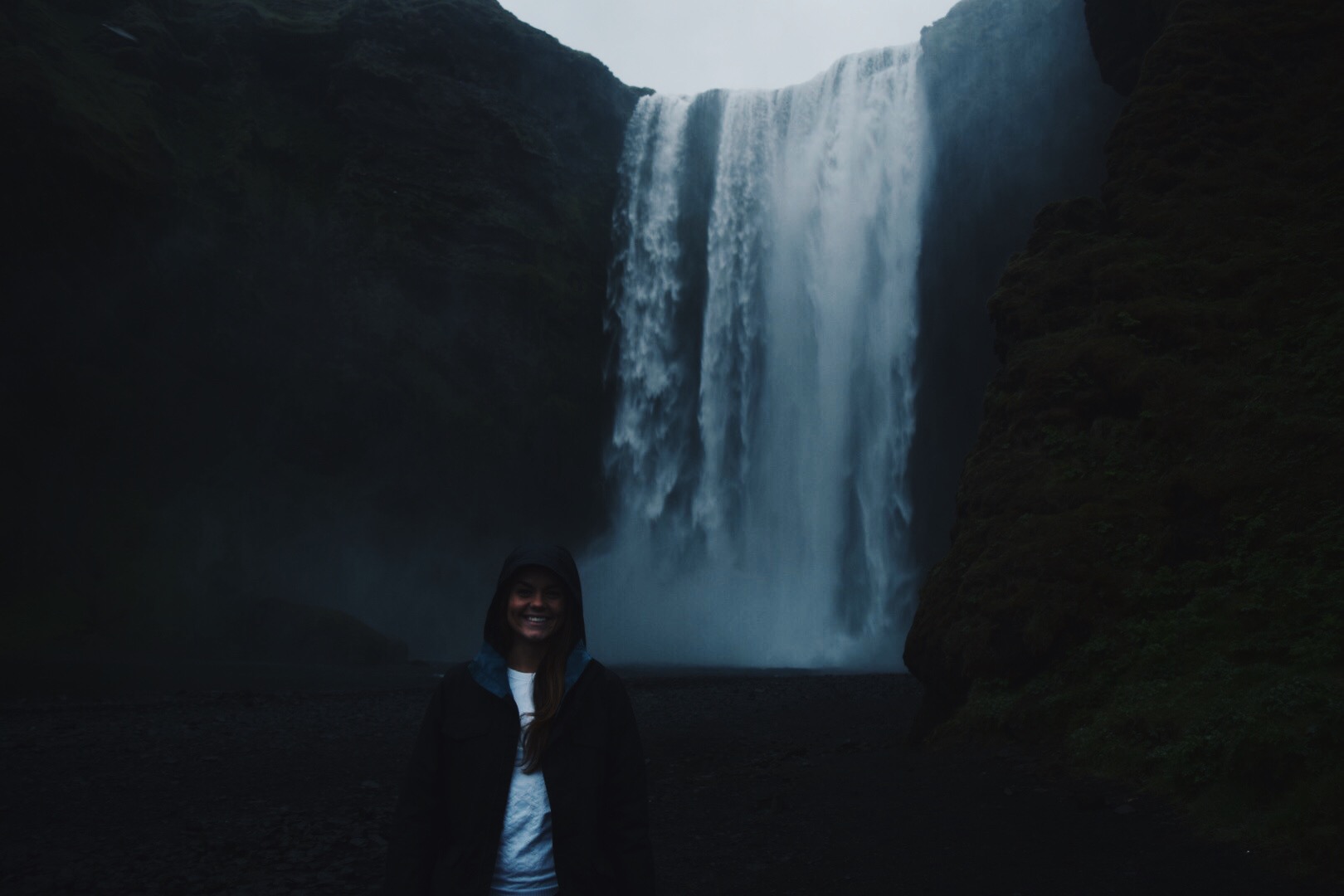 Day 4
Make sure to wake up early and drive to Seljalandsfoss as you begin exploring The Golden Circle. We used I Heart Reykjavík's map to explore The Golden Circle and it was very helpful. Stop for lunch at Friðheimar and then make your way to Faxi Waterfall. Definitely go to Gullfoss. It is a little touristy, but it is iconic to Iceland to you will not regret it. Also make sure you wear rain gear!
After we stopped at the Geysir. Which explodes every 6-10 minutes. It was like seeing Old Faithful in Yellowstone National Park. When you are done exploring the geothermal area, drive through the National Park until you get to Þingvellir. Stretch your legs, walk around and enjoy the waterfall. You can even try scaling the rocks to get an overview look of the falls as well.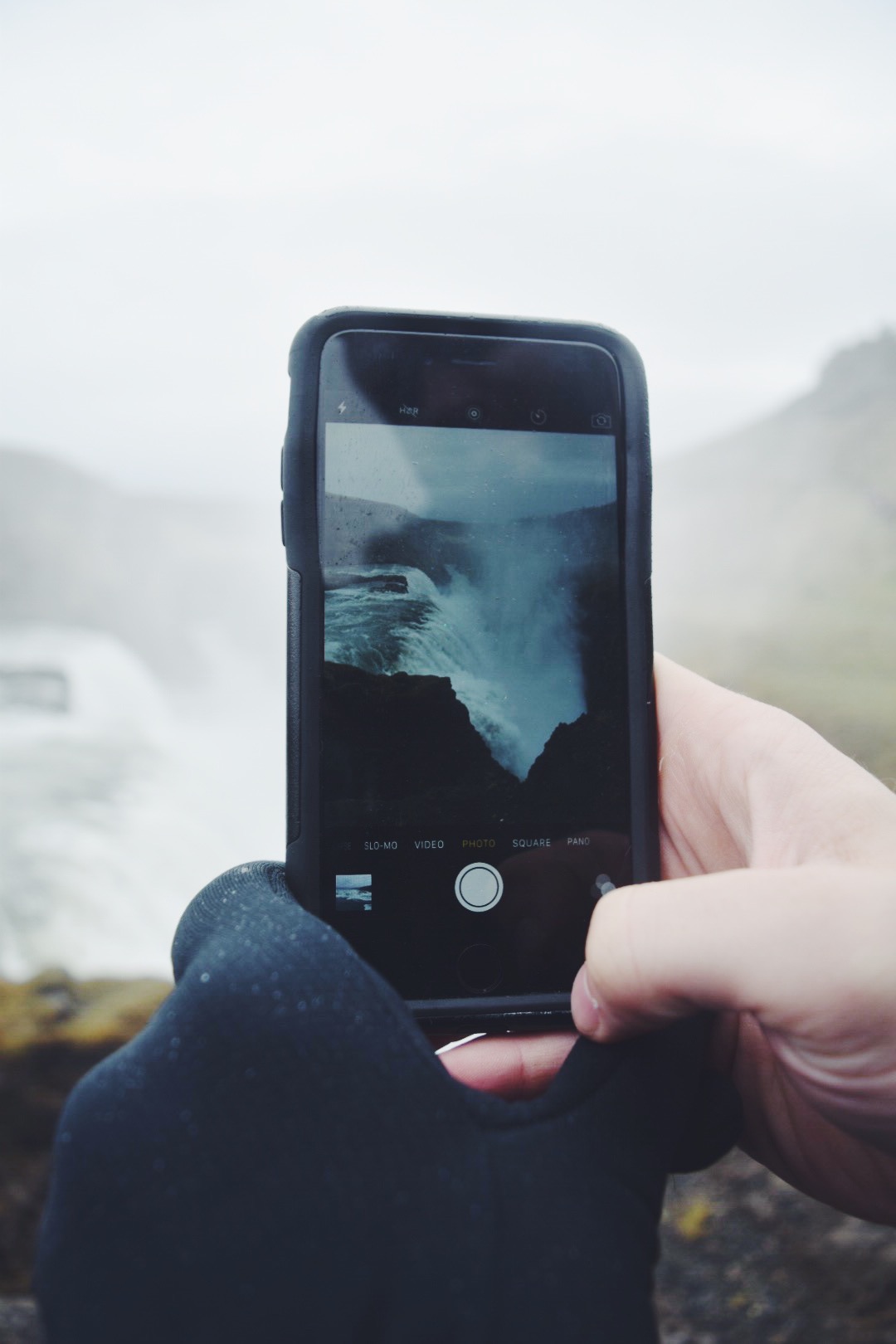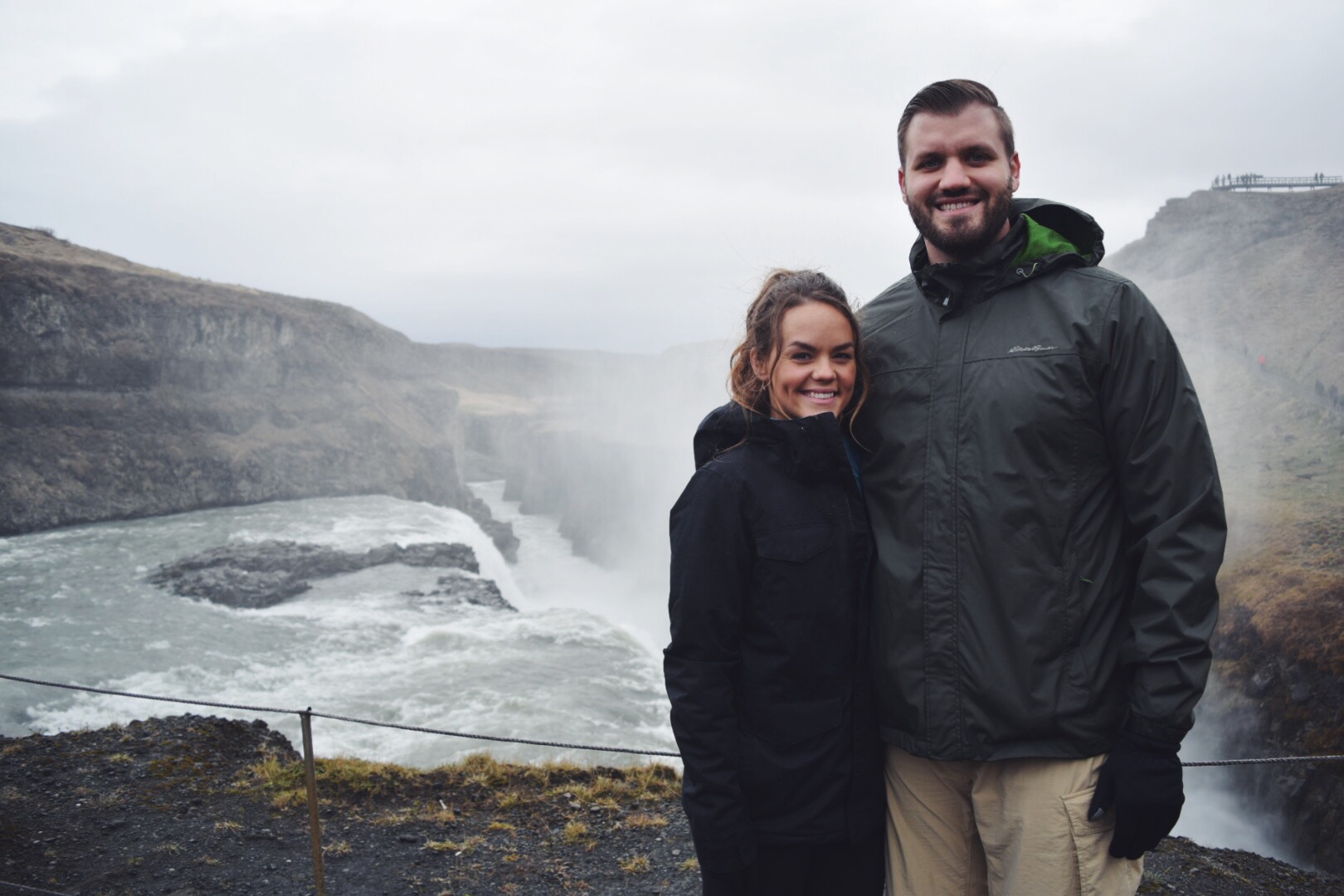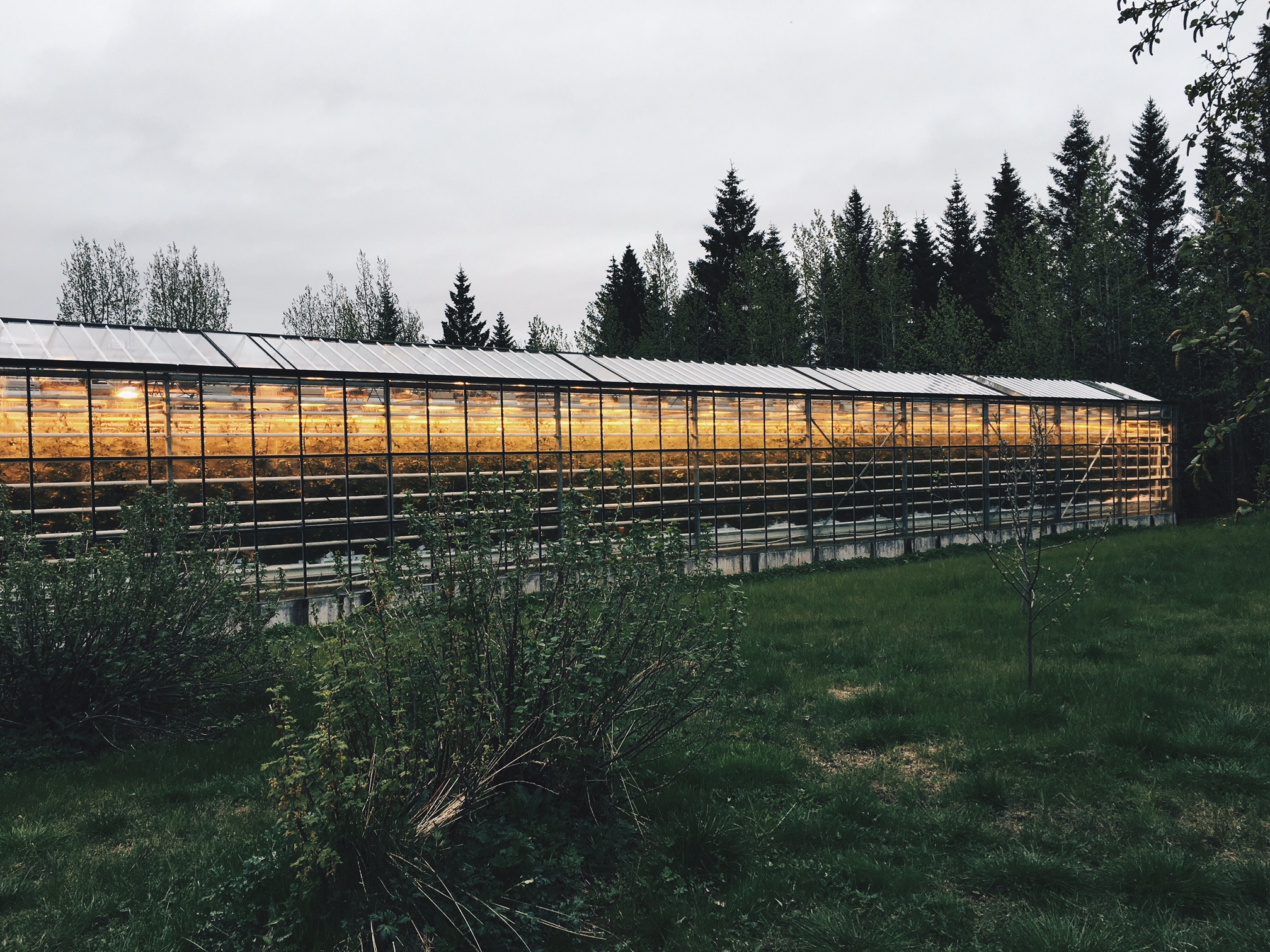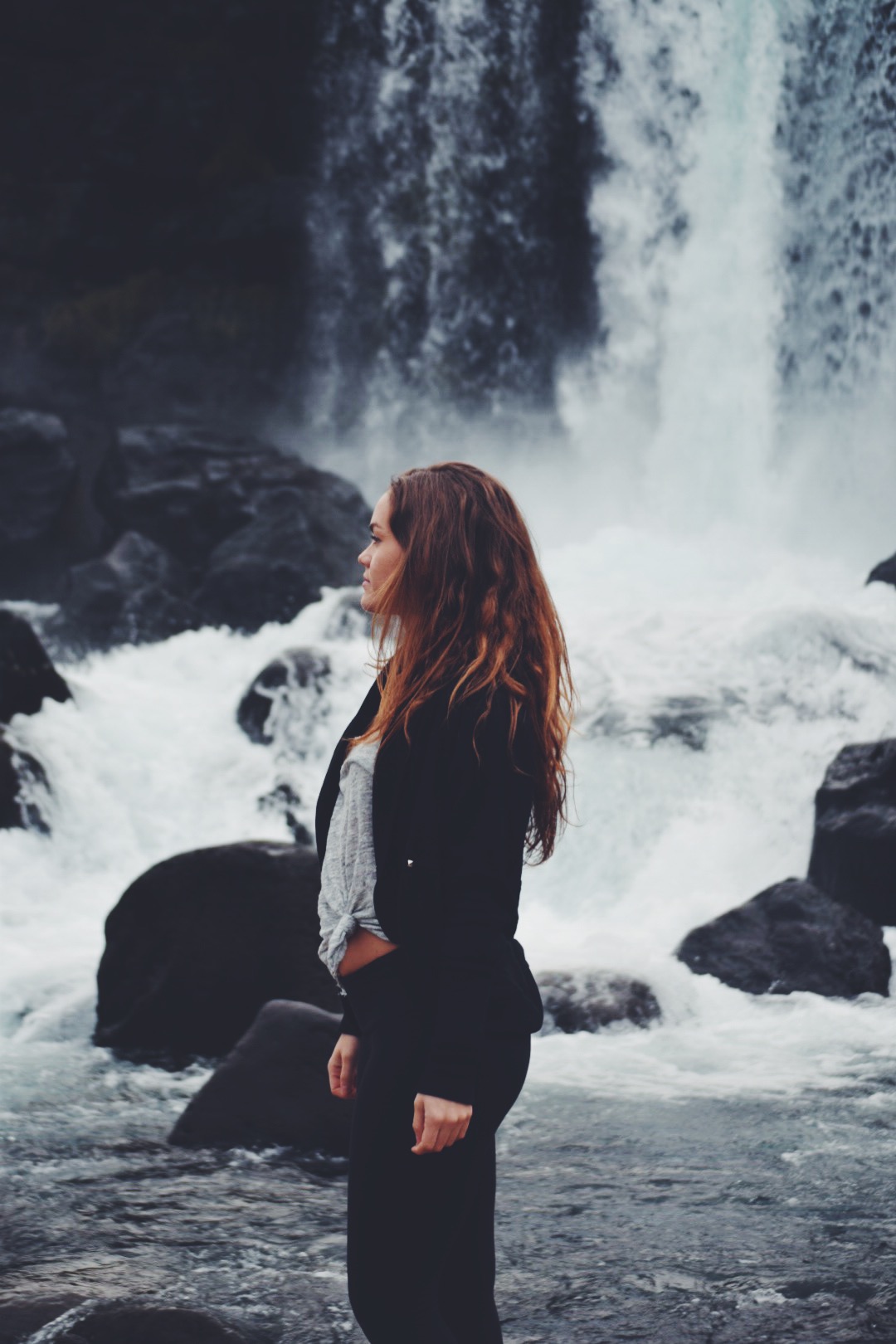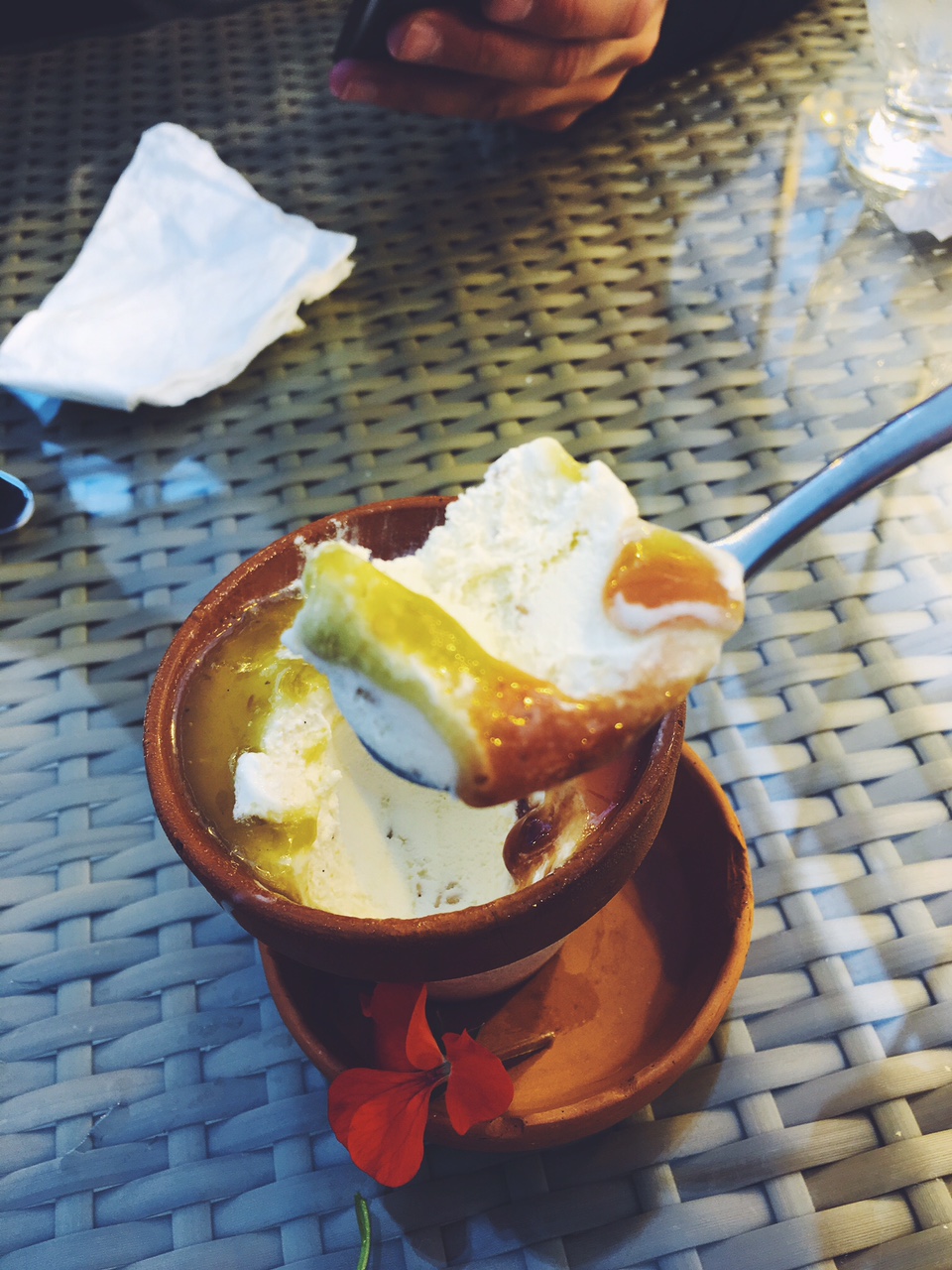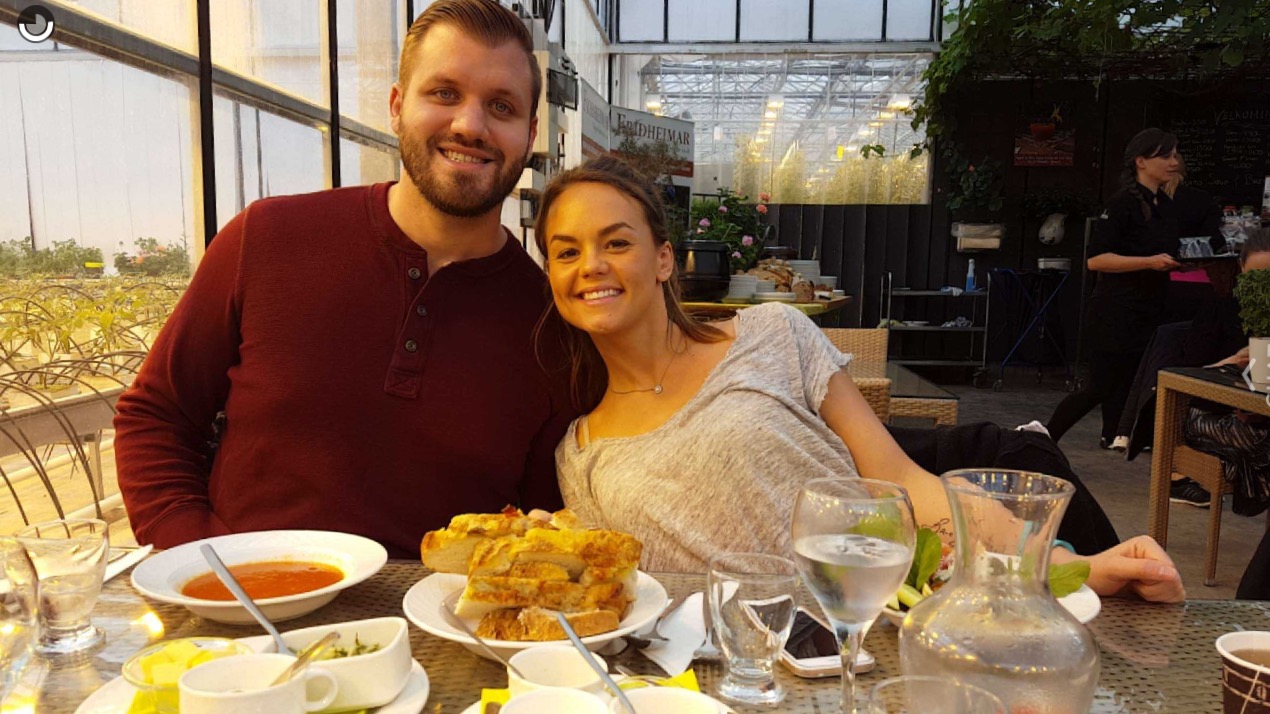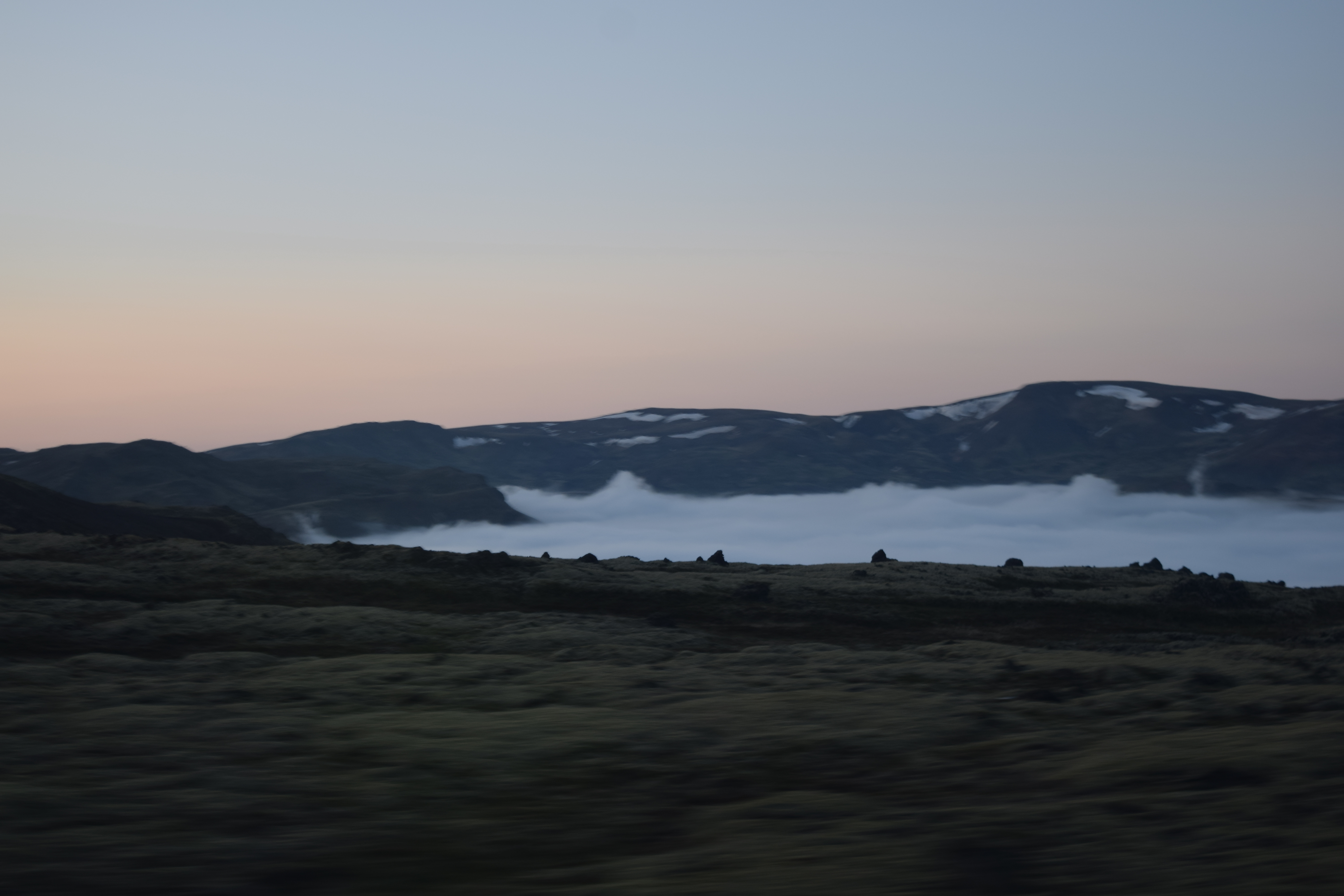 I will write a separate post to share our adventures in Southern Iceland, but when you have finished The Golden Circle, return your camping gear and enjoy a night in Reykjaviík before your flight in the morning. Hit up B5 – the disco bar that never sleeps.
David and I had a wonderful time driving around the country. It was a great way to bond and reconnect before spending the rest of the summer apart from one another. It was honestly a simple way to travel, granted I would have loved to shower, but I loved seeing the all the different landscapes with someone that I love. It was so incredible to witness the sunset together, even if the sun was only down for a few moments. If you have the chance to drive around Iceland, I highly advise you to do so. My final words of advice are to make sure you download several playlists. Enjoy your trip!
XO,
G