Ever since I was a little girl, I have loved playing dress up and doing my makeup. My mother and grandmother have stories of me drawing beautiful designs with lipstick on my face and stealing some of my mother's favorite Chanel pieces to hide in my room. I have probably gone through every makeup stage possible: thick eyeliner, orange bronzer, and the whole contour thing.
Through every phase though, I have found some of my favorite everyday makeup pieces. Nowadays, I like going for more natural for my everyday look and spicing it up for fun events and nights out with friends. While traveling, I really began limiting how much makeup I wore just to make my day easier.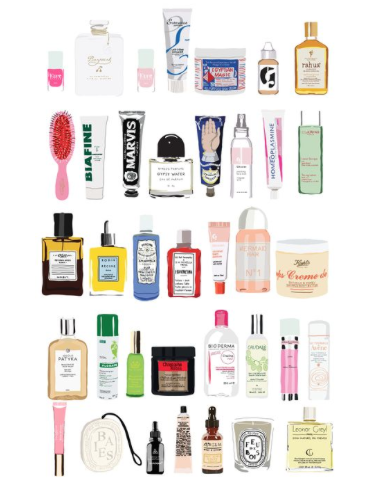 I like to follow a few vloggers and try whatever new products and tricks they are using. Some of my favorite people to watch are Kelly Gooch (roomie love), Abby and Gabby Burbary and Into the Gloss. I will say if you ever wonder how to do a certain look – just YouTube it. It is like the bible of makeup tutorials.
Mind you, I now have a collection of makeup that overflows out of two bags and two drawers in my vanity. Some call it a problem, I call it a lifestyle. We won't even start on my closet….Since starting my new job, I have tried to stick to a basic routine everyday. I like to make sure my eyebrows have a lot of volume and have switched to a more natural contour. Here are my essential makeup products that I seriously can't live without and neither will you once you try them!
Prime & Set
1. Glossier priming moisturizer 2. MAC mineral concealer 3. Tarte Dazzled blush 4. Smashbox Primer Water 5. Urban Decay Naked Skin One and Done 6. Tarte Park Ave Princess bronzer 7. Benefit the Pore Fessional 8. Anastasia medium contour palette 9. Urban Decay Naked Illuminated Luminous
Finishing Touches
1. Anastasia Brow Wiz Taupe 2. Urban Decay Naked3 3. Glossier medium Perfecting Skin Tint 4. Benefit Gimme Brow 5. Nars The Multiple – Orgasm 6. Kylie Cosmetics Kandy K 7. Benefit High Brow 8. Kiko Milano Luxurious Lashes mascara 9. NYX black liquid eyeliner
<a href="https://www.bloglovin.com/blog/18315699/?claim=wkvra88m7nj">Follow my blog with Bloglovin</a>