It's the Holiday season and if you are like me, that means you are doing a lot of traveling! From car rides to redeye flights – tis the season am I right? With the holidays comes heavy food, lazy couch days and hectic schedules. This makes it hard to bounce back post-travel, especially when you eat everything your grandma offers you at dinner.
On top of making thoughtless eating decisions, I also suffer from chronic overpacking. I mean I'm a girl, we need options. That is why I have teamed up with my friend, old college roommate and beauty-fashion maven, Kelly Gooch! She has an amazing Youtube channel, that I highly recommend you subscribe to as soon as possible! We decided to share our tips on what foods to eat to keep you energized and how to condense your makeup collection for when you are traveling! Keep reading to become a traveling pro.
HOW TO PACK MAKEUP FOR TRAVEL// Packing Light
Hey guys! I always struggle with packing my makeup when I'm traveling. It's hard for me to pack light while still feeling like I packed everything that I need. In this video I'm going to show you how to condense your makeup collection into a travel sized amount! Watch the video below to learn my packing tips and tricks.
WHAT TO EAT WHILE TRAVELING TO STAY ENERGIZED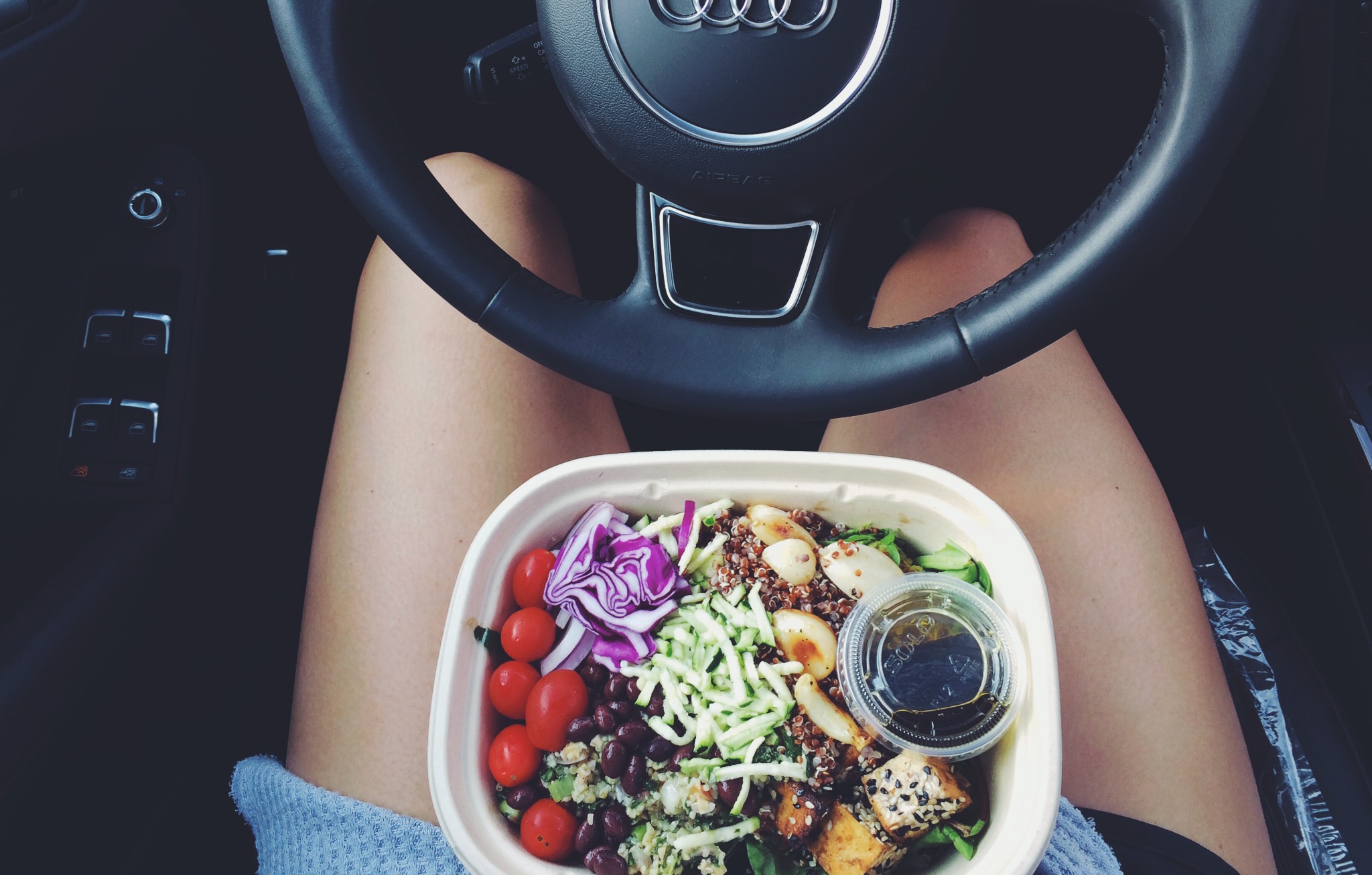 Traveling takes a big toll on your body. You sit for long periods of time, your sleep schedule is compromised and your immunity threatened. I will be the first to say that eating right while traveling is hard. I would love to grab a bag of hash browns from McDonalds or eat chips until I explode but I have learned the hard way that salty, high fat foods don't do your body good.
When I know I am traveling, I like to make sure I drink a lot of water and start my day with a yummy fruit and vegetable smoothie! I also try and make sure I get in a good run, some yoga or some kind of workout before sitting for a long time.
On top of drinking a lot of water, getting some reasonable sleep and exercising, it is important to eat right while you travel. So here is my go-to list of high energizing foods that I pack in my carry on or purse while on the go!
Snacks
Blueberries
Salt-free, organic peanut butter, raw honey, oats, cacao nib energy bites
Almonds
Bananas
Homemade kale chips with nutritional yeast
Aloe water
Meals
Foods to stay away from
Energy bars: Unless they are homemade, stay away! They are full of empty calories and sugar.
Fast food anything
Trail mix
Processed foods: chips, candy, or packaged meals
Dairy
Insiders Tip: Pack your own meals for long flights. Airport food is expensive, airline food is full of salt and is cooked in plastic – yuck! You can pack any food you wish and take it through TSA, unless it is soup. They won't let you take soup. Trust me.