It is officially that time of the year again, the time where us vegetarians and vegans have Holiday parties and find ourselves filling up on side dishes, starters, and crackers and hummus. A Holiday nightmare if you ask me. But, it does not have to be a nightmare. Each year I try to add a couple new dishes to the holiday menu, to change it up a bit, seeing that it seems that otherwise the holiday dishes become so routine.
7 Vegan/Vegetarian Holiday Recipes for this Season
So I am going to share my favorite holiday recipes. While, I know many people come from families where they may be the only vegetarian/vegan, so making all of these dishes is a little excessive, but at least you will have some options to make at least two or more.
So, let's get started on a couple of my favorite soups.
---
Cream of Asparagus  (Vegetarian and Vegan Recipe)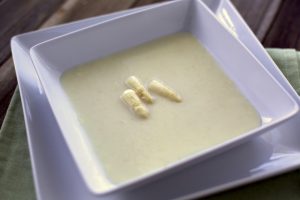 2 jars white asparagus
2 tbs butter
5-6 c milk
2 tbs all-purpose flour
1 c milk
juice from the asparagus jars
Melt the butter on medium-low heat in a pot, stir in the flour, stir constantly for about 2 minutes, adding milk slowly
Once the cream is smooth and cooked, and asparagus
Cook and add salt and pepper to taste
To make this recipe vegan, replace butter with coconut oil, replace milk with a mix between vegetable stock and unsweetened nut milk, and using the juice from the asparagus jars
---
Butternut Squash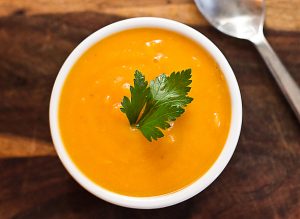 2 tbs coconut oil
1 carrot
2 potatoes, cubed
1 butternut squash, peeled, seeded, cubed
32 oz vegetable stock
half a can of coconut milk
salt and pepper to taste
Cook coconut oil, carrots, potatoes, and squash in a large pot for about 5 minutes
Pour vegetable stock in until the vegetables are covered, bring to a boil
Reduce heat, let simmer for approximately 40 minutes or until vegetables are soft
Add the coconut milk. Add contents of the pot to a food processor, return to heat, add salt and pepper to taste
---
My favorite main dishes:
Stuffed Sweet Potatoes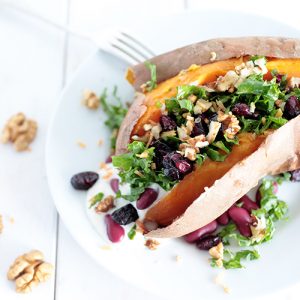 4 sweet potatoes
1.5 cups of kale
1/2 – 3/4 lime, juiced
1/2 cup of dried cranberries
1/2 can of kidney beans (or bean of preference) – beans are an optional ingredient
1/4 cup of walnuts or pecans
1 cup of vegan yogurt
1 tbs tahini
1/2 grapefruit (or other fruit to take place), juiced
salt and pepper to taste
Preheat oven to 180 C
Prepare potatoes, poke holes in them, place on a baking tray. Roast until tender (approximately 45 mins)
Use a bowl to mix yogurt, tahini, fruit juice (grapefruit and lime), salt and pepper
Cut kale into small pieces
Prepare beans
Toast nuts
Slice open sweet potatoes, add yogurt mixture, kale, beans, walnuts, cranberries
---
Seitan – but, I promise it's angelic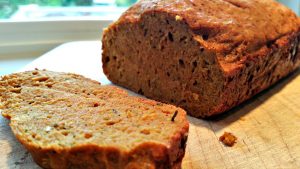 1 cup vital wheat gluten
3 tbs nutritional yeast
4.5 cup vegetable broth
4 cups water
1 tbs olive oil
1/4 soy sauce
Stir vital wheat gluten, nutritional yeast, 1/2 cup vegetable broth, and olive oil in a bowl. Knead ball of dough until it has a rubbery texture
Bring 4 cups of broth, water, and soy sauce to a boil in large pot
Place loaf of seitan into the broth, cover and return to boil
Let lid vent steam, reduce heat to low
Turn loaf occasionally for nearly 1 hour, until loaf is firm
---
Roasted Vegetables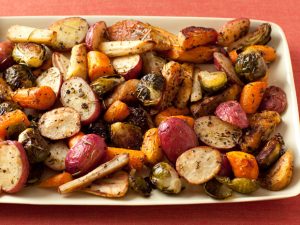 1 butternut squash
2 sweet potatoes
1 rutabaga
2 red potatoes
4 carrots
1 cup of brussel sprouts
2 tbs rosemary
2 tbs thyme
1 tsp oregano
2 tbs olive oil
dash lemon juice
dash red wine vinegar
salt and pepper to tase
Preheat oven to 200 C
Cut vegetables in a personal preference manner. Combine vegetables in a roasting pan
Mix spices in a small bowl
Add olive oil over the vegetables, and sprinkle on spices. Mix
Drizzle lemon juice and vinegar over the vegetables
Roast until vegetables are tender. Approximately 1.5 hours. Stir regularly. Salt and pepper to taste
---
Vegetarian Gravy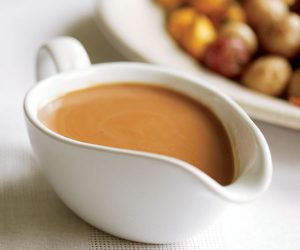 1/2 cup olive oil
1/2 cup all-purpose flour
4 tsp nutritional yeast
4 tbs soy sauce
2 cups vegetable broth
1/2 tsp sage
salt and pepper to taste
Heat oil in saucepan over medium heat
Stir in flour, nutritional yeast, and soy sauce. Form a smooth paste
Whisk in the broth very gradually
Season with sage, salt and pepper
Bring to a boil, simmer on reduced heat, while stirring constantly for 8 minutes, or until thick
---
Vegan Green Bean Casserole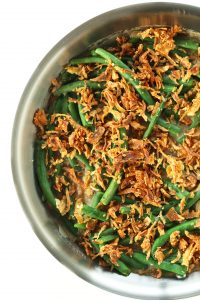 1 lb green beans, halved
salt and pepper
2 tbs olive oil
1 cup chopped mushrooms
2 tbs all-purpose flour
3/4 cup vegetable broth
1 cup unsweetened almond milk (or other nut milk)
1 1/2 cup crispy fried onions
Preheat oven to 200 C
Bring large pot of water with salt to a boil, add green beans, cook for 5 minutes, drain
In an oven safe pan, heat olive oil, salt and pepper
Add flour, whisk, slowly add vegetable broth, while whisking
Pour almond milk and whisk, simmer on low heat to thicken, cooking for 5 minutes or until thick
Remove from heat and add 1/2 cup of fried onions and green beans. Toss, and add remaining fried onions
Bake for 15 minutes, or until cooked completely through and slightly browned
---
Enjoy! And Happy Holidays!