Are you planning a Roman Holiday? If not, I highly recommend that you should. I promise you will fall in love with the cobble streets, the sense of wonder and the Italian culture instantly. After an amazing study abroad experience in college, my obsession with Rome has continued to flourish.
I asked my friend Kelly to help me come up with a go-to list of places to eat, drink and visit for when you are in Rome. Kelly was on the same study abroad as me and we have been friends ever since. She was lucky to return to Rome the following year as the TA for our program. The other night, I texted Kel and told her that I was using maps on my phone to retrace the streets in Rome to make sure I didn't forget how to get to anywhere from my apartment in Trastevere. The funny thing was – Kelly said does the same thing.
So Kelly has put together this amazing list for you to check out! Be sure to check out
her blog
and amazing photography. If you are in Rome, studying in Rome, or planning a trip to Rome, here is a list of places you won't want to miss! Be sure to save the list to your phone and download google maps and trip advisor, at least google maps, if not both. Google maps works even if you don't have a data plan, which comes in handy when you get lost and you can save locations of places you've gone too. All of these places can be found on the Google maps app.
Do Rome like the Romans Do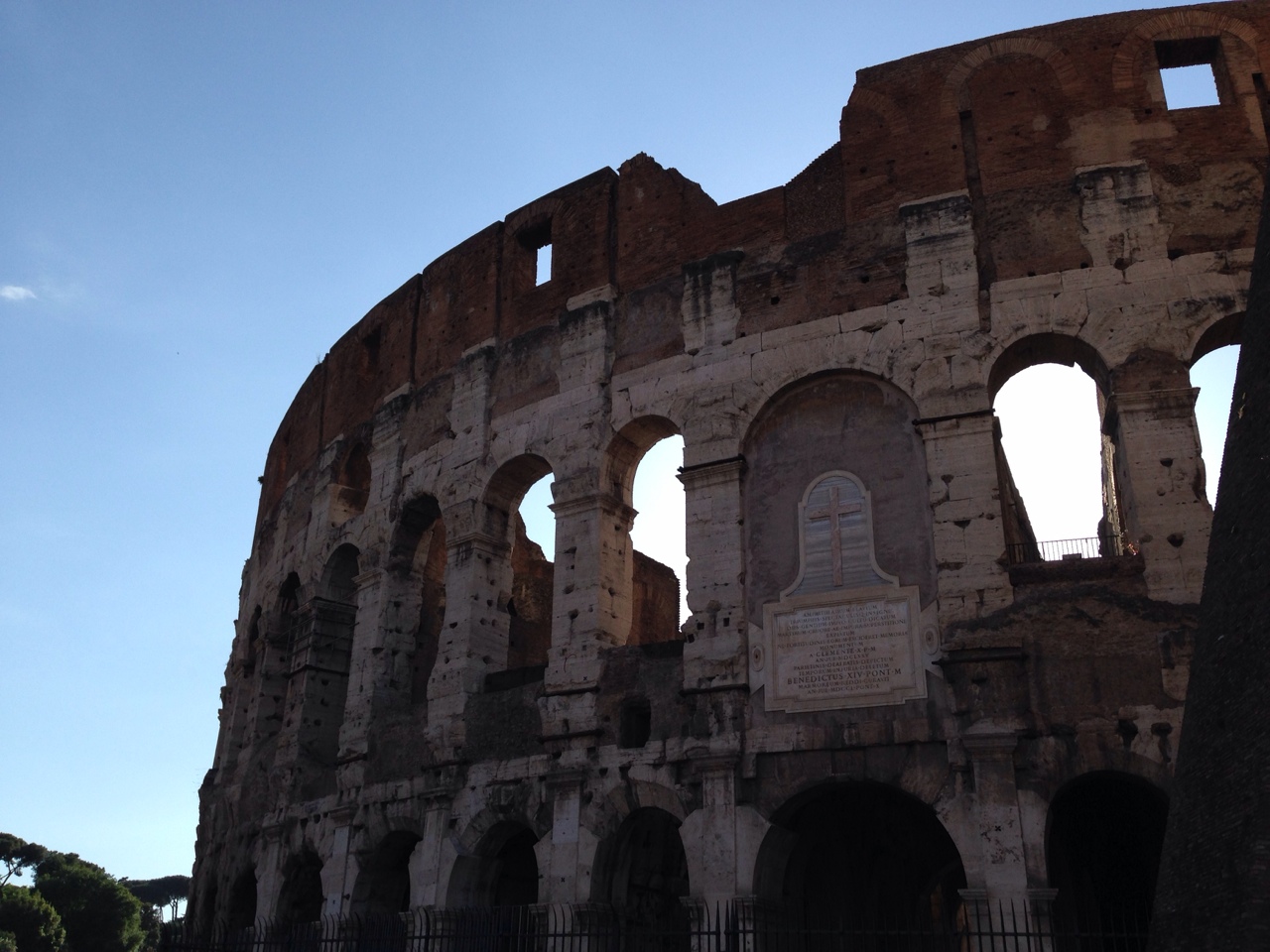 Places to Eat
Dar Poeta- pizza is great and they have a Nutella and ricotta cheese calzone. It is life changing. It's hard to seat a large group here, don't go with more than like 6 people. They open around 

6:30pm

 for dinner and the sooner you go, the quicker you'll be seated. I've gone around 

7:30

 and I've had to wait like 40 min. It's absolutely worth the wait regardless, but just a heads up! Bottom line, you have to eat here at least once.
Grazie and Graziella- they have cheese fries that are really good. It's fun to walk around this area during the day and at night.
 Arco di San Calisto- I recommend the cacio e pepe pasta.
Pim's- someone in my group recommends the pesto gnocchi. All the food is good, drinks are a little more pricey, but it's pretty good.
Brasserie 420- good burgers when you start to miss American food.
Lochness Pub- all the locals go here so it's all in Italian and the waiters only speak Italian and no English menu but great food and atmosphere.
Orange- great reviews on trip advisor but I've never been.
Cave Canem Ristorante Pizzeria- all the food is good. They have a 10 Euro deal of an appetizer, pizza/pasta, and a drink.
Giardino Romano- fried artichoke appetizer is great! I took my family here, all the food was delicious. This restaurant is in the Jewish Ghetto. It's not a ghetto or shaddy area, it's just what they call that neighborhood.
Bar del Cappuccino- they have a pastrami sandwich and cappuccino fredo (cold cappucino) both are great. I don't like coffee, but I love theirs.
Giolitti- 150 flavors of gelato. Near the Pantheon.
Gelateria San Crispino- Amazing gelato. Near the Pantheon.
CYBO – Great for a late night meal
Nonna Betta in the Jewish Ghetto – order the artichoke and any pasta seriously
Freni e Frizioni – sit outside for drinks and tapas
Sant'Eustachio Il Caffè – get the coffee beans
Pasta Imperiale – Pasta Take out
Pastificio – Pasta Take out by the Spanish steps (great for shopping)
Colbert Bistrot @ Villa Medici – Enjoy beautiful views and a light snack overlooking the city
Caio Funky Trattoria – unique food for any occasion
Hostaria del Moro – Ask for Tony 🙂
Places to Drink
Pim's- near John Cabot University (JCU)
G Bar- the ricks of Rome. They have wifi so it's a great meeting place. Really cheap drinks. Near JCU.
Almalu- next to G bar. Cheap drinks. They almost always have a special going on.
Antilla- this also by G bar and right across from Almalu. It's really small, but you can sit at a table and grap a drink with live music. They have food too.
Sloppy Sams- in Campo de' Fiori. An American bar. I personally love Sloppy Sams.
Drunken Ship- in Campo de' Fiori. An American bar.
Scholars- An American bar. They have karaoke almost every night. They have wifi too, so you can meet up with people here.
Lochness Pub- for more of a chill night to sit down and grab a drink.
Ice Club- the entire bar is made of ice. 15 Euro gets you a drink and a jacket. Cool thing to do and to say you did; you'll only last in the freezing temp for like 45 max.
Club Vanity- a club you can dance at if you need a change of scenery from the bars.
Club Mood- a club you can dance at if you need a change of scenery from the bars.
VICOLO DEL CINQUE. Chocolate shots and books.
Dom Hotel Terrace – BYOW and enjoy the rooftop views
La Bibliotechina – An outdoors bar/restaurant
Magic Bar – A rooftop bar that is right next to the Tiber
Places to go and Things to do
Pantheon- it's free to enter and it's really cool.
Vatican- It's the Vatican and it's really a short walk from JCU so it's cool to casually walk there. Also, their postal service is much faster than Italy's so if you want to be old fashioned and send your parents a postcard do it from there. If you tour the Vatican your knees and shoulders must be covered.
St. Peter's Basilica- Climb St. Peter's dome for an incredible view of Vatican City. It will be interesting because it's pretty narrow and if you're really tall you might shave some off the top so let me know how that works out. To enter the basilica, you also need to have your shoulders and knees covered.
Keyhole of Malta- on google map it's called Buco di Roma. You can look through literally a keyhole in a door and see the Vatican. It's really hard to photograph but totally worth seeing.
Villa Pamphili- large park to run/work out in or just to read a book and relax. It's massive, don't get lost.
Colessuem- it's the Colessuem, need I say more?
Roman Forum- next to the Colesseum so you can do those two together. Two birds, one stone.
Victor Emmanuel- Altar of the Fatherland. You can take an elevator up to the top for like 7 Euro and see all of Roma.
Trevi Fountain- it's under construction but you can still see it and throw coins in. (might be done with renovations by now)
Spanish Steps- a place to sit and people watch. Touristy so beware of that.
Via del Corso- this is a street near Victor Emmanuel that has a ton of shops if you need clothes,gifts,etc
Capuchin Crypt- 5 small chapels beneath a church decorated in teh skulls and bones of thousands of Capuchin monks. You will never see anything else like it. They have a strict dress code so if you go to this with a group, women must have their knees and shoulders covered just like you would if you tour the Vatican.
Borghese Gardens- gardens you can take segway tours in and they have a gallery of art work. You'll never see artwork like this in your life.
Porta Portuense- Rome's largest outdoor market on Via Portuense. It's only on Sundays from 

9-2pm

. You can find just about anything here, from leather jackets to lightbulbs. I got some of my gifts for family members here.
Bocca Della Verita (the mouth of truth) – Embrace your inner Audrey Hepburn, but I wouldn't tell a lie.
Giardino Degli Aranci – Get a whole new prospective of Rome and enjoy the smell of oranges. One of my favorite places in the city.
Piazza Navona or Campo de Fiori and see the open markets.
Lungo il Tevere – Summer long festival along the Tiber River.
Do you have more places to add to the list? Comment below. I also found
this website
which has a lot of fun things to do in Rome. Be sure to check it out and share this list with your friends. Ciao Bella!